Disclaimer: This post may contain affiliate links, meaning I will earn a small commission if you purchase through my link at no extra cost to you. For more information, check here.
How often do you think of turning your love for writing into an independent job or maybe a side career? If you have been thinking about it lately, this article on 'how to start freelance content writing' is written just for you! 
Many people are choosing freelancing to be independent and earn without being tied to a traditional job. If you have a love for words and people have told you that they love what you write, then freelance content writing can be a great choice for freelancing.
Why am I saying it can be a great option? Well here are some reasons-
-In today's digital age, content is king. Websites, blogs, and social media, all require a constant stream of quality content. The high demand for content created a number of opportunities for freelance content writers. 
-You can work from anywhere in the world where you have an internet connection. It offers exceptional flexibility allowing you to work on your own hours in any environment.
-Freelance content writing provides you an opportunity to learn and refine your skills continuously. As you work on diverse projects, you learn a lot. You gain knowledge and many other skills as well.
-Last reason, but a solid one, because I have been there and I loved it. I initially took some freelancing gigs while studying in college which created interest and curiosity in me regarding this field. Later, I learned many other skills like SEO and SMM in addition to writing while working.
I built a client base for myself and enhanced my knowledge on diverse topics. This gave me confidence in building a website and starting a blog of my own!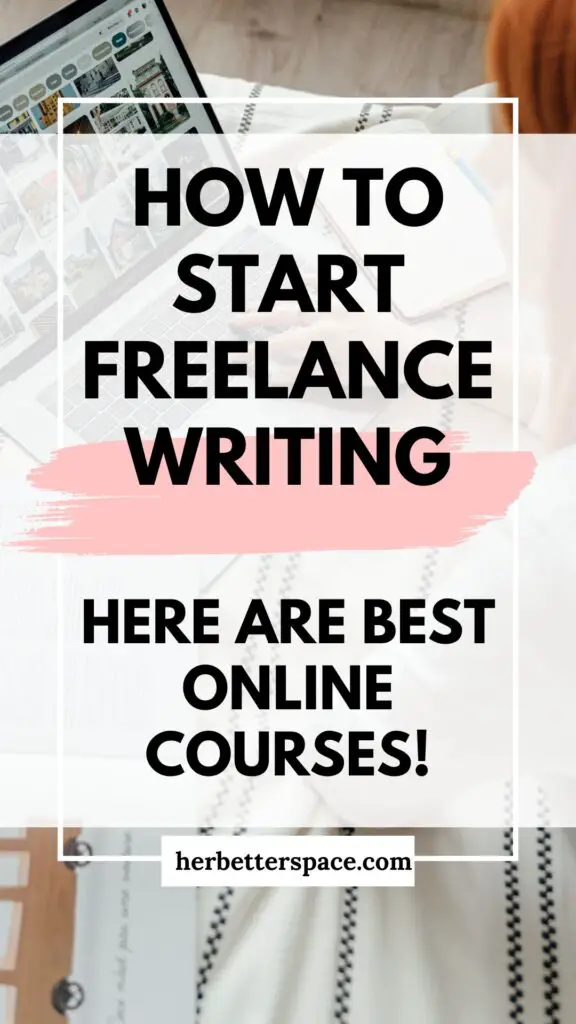 How To Start Freelance Content Writing: Top Online Courses
Hone Your Writing Skills
If you are planning to step into this writing world, you must be confident in your skills.
But when you are thinking to professionalize your skill, you must sharpen it to deliver quality content.
Quality content is the basis of a successful freelance career. How can you improve or learn to write content according to the industry standard?
There are many ways, Read other blogs, take online courses, write workshops and join writing communities. All these will prove to be valuable and will help you refine your craft.
Here are a few online courses on how to start freelance content writing that I am suggesting in order to start your freelance writing career-
The Strategy of Content Marketing by University of California
In this course, you will learn the core strategies content marketers use to acquire and retain customers profitably. Specifically, you will learn how to develop, organize and implement a content marketing strategy, analyze and measure the effectiveness of content marketing, write compelling copy, use a strategic framework when writing, and build your professional brand and authority through content marketing. You will also learn how to put the ideas presented to you into action and build your own personal brand through content marketing.
Storytelling in Branding and Content Marketing by IE University
What you'll learn–
Learn how the words you choose can change the decisions people make
Use syntax strategically
Write with originality and produce sentences that nobody else can write
Arrange a complex set of information in a reader-friendly way
Good with Words: Speaking and Presenting Specialization BY University of Michigan
If you are from a science background, you wish to write about sciences, take a look at,
Writing in the Sciences by Standford University
This course teaches scientists to become more effective writers, using practical examples and exercises.
Identify Your Niche
To stand out in the crowd, knowing your niche is important. Your interests should align with your niche. How do you know what niche is good for you? It should be something that you are interested in too and have a significant amount of knowledge about.
Say you are a foodie, food blogging can be a good option or maybe you are a science graduate, you can write scientific articles.
You can also be good in more than a niche. Identify your interests, and gather more and more knowledge about it.
Research trends in your niche and stay updates to provide valuable content. This not only makes you attractive to potential clients but also allows you to charge a good rate. 
Create A Portfolio
A good portfolio is like a good trailer for a movie. Prepare it in a way that displays your abilities and also gives insight into your style and professionalism.
tart with your name, work, and a concise background of your skills.
Provide clear data to contact you professionally such as your email address and your LinkedIn profile. You can include samples of the work you have recently done showcasing your talent.
Make sure you present yourself in the best way possible. 
Build Your Presence
In today's digital world, it has become important to have an online presence. How can you do so? Join professional platforms like LinkedIn and create a good profile.
You can promote yourself on other social media platforms like Instagram, Facebook or Twitter.
There are some freelancing platforms like Upwork and Fiverr. Maintain an active and engaging presence to attract opportunities. Connect with people of similar backgrounds and share your work with them.
Pitch and Network
When you are starting your freelancing career, proactive networking and pitching are important to grab some freelance writing gigs.
You can pitch through social media, emails, or through friends. Personalize your pitches and highlight your skill set and expertise in a particular niche. Highlight your achievements and capabilities. 
Deliver Quality and Original Content
Your success in any field depends on how you deliver your work.
To produce good content in the writing field, you must tailor your content in the best way to resonate with your clients' needs.
The courses I mentioned in the first half of this article will help you learn about content creation.
After creating the content, you must edit and proofread it to ensure its quality. Use a Plagiarism detection tool to avoid any form of plagiarism, including unintentional copying.
Here is a course on Editing that can help you-
Writing and Editing: Revising by University Of Michigan
What you'll learn–
Learn how to become a better reader of your own writing
Apply the E-D-I-T framework
Identify uselessly accurate information
Create multiple ways to communicate the same data
Has AI Replaced Writers?
No, content writing is not dead after the arrival of AI. It can be said that AI has brought significant changes in the content creation landscape but it cannot replace the need for human writers.
AI complements human writers by providing them with tools and insights to enhance their work. But it cannot replace the creativity, emotional intelligence and expertise that a human being brings to the table.
How Can AI Help?
AI tools like ChatGPT can help writers by suggesting them keywords and constructing basic outlines for articles. This can save a lot of time and enhance productivity. 
It can analyze data and provide insight to improve your content and suggest SEO-friendly content.
Why can't AI replace writers? 
AI can general straightforward content but real content requires creativity, emotional depth and expertise in storytelling like humans. Only human writers can produce such content that resonates with readers on a personal level.
Additionally, content that requires ethical issues or moral questions or human experiences can be answered by human writers. AI lacks ethical judgment and cannot navigate sensitive topics similar to that of a human.
Over To You
Embracing a freelance journey can be challenging initially but rewarding later. Hope this blog helped you to know how to start freelance content writing. These courses can be extremely rewarding even if you do them just for the sake of learning. So, embrace your creativity and let your words flow freely as you go ahead on this freelance writing adventure. Happy Learning!