Disclaimer: This post may contain affiliate links, meaning I will earn a small commission if you purchase through my link at no extra cost to you. For more information, check here.
It is said that your health, wealth, happiness, and success depend on your habits.
You should always prioritize healthy habits over everything else. We all know the limitless benefits of staying fit and healthy.
Women experience more challenges than men when it comes to healthcare.
What are those healthy habits for women that we should follow in our daily lives?
Why are they important?
We women come across many females around us dealing with certain health issues that are specific to women.
One of the major reasons for this is changing lifestyle. The 20s and 30s are the time of our lives when we are most busy and everything is going on at its peak.
Women often ignore their own health. If you are ignoring it too now is the time you can start taking up activities for your health.
There are certain habits that if you incorporate them into your daily routine, can make a huge difference in your health.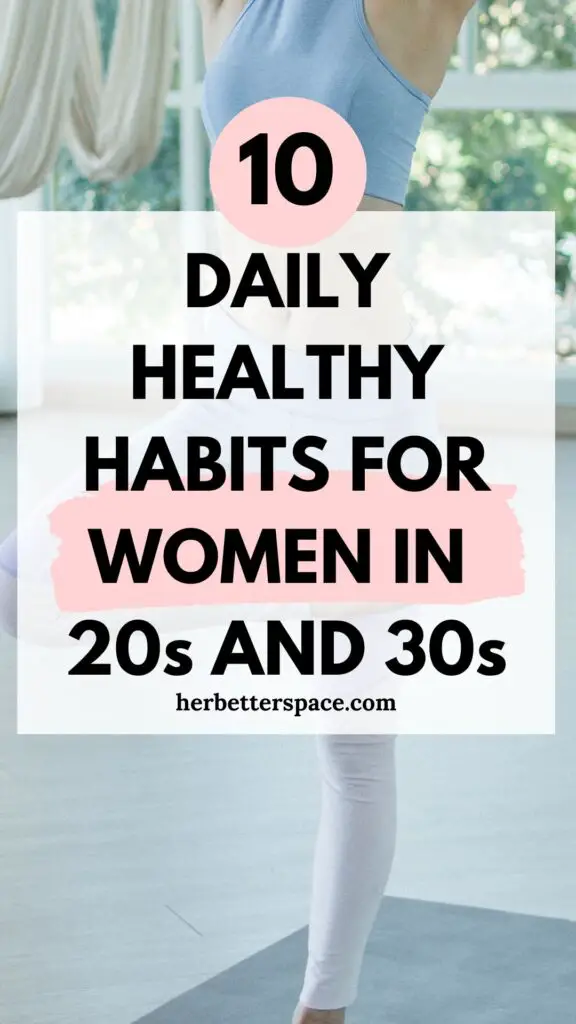 Healthy Habits For Women
Here I am listing a few healthy habits which I believe are most important to lead a healthy lifestyle for a woman in their 20s and 30s. Check out the list and see how many you follow!
Maintain a Balanced Diet 
Maintaining a balanced diet is important for your body to function to its best capabilities.
Without a balanced diet, you will be more prone to infections, diseases, stress, and low performance.  Try including all kinds of nutrients in your daily diet.
If you are a junk food fan or someone who frequently eats outside, my suggestion would be to reduce going out to eat gradually.
Instead, prepare your own meal. You can start doing it twice a week and then elevate the numbers. When you prepare your own meal, it is both healthy and stress relieving.
Skin Care is Important 
Your skin is the largest organ of your body. Many of us neglect skincare. Taking care of your skin can make you look healthier, and younger and boosts your confidence.
Read How To Be A Confident Woman.
It can slow the signs of aging so you are going to thank yourself later in life. The earlier you start, the better it is.
There are basic skincare routines like cleansing and moisturizing that do not take much time. It removes oil, dirt, and makeup and heals your damaged skin.
You can choose products according to your skin type. I personally believe in using natural products or home remedies. 
Then there are a few routines which you can do a few times a month like massaging your face. You do not need to spend much, Instead, try finding out natural methods you can do at home.
I will be writing a blog on my skincare routine which has helped me in keeping my skin healthy for years now, most of which include home remedies my mom told me as a teenager.
Move Your Body
Did you know that a 30-minute walk daily can increase your lifespan by a few years? We often ignore exercising because that is very tiring and requires discipline.
I used to be the same but then I found out other ways to include exercises in my life, for example, I realized that I like dancing and yoga more than doing exercises in the gym.
You can also pick activities of your own interest, it can be any sport or just a simple walk for 15 to 30 minutes.
You will start feeling more energized and it will take just a week to become your habit. One just has to push oneself for some initial days.
Keep Yourself Hydrated
Water is vital to life and function. I have heard many women complaining about dehydration and how they forget to drink water.
If you are one of these, you need to know the importance of what water does to your body.
It is essential for proper circulation of nutrients, and digestion of food, it energizes your muscles. In addition to that, it keeps your skin good and helps in weight loss.
There are countless benefits of keeping your hydration good. Make drinking water a must-have habit of your life!
Mental Health is Important too!
Not only physical, but mental and emotional care is equally crucial. You have to understand what you need as a person.
Take breaks to rejuvenate your energies!
Let go of things that drain you out of your positive energies. Talk to your friends and family. This will also help you make healthier relationships with the people around you.
Push yourself only to limits that are healthy for your mental and emotional well-being. If you feel stressed or overwhelmed, you can try simple activities like meditation, going out for a walk, or dancing to your favorite song.
But this does not mean you become a person who is not able to handle even the smallest stresses in life.
The 20s and 30s are growing years, some stress and pain are important for a person to grow. What you need to learn is where your limits lie.
Self Acceptance
In this era of social media, we often compare ourselves to others.  What we do not realize is not everything on social media is true.
Read my blog on How To Build A Better Relationship With Yourself
Everyone is showing their best self on the internet, nobody shows their vulnerabilities.
It is quite common to get attracted or affected by seeing other people's lives. Here you need to understand your uniqueness, love yourself and accept who you are.
Being healthy is more important than looking slim. Your happiness and contentment in real life are all that matter.
Start respecting your own body, and your personality. Accept your flaws and try to improve them in the way you want.
Read How To Make Your Life Simpler and Happier
Doctors to the Rescue
Has it happened to you that you came across a situation where you wanted to see a doctor but were scared, it healed, and then you ignored it?
I am sure many of us have done this. We care for others but when it comes to ourselves we often ignore it until it becomes major.
Do not do this!
If you feel something unusual tell your family about it, and visit a doctor because they are the expert.
Stop assuming and googling everything. Be your own savior. Regular checkups are often suggested, you should go for a full-body check-up in a year or two to know more about your body during these years.  
Keep Your Surroundings Clean
Your surroundings reflect and affect your way of thinking. It is extremely important to keep your place tidy and mess-free to have a healthy lifestyle. This is not only one of the healthy habits for women but for everyone in general.
Keeping your bedroom, kitchen, or your working area untidy can have a variety of negative effects on your mental and physical health.
Studies found that people with messy rooms take a longer time to sleep and have more stress. Read my blog on How To Make Your Life Organised in Simple Ways.
Over To You!
These were some simple healthy habits for women which we must follow as young women.
Also if you follow these, inspire other females to follow these too. There can be other habits included in addition to these but these I felt are the most basic and must-follow ones. Hope you liked reading this and were encouraged to adopt healthy habits! Happy Living!