Disclaimer: This post may contain affiliate links, meaning I will earn a small commission if you purchase through my link at no extra cost to you. For more information, check here.
There are moments in life when we feel the need for self-transformation, also called a 'Glow-Up'. But what does glow-up mean?
A glow-up is not about abiding by societal standards.It is about discovering and embracing who you are and feeling your best. It is a method to self-improve, self-empower, and fall in love with yourself.
In this blog, we will be exploring practical tips and actionable advice that will empower you to glow up by making meaningful changes in your life.
Before proceeding, I want you to find the cause of why you feel the need to glow up.
Have you been going through a tough time lately? Or have you realized that you need to glow up now? Is this a temporary urge or you are planning to make significant changes? 
In this article, you will get tips and suggestions on how to glow up in a month. If you follow these tips, I am sure you will observe changes in your life from the very first week.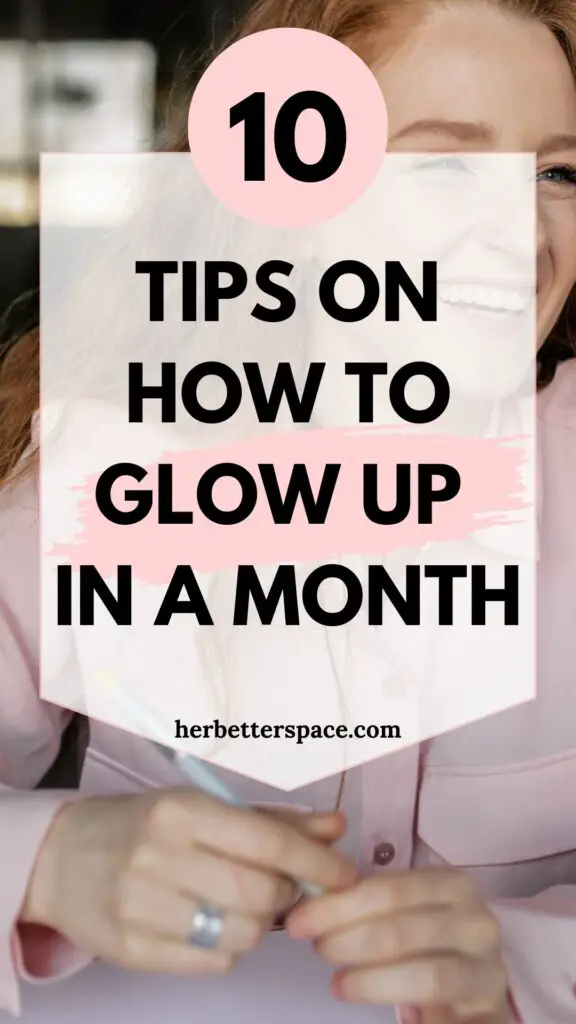 How To Glow Up In A Month
Prioritize self-care
Self-care is essential for stress management and an overall healthy lifestyle. It is very important to take care of your physical, emotional, and mental health. 
Many people are confused about what self-care really is. It can be something really simple, it should be a part of your daily lifestyle that can also help in developing a positive and healthy mindset.
By dedicating time to yourself, you will protect your own needs. Prioritizing what is good for you is imperative to get a glow-up.
But what kind of self-care am I talking about? It can be a small task like exercising spending time with your family, or pursuing your hobbies. All these are part of self-care.
You need to add such tasks to your daily life that you feel are helping you to glow up.
It can be simple things such as a skin care routine reading a book journaling, and traveling.
Make sure that you have at least 30 minutes of daily self-care added to your daily life.
Journal
Journaling can be a relief and a helpful tool to help you glow up. It allows you to reflect on your thoughts, feelings, and experiences.
This self-awareness that you will get to journal will help you to identify areas for self-improvement in areas where you excel. 
Journaling can be a safe space to express your emotions. It can help you manage stress and understand your feelings, better recognizing and appreciating things that you have. It will foster a more positive answer mindset.
Journaling can be about a variety of purposes. You can plan goals track your progress and use it as a problem-solving tool.
It can also be your emotional trunk and not only this. You can also use it as a creative outlet for doodling, drawing, creating a vision board, so use journaling as you want to and say what is benefiting you.
Mental Health Matters
Mental health directly influences confidence and personal growth. Focusing on mental health can help you glow up and equip yourself with healthy coping strategies to deal with challenging situations. 
You can also prevent yourself from emotional setbacks during your flow of journey. 
You can do it by sharing your feelings with friends, family and mental health professionals when needed.
Becoming self-aware will help you to understand and manage your emotions better, and develop a positive self-image.
Accept yourself with your strength and imperfections this will boost your self-esteem and mental well-being.
Journal for a week and notice how you glow up in a week. This is a personal experience.
Make A Routine
Many successful people and self-help writers have talked about the power of having a routine and how it can be a potent tool to achieve personal growth.
Having a consistent routine creates habits. It can boost your productivity and enhance discipline in your daily life.
You can optimize your daily routine according to your needs and what kind of person you are.
Allocate specific time slots for your goal for self-care for health and fitness. Make sure that you have the best-structured routine that can help you in achieving a work-life balance.
Practice this routine for a month without any excuses. And even if you feel like dropping out one day, let's say, you are sick, don't step back and continue.
You can also change your routine anytime. If you can do this, you feel more in control of your life which is essential for your glowup.
Exercise and Healthy Diet
Exercise and a healthy diet are crucial elements of a glow-up journey. They help you in keeping you healthy physically, maintain a healthy weight, and promote well-being.
When you feel physically fit, you have more energy, you feel confident and motivated for your personal goals.
Read my blog on Daily Healthy Habits Women Should Follow.
Regular exercise can also help you maintain your mental health adopting healthy eating habits and physical exercise can impact other aspects of your life positively.
This will help you to feel your fundamental glow-up journey.
Stay Hydrated 
Stay hydrated is not only for your skin health, it has numerous benefits like detoxification, more energy, mental clarity, digestive health, emotional and mood balance, and a more radiant appearance. 
To stay hydrated, make sure you drink an adequate amount of water daily. You can also incorporate water in foods like fruits and vegetables in your diet.
This has to be one of the easiest glow-up tips!
Include Positivity In Your Day by hobbies
Engaging in hobbies can be a fantastic way to enhance your glow-up journey.
Hobbies release stress and increase your creativity and self-confidence.
What hobbies can you pursue?  Choose something that you love to do or would love to learn.
If we are into reading and writing, go for these, both are excellent options for personal growth.
You can also develop your culinary skills and try cooking and baking.
Explore your creative side and try painting, photography, or a musical instrument, if you are someone who loves nature, gardening and traveling can give you a sense of achievement and can be very therapeutic.
You can also keep more than one hobby and become an expert in one.
Invest In Your Looks
Do you know that more than 64% of people in a survey admitted that the first thing they notice about others is their physical appearance? 58% of people said that they feel good about themselves when they look good.
Looks don't only mean your genetic phenotype, it includes how you carry yourself, and how you groom and take care of your body.
Declutter Your Space
Is your environment messed up? A Messed up place can lead to a messed up mind.
Declutter your space, the room, the closet, and the backyard, so that you are mentally focused and clear. It will make your life simpler and happier which can make you glow up.
You can buy separators for your closet, buy boxes that can segregate your stuff. Also, add some decor to your room for positive influence.
If you want to know how to make your room positive, read my blog here.
Learn Something New
Learning a new thing can give you a sense of accomplishment. It can be anything, a new language, a new skill, subject.
This will give you knowledge about a new area and you will feel more confident. If you learn trending digital skills, you can earn money remotely.
This blog is one such example. I have written a blog on Skills you can learn online for free and earn. 
Give Time For Your Relationships
Relationships are the building block of humanity and having healthy relationships around you can contribute to your life in a positive and beneficial way.
Make sure you spend some minutes of your morning and some of your evening with people you love.
Plan different types of activities, dates, and small celebrations with your friends, family and special ones.
Plan Your Goals
Planning your goals will keep you on track. 
You will be more focused on your personal growth and planning will help you in ignoring distractions.
You can plan both short-term and long-term goals. First plan long-term goals and then break them into short-term goals and micro habits that you need to follow daily to reach those goals.
Over To You
These were tips on how to glow up and make your life better. Do not force yourself to do things that your heart is not following. Follow these tips and see what differences you see in your life. I wish you a happy and glowing life!