Disclaimer: This post may contain affiliate links, meaning I will earn a small commission if you purchase through my link at no extra cost to you. For more information, check here.
It is said that your room is a reflection of your heart. No matter where we go, there is no place like home. Therefore, it is very important to keep your home happy and positive. There are things to add to your room for positivity that can create a great difference.
Designing your room in a way that can bring positive energy is good for your emotional, physical, and mental well-being. Ever thought about what should you add to your room for making it more positive? Here are 10 things that can help you construct a positive atmosphere in your room. Take a look and decide what are you planning to add.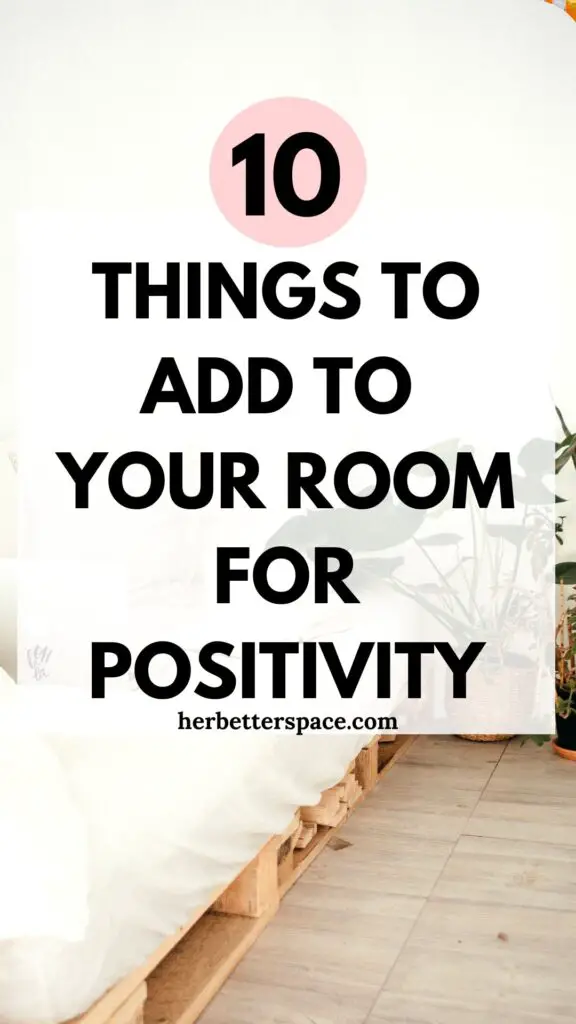 Things To Add To Your Room For Positivity
Declutter
Decluttering your room from time to time is very important to keep your life organized. Clutter always attracts more clutter. It is very important not to pile up things until they end up being extremely messy.
Sort out everything and throw out anything that is not needed anymore. You can use drawers and boxes to arrange your stuff. Organize your closet, your clothes, your books, and your electronics. Make sections for everything. 
Make sure you keep a weekly check of your things.
Adopt a habit of making up your bed and keeping things in their place before leaving it.
When you come back from work or return to your room any day, you will feel relaxed and your room will be your favorite place.
Try Minimalism
Minimalism is in trend, it helps in making life simple and hassle-free. How can you apply minimalism to your room? You first need to get rid of things that are no more in use.
It can include clothes, wall hangings, broken items, sticky notes, collectibles, or anything. Put minimum things on your wall, simple one or two things of your choice. Use drawers and remove any items cluttering outside.
Keep the least amount of furniture, you can also opt for neutral color or sheer curtains. These things will also make your room look more spacious. You can go with neutral or pastel colors, I personally like pastels.
Let The Sun In
Sunshine not only is good for your body but also for your mind and soul. Try maximizing the sunlight in your room. In the morning you must let the fresh air and light come into your room.
Move or set your furniture in a way that let the sunlight come in. You can use sheer or light color curtains. You can also install glass windows if you do not have one. It will also save you money and keep your mental health in check.
Natural sunlight also removes harmful microbes and is, therefore, a natural disinfectant. It produces serotonin which is a mood-lifting hormone. With so many advantages, sunlight is a must-have addition to positivity in your room.
Read 10 Best Morning Habits To Follow For A Productive Day
Add Some Greenery
Most of us love plants outside the home and on the balcony but have you ever tried keeping plants in your room? 
There are many reasons why keeping plants in your room can bring positive energy to your space. When you are close to nature, you are calmer and it helps relieve stress. 
The greenery brightens up your room. It will also help in purifying indoor air. You can get a list of indoor plants here.
Adjust Lightings
Can lighting change a room? Yes! Do not underestimate the change a simple light can transform. It is also one of the simplest ways to create a warm and positive atmosphere inside a room.
Better lighting is also related to improved mental health and happiness. It can change your mood by creating an ambience of your choice. Some people like dim lights while some love to have colorful lights in their room.
Choose what you like, mix it up according to the purpose, and do what makes you feel happy, positive, and relaxed.
Cozy and warm ambience before sleeping is what I love. So I have added fairy lights near my bed which helps me feel positive and relaxed. There are many room decor lights that you must check online.
Use Scents
Smell is one of the most powerful senses of the human body. A fragrance can have a notable effect on you as it triggers sense receptors which then send messages to your brain to control your mood. 
You can associate a smell with a memory or experience. A positive scent can therefore cheer up your mood and can bring back happy memories. Scents can also be helpful in relaxing and for those suffering from anxiety and depression.
Wearing a good scent can boost your confidence. Choose a scent that you find comforting and which lifts up your mood. It can be a candle, dispenser, or freshener. This can make your room a happy place to a great extent.
Affirmations and Quotes
Affirmations are powerful tools to keep yourself optimistic. If you keep telling your mind that you want to achieve a particular goal, your mind starts working in that direction.
It can influence our behavior and habits. Using these short affirmation aims in your room can make you feel motivated and aligned with your life goals.
Place these affirmations in a spot you visit often. It will help you reconnect with your positive self and can make you rise above your negative thoughts. You can buy free printables online or can design your own.
Photos of your Loved Ones
We take photos for memories. These may be a great way to feel closer to your loved ones. You can buy frames or make a board of memories yourself.
Paste pictures of some of your best days, and photos with your friends, family, partner, and pets. These will take you to a positive memory lane and will lift up your mood.
You can also try making a vision board for your room. Read my blog on How to make a vision board for your room.
Color of your bed
In your room, the biggest thing, or the elephant in the room is our bed. The way we keep our beds influences us. Colors play an important role in changing and influencing the human mind. 
Many studies have proven that color helps in improving the symptoms of depression, sleep disorders, stress, and some other disorders as well.
If you are someone who likes bright colors, add colors like yellow to create a more enthusiastic and fresh environment.
Blue color can be soothing and cozy. Green color has a positive effect on your mind, body, and spirit. White or neutral colors can be relaxing and also give a classy look. You choose a color according to the purpose and your favoritism.
Dreamcatchers
A dream catcher is a traditional feng shui tool to trap good dreams and keep away bad dreams and thoughts. These dreamcatchers are full of colors and beautiful, you can hang them near your window or on your balcony.
Some people even place them near their beds. There is a variety of dream catchers available on the internet. You can choose your favorite and add them to your room for positive vibes.
Over To You
These were some of the things to add to your room for positivity. Remember that this is a slow process, you cannot change it completely in a day, and keep editing it according to your likes. Suggest some more things that bring positive energy to your room. Do not wait to make your room your favorite place on earth. Share it with your friends if it was helpful. Happy living!