Disclaimer: This post may contain affiliate links, meaning I will earn a small commission if you purchase through my link at no extra cost to you. For more information, check here.
Vision boards are in trend! But do they work? Of course! Celebrities like Oprah Winfrey and Steve Harvey have endorsed vision boards to achieve your dreams. More and more people are using them because they feel the difference. Do you want to try and make one too? Let's discuss some vision board ideas and how to make a vision board for your room.
It is believed to be based on the law of attraction which says that if you think positively, it will bring positive things into your life. People use it to achieve their goals, and attract opportunities that help them grow in life. Making a vision board can help you stay inspired and happy rather than pushing away good things. Let us first understand what a vision board is.
What is a Vision Board?
A vision board, in simplest words, is a visualization of your thoughts and dreams that you create with inspirational and positive things with innovation. It is also called a dream board and looks like a collage of the things you add to it.
How Does a Vision Board Help?
It motivates you to achieve your dreams. You will be reminded of your dreams often when you look at them.  You will plan your tasks according to it too.
It provides you clarity in life, makes you understand things you want, and filter out what's not needed.
It can enhance your creativity, use your creative side to put things on your vision board. You can keep editing it from time to time.
It helps you destress. When you are tired and demotivated, you can take a look at it, and look at those things that will make you happy. Even if it is a little bit, it helps to lower your stress!
Types Of Vision Board
There are many types of vision boards that people use in their life. Some of these are-
Goal-Specific Vision Board
Inspirational Board
Bulletin Board
Digital Vision Board
Poster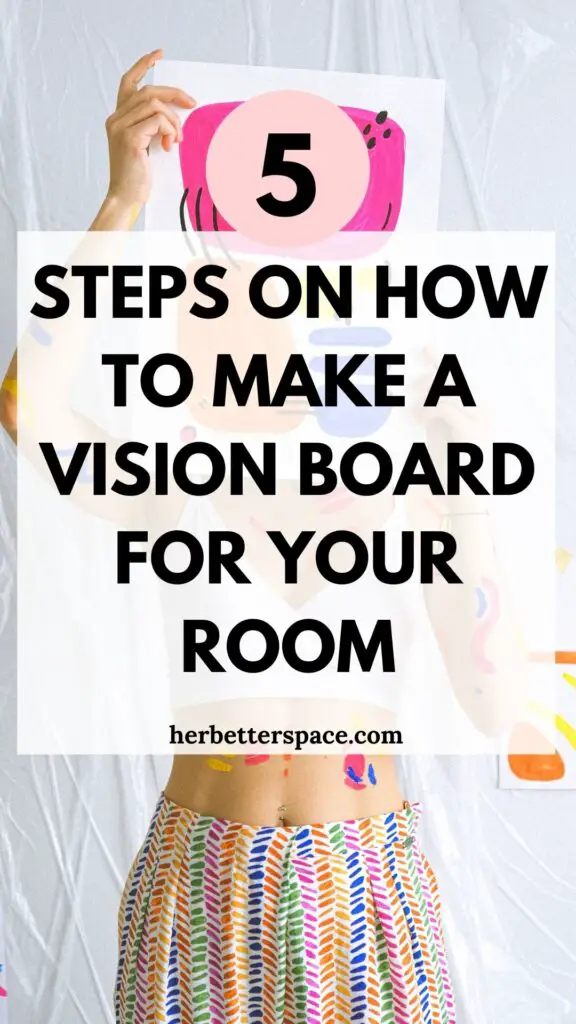 How To Make A Vision Board
1. Discover You
Before getting on to making a vision board it is extremely important that you spend some time thinking about who you are and what you want in life. 
There are memories that have made you feel good, there are people who you want to be with you forever, there are dreams you want to achieve, places you want to visit, dream dates you want to go on….there can be endless wishes. 
You need to filter out things that mean to you the most. Take a pen and paper and note down things you want on your vision board. You can keep editing as you proceed. Take a day or two and think of everything. When you feel you have decided most of the things, move onto the next step. It is imperative to know who you are to build a better relationship with yourself.
2. Get The Things
Once you have decided what you want, you need to bring some supplies. Like a board, some color papers, color pens, related pictures, and some inspirational templates for your vision board. You know better what you will need.
Find out pictures you find the most attractive, for example, if your dream is to visit a country, make sure you use a beautiful picture that attracts you every time you look at it.
Use inspirational quotes that are related to your goals. Whether you are a student or someone who is trying to build a business, we all need motivation and related quotes can create a big difference in your mindset.
Additionally, you can use memories related to your life that you know will make you feel positive, like a picture of the last time you achieved a target or a picture of a dress you bought for yourself. These are my ideas, you dig yourself and be creative.
Things you can use on your Vision Board-
Self Affirmations – Self-written quotes by yourself for yourself. You can make anything simple that you want to convey yourself, for example, 'Take Care Of Yourself. Yes, just anything!
Quotes – Your favorite quotes said by someone. It can be your favorite celebrity, any person you look up to, or your parents.
Words – It means one or two words in big size. Like if you want to visit Paris this year, find a 'PARIS' written cutout.
Doodles or Arts – Cute art you can find online or in magazines. You can also find out illustrations in Canva. Simply download and print it out.
Pictures – Relate to your goals and dreams. If you want to be a doctor, you can find out a picture of a doctor's coat or a NASA logo if you dream of joining it!
Memories/Souvenirs – That give you good vibes. It can be a flower, a friendship band, or a key chain that you have and adore.
Goals – That motivates you to keep going. This is extremely important because it will be the one suggesting you plan your task and will inspire you when you feel down. 
3. Make a Pre-board
Before making the actual vision board, try making a rough board and see if everything fits well. It is extremely important that you like what you make in the end. Use your creative brain cells and do mix and match. See if you want to edit, add, or remove things.
You can keep all the cut-outs on a table and place them exactly the way you want and click a picture to see if that will be your final board.
4. The Actual Board
Once you are content with the items placed perfectly, place them on the board, and glue them nicely. Make sure the finishing is good.
You can decorate the board by adding some embellishments. You can use glitter, ribbons, fairy lights, etc to give it a beautiful look. There are many ideas you can find online, especially on Pinterest. 
5. Place Your Vision Board and Make it Your Roadmap
Making the vision board is just not enough! You have to place it in the right spot. Does placing it correctly matter? Yes, it does. You need to keep it/hang it at a place that you often see. It shouldn't be hidden or seen less.
Use this vision board as a guide to achieving things in your life. Make sure you look at your vision board atleast once a week, better if you can do it daily and just when you feel low. Make your short-term goals and tasks accordingly. Add things in your life that will help you in getting nearer to your dreams. Eliminate distractions. You can also journal about things on your vision board.
Over To You
This was all about how to make a vision board for your room. If you are looking for a digital vision board, you can find templates on canva. I will be writing a blog on how to create a digital vision board soon. I hope you liked my ideas and thoughts. Keep dreaming!