Self-love can be hard to understand sometime but it is the most important kind of love you need in your life. The importance of your own well-being and loving yourself is as important as you think of other important things in life like your daily, friends, and work. Let's talk about what self-love is. In addition, there are 50 self-love journal prompts that you can start writing about.
Journaling can be a great way to start your self-love journey. According to science, people who document their feeling and less likely to suffer from depression and are better at managing their emotions. I had written a blog on How To Start Journaling, this can help you in starting your journaling journey.
What is self-love?
Self-love can mean different things to different people, It can be a tricky concept.
If I have to summarise self-love in my way, I would say self-love is accepting yourself and being positive about the way you are, doing things by taking care of yourself, and keeping in mind your needs and happiness.
It is not about loving everything you have or do but being positive and growing through situations you find hard.
Why is self-love important?
Most of us might not realize how important self-love is while growing up. But we all at some point in time understand its importance, while some may get it after getting into difficult situations, most of us comprehend it as we gain maturity. Self-love is important in our life because of reasons such as-
It creates a positive mindset
You will be able to handle stress in a better way
It gives you self-confidence which radiates attractive energy to others as well
Keeps away depression and anxiety or gives you a way to manage it better
It improves your emotional resilience
You make more focused choices for your betterment
It improves your relationships with others
How to practice self-love or self-care?
Self-love can be the simplest for some people and for some the hardest thing to do. It all depends on the mindset, maturity, the kind of situations we are in, and how resilient we are. Also, it is not easy to stay positive all the time, there are a few things that we can do to maintain a healthy balance for our betterment.
Some of the most common ways to practice self-love are-
Keep checking in with yourself emotionally
Stop finding happiness in others
Try minimalism, sometimes less is more
Have less but quality people in your life
Follow a healthy lifestyle
Try Journaling
Let go of things that are not in your control
Spend time in nature
Do things you love atleast once a week, your hobbies, or something you are passionate about.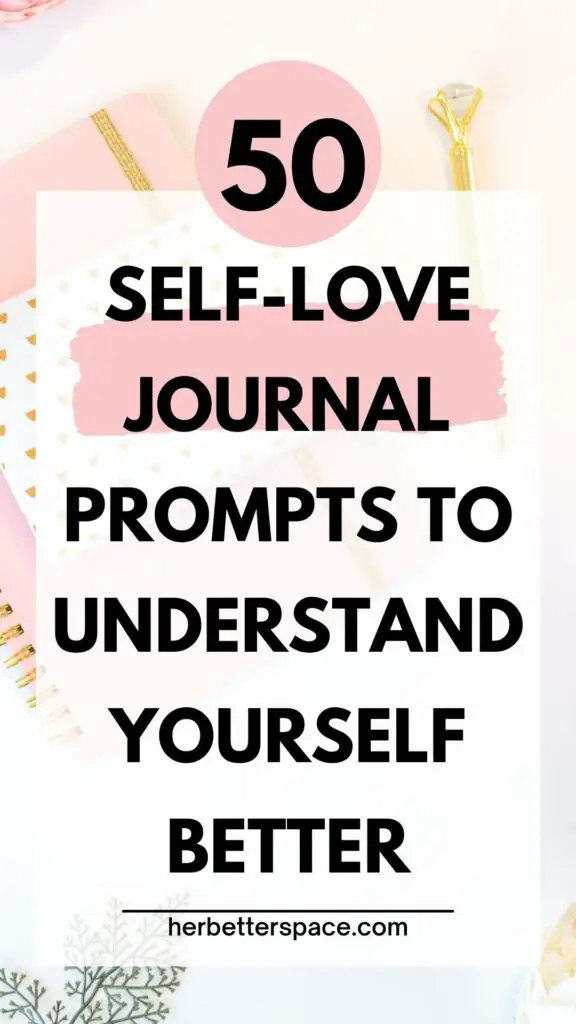 Self-Love Journal Prompts
If I have to describe myself what will I say?
What 3 Things are my priority in life right now?
What 3 positive things do I wish to start as soon as possible?
What negative habits do I need to leave?
What kind of people do I feel the best with?
What is that one thing I absolutely love in other people?
What is that one thing I can't stand in other people?
What regrets do I have in life, have I moved on from them?
How would I describe my ideal lifestyle?
If there is no financial requirement, what work would I love to do?
What are my favorite childhood memory/memories?
What is that one memory of my childhood that I want to erase from my brain?
What was my favorite game/TV show when I was a kid?
What is my favorite memory with my parents as a kid?
How do I feel about my relationship with my parents?
How do I feel about my relationship with my sibling/siblings?
What do I prefer more, staying in or going out?
What are my favorite subjects?
Which subject can I study for my whole life?
What is my hidden talent?
What is that one quality of me that I am very proud of?
Is there anything I have been thinking about a lot lately?
What do I do to keep myself fit and healthy?
How can I make more time for my hobbies?
How often do I do things that I love?
How often do I spend time with my family and friends?
How often do I spend time alone?
What is my favorite meal or cuisine that cheers me up?
What life skills do I need to learn in the upcoming months?
Where would I go if I could go anywhere without the need for money?
If I could change a day of my life which one would it be?
If I could relive one day of my life which one would it be?
What kind of activities make me the happiest?
How would I describe my perfect day?
What 3 things I cannot live without?
Who are the most important people in my life?
What are my priorities for the next year?
How would I define my personality?
If I could change one thing in this world, what would that be?
If I could meet any person in this world for one day, who would that be?
Who inspires me the most in my life?
If I am stuck in a problem, whom will I contact first?
What will be my top 10 on a bucket list for next year?
When do I feel emotionally strong and emotionally weak?
What is one piece of advice I can never forget or would like to give to my younger self?
What are my fears in life or in achieving goals?
When do I feel most calm and comfortable?
What steps would I take to love myself more?
What do I like to do or have after a rough day?
What is/are some unrealistic expectations that you need to let go of?
These were some self-love journal prompts that you can start writing and hop on to your self-love journey. Hope you liked these prompts, share them with your friends if these journal prompts helped you. And at last…..Keep telling "I love you" to the most precious person in your life – 'YOU'!