Disclaimer: This post may contain affiliate links, meaning I will earn a small commission if you purchase through my link at no extra cost to you. For more information, check here.
One of the most important things in life is to self-reflect and improve ourselves. When you grow as a person, you become more confident and successful in life. To grow as a person, it is very important to find clarity of thoughts in life and journaling can be a great way to do that. Wondering how to start journaling for self-improvement? Let's know it!
Journaling is simply writing down your thought and feeling in order to understand them better. It helps you to feel motivated and relieve your stress.
Journaling can be a significant way to make decisions in life to move forward. When you see the result in front of your eyes, you analyze it better. This is why it is helpful to start journaling for self-improvement.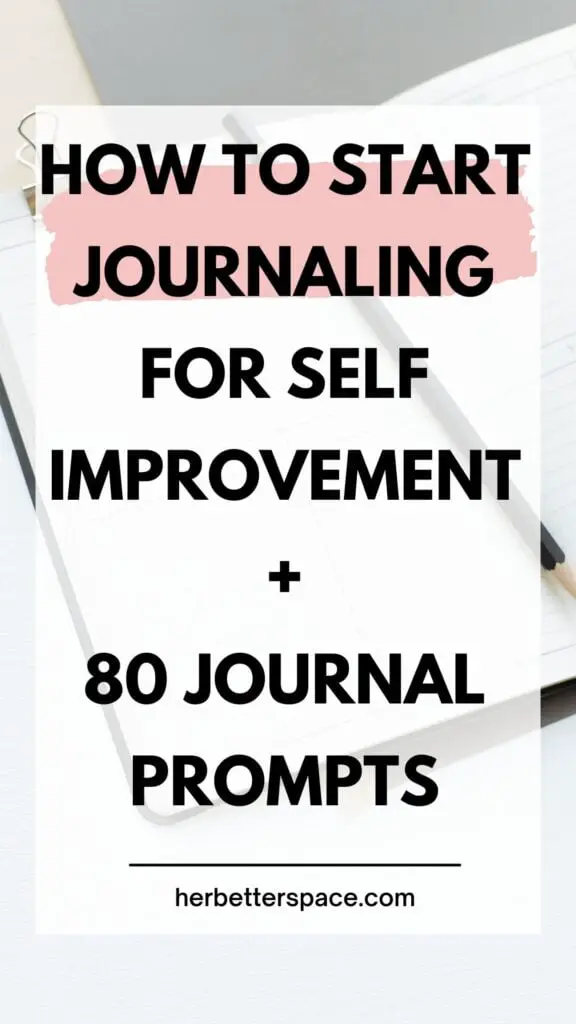 How Does Journaling Helps in Self-improvement?
It brings positive thoughts and ideas to your brain
Improves your creativity which leads to new ideas
It organizes your thought about life
Make you feel better and can be a good stress reliever
It improves your ability to express your thoughts which enhances communication skills
How To Start Journaling For Self-Improvement?
You can choose the routine which you find optimum. There are no strict rules.
Make it a part of your day, night, or weekend. It depends on you.
Find your favorite place in your room or your house where you feel your best.
Types Of Journals For Self Improvement
Goal Setting Journal
A goal-setting journal is the most popular type of journal that people use to start their self-improvement journey. You can use this journal to identify your goals and journal through the goal-achieving journey. 
It helps you to stick to your goals. By using a goal-setting journal you can sort out your priorities and modify them according to your daily life. You have to be diligent to achieve these goals.
What can these goals be? Anything simple like playing the guitar or some big goals like clearing an exam. Try this goal-setting journal and observe your path.
A Daily Journal
A daily journal is an outline of your day-to-day life. By writing a daily journal you can keep your thoughts organized. It will also help you in achieving your goals, relieve stress, and improve your writing skills. Also, you will always have something to self-reflect on.
Gratitude Journal
A gratitude journal is a powerful tool to make you see your worth, be a better human and love yourself more. It increases positivity and self-esteem. Being thankful for things around you can create a huge difference in your life, it will improve your mental and emotional health.
Many studies have found that people who practice gratitude, and count their blessings tend to be happier and stress-free.
Self Discovery Journal
A self-discovery journal is a great way to get an insight into you! It is said that to grow yourself, you must know yourself. This journal can help you develop a better relationship with yourself. Get this journal today to find your true self.
Self Care Journal
A self-care journal is one that helps you feel better and improves your well-being. We should care for ourselves as much as we care for others. You must practice self-love and celebrate who you are. You can track your food habits, sleeping habits, skin routines, fitness routines, and a lot many things in this type of journal. Read Self Care Ideas For Weekend.
Self Improvement Journal Prompts
What makes me the happiest?
When do I feel the most confidence?
What are my good qualities?
What traits do I admire the most in others?
Which 3 areas of your life are you best at?
Which areas do you want to improve in your life?
Things you are not confident about in life.
What things do you need to let go of in your life?
How can you make your life more meaningful?
What is your backup plan if you do not get what you currently trying to achieve?
How do I deal with obstacles in my life?
What are your top 3 priorities in life right now?
What do you like more, an adventurous and exciting life or simpler life?
How am I working towards my big goals?
What is my biggest failure in life?
What are some goals I did not achieve?
If I could go back in time, what are the 3 things I would have changed?
What can I do to make my life better?
Am I settling for less than I deserve?
What is my biggest accomplishment?
Where do I see myself in 5 years?
What motivates me to keep going?
What things am I afraid of doing?
Am I living my life the way I want it?
How have I grown from my past mistakes?
What are 3 things that challenge me?
What am I passionate about?
How do I like to spend my spare time?
What does my perfect day look like?
What do I do to make my life more productive?
How do I respond to criticism?
What do I like after a hectic day?
How often do I practice self-care? 
What self-care practices should I add to my daily life?
What emotions are my strength?
How often do I notice things around me?
What is the most interesting part of me?
How can I make my life happier?
What does my morning routine look like?
How have I improved since last year?
Which 1 good habit do I want to inculcate in my life the next month?
What is a new skill I want to learn this year?
Do I manage my money in a good way, how can I work on that?
What knowledge can I add to me this year?
When do I feel the healthiest?
How do I define the life of my dreams?
What are 3 short-term goals I want to complete?
If I could switch to a new career what would it be?
How often do I prioritize my mental health? 
How am I feeling lately?
If I only had one year to live, what things would I love to do?
Who is your best friend, and what do you like in him/her the most?
What things inspire you in life?
How hard am I willing to work for my dreams?
Who is my role model and why?
What would I love to do if I had unlimited money?
How can I get out of my comfort zone this year?
What is one new thing you would want to try in near future?
How often do I get affected by people's thoughts of me?
What helps me when I feel sad or anxious?
If you were fearless for one day, what would you like to do?
What are my favorite topics to talk about?
If you were guaranteed success, what would you do in life?
What is the most important lesson you have learned in life?
If I ever write a book on my life, what would I name it and why?
What is that one unique trait I like about me?
What is that one habit I want to quit in a month?
How can I make my life more interesting and exciting?
What are my biggest pet peeves?
What's stressing me out lately?
Do I feel physically and healthy?
When was the last time I helped someone?
If I could make a change in this world, what would it be?
What am I using my most energy on?
How can I help someone in my capacity and make them smile?
What phase of my life do I miss the most?
What are my core values, and do my current goals align with them?
How often do I waste my time and what are my time wasters?
What compliments would I want to receive in two years?
What am I grateful for in my life?
Over To You
These were some ideas on how to start journaling for self-improvement. Also, you got self-improvement journal prompts which I hope will help you in your self-improvement journey. Also, keep it simple and easy. As you write you will keep learning and will be more creative. Happy Journaling!