Disclaimer: This post may contain affiliate links, meaning I will earn a small commission if you purchase through my link at no extra cost to you. For more information, check here.
I recently talked to a friend who has joined a recreational activities club. She told me how she was feeling burnt out, unhappy with her lifestyle and wanted to leave her job. She found a group on social media and decided to join and it has improved the quality of her life. How? The answer is HOBBY! That club has various groups of hobbies for women.
In today's era, where our lifestyle is more about making money and less about living life, it is common to be burnt out. Hobbies can be a great way to relieve daily life stress and provide us moments apart from the busy lifestyle.
In this article, you will find a list of hobbies for women. These ideas are of different kinds considering that we all are different and love to do different things. Dig into it and find ideas that you love. Include a hobby time in your week or day, whatever suits you.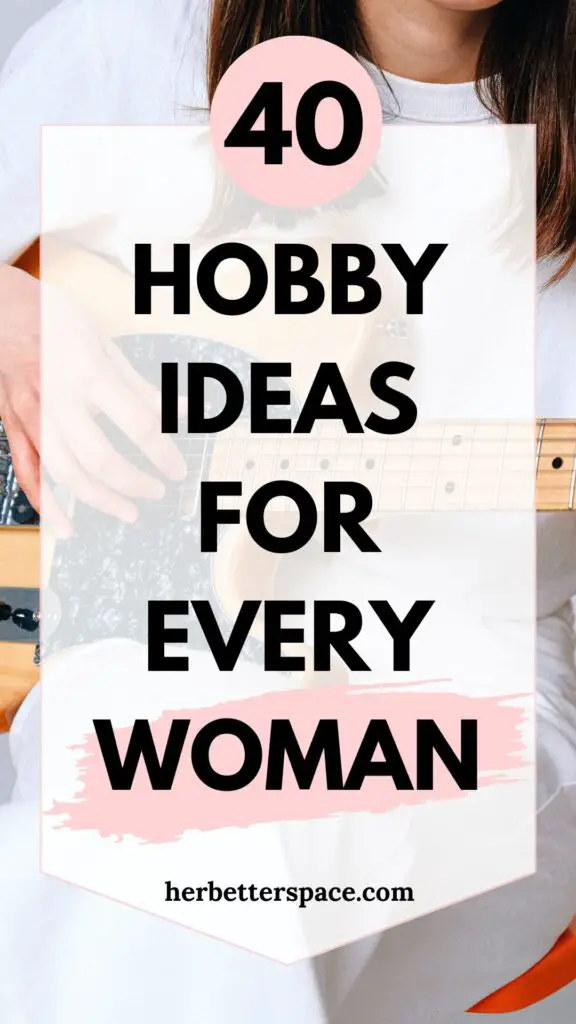 Hobbies For Women List
Reading: What kind of books do you like? Still unaware? Start by reading topics that interest you and then go for popular books in a similar niche.
Writing: when was the last time you expressed yourself on a paper? Journaling can be therapeutic. If you are confused about what to write, here are a few journal prompts you can start with. 
Cooking: Love food? Experiment with new recipes and cuisines for your taste buds. You can receive them from different countries and regions by looking for them online. If you have a sweet tooth, create delicious desserts and bread.
Gardening: Gardening is a great hobby to connect with nature. If you have never tried it before, learn some basics about flowers, plants, seeds, soil, and fertilizers. If you don't have a garden, you can try indoor plants.
Photography: If you love to capture moments and scenes through your camera, yu can go for photography for your hobby. You can also edit and post these pictures on your social pages.
Painting: If you have a love for colors you would love painting too. Buy a notebook or canvas to start. Take inspiration from the internet and explore your creativity.
Drawing: Sketching and doodling can be therapeutic as you put your mind and soul into it. If you have a good hand in it, buy a doodle/ drawing journal and give 10 minutes daily to doodle or draw anything about that day.
Knitting: Knitting can be soothing and can be a great stress-relieving activity. This can also be one of the entrepreneurial hobbies for creative women. You can create cozy clothing and accessories. Keep learning new techniques in knitting so you never get bored.
Crocheting: It is similar to knitting but it involves a single needle and fabric can be more stretchy. Similar to knitting, there are techniques and designs in crocheting. You can craft blankets, scarves, and more.
Scrapbooking: It is a way of preserving memories creatively. You can be as creative as you want in this one by including drawings, designs, colors, stickers, pictures, and text.
Jewelry Making: Designing jewelry is a highly creative hobby. You can start by gathering some supplies and learning the basics. Experiment with different designs and techniques. You can also gift your pieces to others and if become an expert in this, it can be an enjoyable side hustle.
Pottery: Working with clay to make your designs can be therapeutic and meditative. It also requires focus and attention. You can shape clay into beautiful ceramics for your design.
Yoga: Yoga promotes physical and mental well-being. This hobby will not only make you healthier, but it will also make you a happier human being.
Pilates: If you are looking for fitness-related hobbies for women, Pilates can be something new! Focus on core strength and flexibility. Pilates is a type of slow body workout that can help you in wellness. This hobby can benefit you in keeping up with your fitness.
Dance: It can be a great way to enjoy and move your body. It offers mental, physical, and emotional benefits as well. You can learn various dance styles or join a class.
Hiking: Explore nature and stay active. Hiking can be a great way to connect with nature. It challenges you physically and mentally. You can go for it monthly or bimonthly to get some adrenaline and a feeling of accomplishment.
Camping: If you love embracing the outdoors, camping can be your hobby. Being in nature helps with stress reduction and strengthens the immune system. If you don't get time for searching a good camping site, make one in your backyard and have fun!
Swimming: Swimming is a great way to exercise and being in water can change your energy and this is something you can enjoy.  Use it to cool off when you are stressed or overwhelmed.
Travel: With the world becoming more and more connected, people are exploring more destinations. Yes, it can sometimes affect your budget, but it doesn't have to be a costly deal every time. You can save and plan. Choose close weekend destinations. You can take long-distance trips twice a year. Explore different cultures and learn more.
Volunteering: Give back to your community. The act of giving doesn't mean financially only, it can be in many ways. Find out your way of giving back to the world. This hobby will give you a sense of gratitude.
DIY Home Decor: DIY or Do It Yourself refers to creating items by using your creativity, material, and skills. It can be anything from wall art to cushions to furniture decor.
Upcycling: it means repurposing old items into something new. This can be done by modifying them into something useful or functional. It is an environmentally responsible way to be creative.
Calligraphy: Master the art of beautiful handwriting. If you become good at it, you can also make it your profession. You can learn it easily from the Internet or take a workshop related to it.
Learn a New Language: How many languages do you know? Is there a language that you always wanted to learn? Learn a new language that you love and add this to your skills! Read my blog on Skills You Can Learn Online For Free.
Candle Making: You can learn candle making online. There are workshops both online and offline that you will need to search. Create candles for yourself and your loved ones. Candles are great gifting options.
Photography Editing: If you have a creative in you, photography as a hobby can be a skill and a hobby both! Learn how to enhance your photos digitally. There are various courses and tools online that can help you with this as a hobby.
Collecting Antiques: Hunt for valuable treasures. What antique item do you like? If you are one of those then you can make this a hobby.
Photography Editing: With the world getting more digital, photos and videos have increased their value. Enhance your photos digitally using software like Adobe Photoshop or Lightroom. This is one of the best hobbies for women as you can also pursue this professionally and earn money.
Hand Lettering: Do you have beautiful and artistic handwriting? You can make this a hobby that can also turn into a profession. You can make some decor items for yourself and friends like quotes and wishes.
Jewelry making: Jewelry making has undergone many changes in the past decade. The trends are constantly changing. If you are creative, you can make jewelry with pieces you want. Learn by watching some videos online and buying basic items needed.
Collecting: We have something in our mind that interests us. Many tend to collect different kinds of things like coins, stamps, or vintage items. Do you have any such interests? You can go for it.
Bookbinding: Create your handcrafted books and journals. Handmade journals are very trendy and in great demand. You can learn this by taking a workshop or watching some videos online.
Candle Making: Candle making is a trendy hobby that is worth pursuing. Craft custom-scented and designed candles by learning about different scents, colors, and methods. Materials are easily available in the market. If you become good at it, you can also make some money.
Soap Making: Do you know that you can create unique and natural soaps at home? There are videos available online that can teach you, you can also consider taking a workshop. This might be a little traditional but also has its benefits.
Pottery Painting: This is something I am looking forward to learning! Pottery engages your senses and is a stress-busting activity. You can also decorate pre-made pottery with your designs.
Interior Design: If you have a creative soul and love to decor places you can consider interior designing as a hobby. Redesign and decorate living spaces, gardens, balconies, and bedrooms. You can look on Pinterest for inspiration.
Rock Climbing: If you want to challenge yourself both mentally and physically, rock climbing can be another great option for your mind and body.
Sculpture: Sculpting is an artistic hobby that requires hardwork. There are many methods and different materials for sculpting. Take a sculpting class and learn the basics. It is a skill that will take time so practice and show your artistic talent. There are many health benefits, it helps increase cognitive function and stress relief.
Sport: Making sports your hobby can benefit you in numerous ways. Playing any sport, be it tennis, badminton, cricket, or football can be a great stress reliever. It offers you challenges and experiences. Playing sports can also be a way to make social connections and meet like-minded people.
Learn Magic Tricks: Learning magic tricks requires great concentration and practice. If this idea of tricking people and surprising them trickles you, you can learn magic tricks as a hobby. There are YouTube channels where you can learn magic tricks, and search for them.
Over To You
These were 40 hobbies for women that you can pursue. I made this list considering all types of people. Hopefully, you have found yourself a hobby from the list. You can also choose multiple. Make hobbies a part of your life for a happier you!