Disclaimer: This post may contain affiliate links, meaning I will earn a small commission if you purchase through my link at no extra cost to you. For more information, check here.
Gone are the days when you had to go to schools and different classes to learn different subjects and skills. Today the world has shrunk and opportunities to learn anything new have increased immensely. In this article, you will be knowing 15 skills you can learn online for free!
Internet today has made it very easy to share information and learn from anywhere in the world. These skills can help you build your resume, set up a side hustle, or even start your own business.
Keep reading to know what these skills you can learn online for free are and how you can learn them.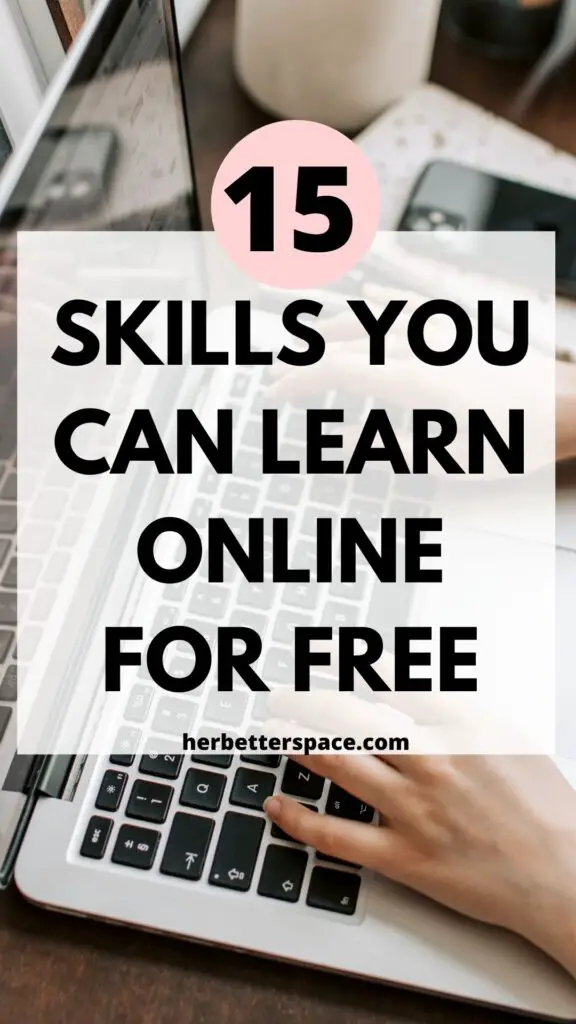 Skills You Can Learn For Free
Here I am giving you a list of 15 skills you can learn online for free. Do you already know any of these? How many are you ready to learn? Let's read!
1. Graphic Designing
Graphic designing is a modern-day digital art through which you create visual content to attract people and convey your message to them.
We see these beautiful illustrations and designs of different brands that inspire us to read, buy, and look at something.
A graphic designer creates a visual design on computer software, they do this for logos, advertisements, magazines, and many more things.
If you are someone who loves colors and designs and want to try your hand at graphic designing join a graphic designing course today.
2. Content Writing
Content writing as a career option offers huge opportunities. As the internet is growing, content is required more than ever. This will only grow! The writing industry is huge consisting of many niches.
Content is everywhere from social media, and websites to advertisements. There are different types of content writing. If you think you have a love for expressing yourself and can write good content, find out content writing courses that can brush up your skills to start a career.
There are skills like research skills, SEO, and editing skills that you need to learn before you apply for some freelance work.  If you are good at it, you can make it a full-time career too!
Read How to Start A Blog as a beginner and make it a career!
3. Social Media Marketing
Do you know that there are around 4 billion social media users around the world? In 2021 the worldwide revenue was around 153 billion dollars which are expected to increase by 252 billion dollars in 2026! 
Aren't these stats enough to realize how much potential this industry holds!? A social media marketer is a person who promotes a company's or personal products and services through social media platforms.
Do you love using social media most of your time? But using social media is so easy, is social media marketing different?
There are a few skills and knowledge that you need to look at before starting it professionally. This is something you can do as a freelancer, you can also work with multiple brands at the same time.
4. Digital Advertising
The digital marketing industry was worth $319 billion in 2019 and will grow to $1,089 billion by 2027. This skill helps industries in increasing brand awareness. Even the smallest businesses today are taking the help of Google ads and Facebook ads.
You can learn this in less time and the payouts are good as compared to the hardwork. If you want to learn digital advertising I will suggest the udemy course which I pursued too. 
5. Coding
With the advancement in technology and the world going digital, coding is one of the most sought skills in the market now. Software Engineers are among the highest-paid in today's world.
A person with good coding skills is in demand in big tech companies like Google, Microsoft, Apple, Tesla, and Meta. These companies hire people with expertise in Frontend Technologies, Backend Technologies, or both.
You can pick up any technology and can easily search for them on the internet, as an abundant amount of information is present on the internet for free, at least for the beginner level.
A junior-level one must know about DSA (Data Structure and algorithms) in any preferred programming language. A senior level apart from coding one must also know about System design or low-level design.
To prepare for DSA one can prepare from Leetcode and for design, one can take courses from Udemy.
6. SEO (Search Engine Optimization)
Search engine optimization Is the process of improving the quality and quantity of traffic to a website Hello web page from the search engines SEO aims to improve the position of your website which eventually results and better income.
Where there is content, there is SEO. Everyone wants their content to rank on search engines for which they hire people with SEO skills.
If you have a blog or business of your own, learning SEO will be a one-time investment. You would not need to hire people for that. 
This knowledge can benefit your work to great extent. Join free SEO courses and add an amazing skill to your skill set.
7. MS-Excel
We all know that MS excel is one of the most used tools professionally. It is not just making tables, it is much more complex. It can organize data, helps in solving data, analyzes it, and makes it easy for you to understand your position.
I didn't know that Excel can do so much work until I did my excel course on Udemy.
This skill on your resume can surely create a good impression and your chances of getting hired. And if you are thinking that only accountants and data analysts are using this, you are mistaken.
Teachers, scientists, and even bloggers and designers everyone is using it. Every industry has data to process and this skill is such a good inclusion.
8. Photoshop And Video Editing
Do you know that 71% of people edit their photos before putting them on the internet? Almost all the videos we watch online are edited too.
These skills are in high demand, especially in the online marketing industry.
It benefits many industries and professionals. One of the most popular tools for photoshopping is adobe. If you learn these photo and video editing skills, you can earn a lot just by working as a freelancer. 
Almost every industry today is looking for good editors, even other digital marketers, and influencers.
It is something people think is difficult to learn but if this is something that will excite you, then learn it for free online through various courses.
9. Email Marketing
Most people check their emails as soon as they wake up. This makes email a very important way of marketing. Email marketing is a type of digital marketing in which you market a product or service through emails.
The global market of email marketing is expected to grow to about 18 billion dollars by 2027. There are email marketing courses along with certifications that you can learn for free and apply for professional positions.
You will learn how to promote a product and increase brand awareness through emails. It is one of the best skills to learn online for free and to add to your resume. Go for it!
10. Ethical Hacking
Cyber security is one of the fastest-growing fields in today's digital world. According to a report by Cisco, by 2030 there will be 500 billion devices connected through the internet.
Every organization is working hard to protect its data and this is where ethical hacking creates huge opportunities.
An ethical hacker is someone who finds vulnerabilities and flaws in the security systems and reports them to protect against any damages.
There are many free and paid courses online that teach you ethical hacking. It requires a lot of practice, expertise, and dedication but if you are interested in learning it, dig in!
11. Programming Languages
FORTRAN was the first programming language. After that many did come and slowly every new technology is built on some programming language.
Therefore, learning any programming language helps you to understand the system and even helps to develop an idea from scratch. 
Most languages just have syntax changes, therefore understanding a few will help you to understand others also. Take free programming courses and then practice them on sites like Hacker Rank, and Hacker Earth.
12. Photography
Is the camera your best friend? Do your friends keep telling you that you click amazing pictures? Pictures play a significant role in marketing.
Every brand knows that people are first attracted to their products and services by visual attraction. This makes photography an important arena. If you are creative and good at it, you will get work no matter what.
You can practice this as a freelancer and make good money by working just a few hours a day. This can also be a great side hustle. Take some photography online courses and start working on your passion whenever you like.
13. Project Management
A project manager in any industry is in charge of planning, working, and executing a project. If you feel that you are good at managing tasks, planning, and communication, and have leadership skills and problem-solving abilities, a project management course can benefit you to a great extent. 
This skill will add value and help you in your career development. Although being a project manager requires experience, you can show off your abilities as a beginner with these skills. Join a free project management course today and enhance your resume.
14. App Development
Companies today are realizing how important it is for them to have an app. It helps them target their audience and build a good relationship with them. Once you learn app development, you are free to be as creative as you want.
You can work for a company or as a freelance and get paid well. This industry is constantly expanding and therefore having app development skills can benefit you a lot. If you are thinking of learning this skill, check out some app development courses now.
15. Public Speaking
Since school we were encouraged by our teachers and parents to come forward and participate in public speaking, while some people are naturally good at it, others lack confidence.
If you are the latter, an online public speaking course can help you in boosting your confidence, no matter at what stage of your professional career you are.
Public speaking as a skill is very important if you are in a profession that requires you to engage with people and express your thoughts fluently, which is required in most of the higher positions in the industry. It gives you confidence and makes you more attractive.
Read How To Be A Confident Woman
Good public skills are required everywhere from giving presentations, to making pitches, and even if you want to start a youtube channel and create content. Take an online public speaking course and improve this skill of yours.
Over To You!
These are skills you can learn online for free. Some of these are very easy to learn, and others may need practice. Benefits from these skills will stay with you and help you in your career and self-growth. What are you waiting for? Skill up, now!