Disclaimer: This post may contain affiliate links, meaning I will earn a small commission if you purchase through my link at no extra cost to you. For more information, check here.
Are you planning to start a blog? Puzzled about what you should do and how to do it? Let's untangle your thought! In this article, you are going to get your answers! Here are 5 things that you should do before starting a blog.
These things will be the first step toward your blogging journey. Here I have tried putting the steps in a simple way.
I have put all the knowledge I have till now. Make sure you do all of these because this is the bare minimum!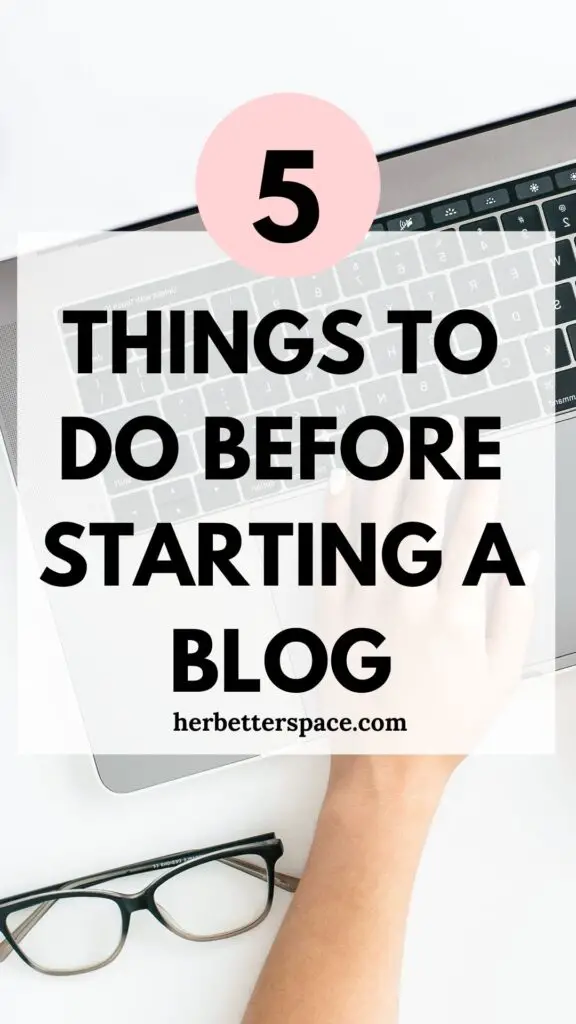 6 Things To Do Before Starting A Blog
1. Find Your Niche
The first thing that you should know before starting a blog is what you want to blog about. The topic you want to write about. It is called your niche.
It may be traveling, gardening, fashion finance, self-growth, and anything else that is still not out there. 
Most people have one or two interests when they think of starting a blog. If you do not have any particular interest, you should first invest your time in finding different niches and sub-niches. 
Find out what will be the most appropriate one for you. Now how will you find out which one is the most appropriate niche for you?
Here are some of my suggestions-
·      Your niche or the topic of your blog should be
something that you enjoy talking about. something that you love doing and you
know that you'll never get bored of it.
·      The next thing you should do is do a little
research about your topic of interest. Make sure the niche will be profitable
in the future and you have enough market for your topic.
·      Make sure you can write about it in the longer
run. Can you brainstorm 50 blog topics about your niche? You should not be left
blank-headed after a certain time period.
If you are searching for blog ideas, read my blog on blog ideas to start your blog in 2022.
2. Discover and Observe Other Bloggers in Your Niche
Once you have decided you your niche, you should look for bloggers who have been writing in the same niche. 
Look at how their blog is designed, what categories they are posting in, resources, type of blog topics, everything. You can follow the ones you get inspired by and see how they work.
3. Find a Good Blog Name
Naming your blog can be really hard.  It is something that people notice first. Bloggers are known by their blog names so it is a big thing!
My suggestions for naming your blog will be-
·      Simply your name, make your name a brand. You
can include your blogging niche in your name too. 
·      Who is your target audience? Is it for a
particular gender? You can use pronouns like his, her, or simply gender words.
Is it for a particular group like moms, introverts, or students?
·      You can also use a completely random name if you
feel that name gives the tone of your blog.
·      Do a lot of mix and match. Make a list, ask your
friends which one they like and decide the best.
4. Decide Your Categories
Are you making your blog on a niche or a sub-niche? Wait, What is that? Let me explain to you with an example.
When you make a blog on Food, your niche is food, it can include a lot of categories. But when you make a blog on 'Healthy Food Ideas', it becomes a sub-niche.
It is suggested to start on a sub-niche because it has less competition. Your audience is more concentrated. But it is also completely fine if you want to go with a bigger niche.
There is more competition but that doesn't mean you won't be successful there. You can also move into any of your sub-niches once you know what your audience is liking.
When decided, find out categories you can divide your blog into. For example, if you have a food blog, you can divide your categories into breakfast, lunch, snacks, dinner, party food, healthy food, and so on.
It will make your blog simple and easy to navigate.
4. Making a content strategy
One of the mistakes that I made as a new blogger was not having a content strategy and I don't want you to do the same.
Content strategy is very important when you are starting a blog to make your blogging journey easier.
You don't have to brainstorm every week for new content ideas. When you have a clear content strategy, you will be motivated and will always look forward to working without procrastinating.
How will you make a perfect content strategy?
First, you need to find out ideas for your blogs. Use google trends, different search engines, marketing tools, and popular blogs of the same niche to generate ideas. 
Make a list of blog post ideas. The next thing is creating a content calendar. Make a calendar for at least 3 months in advance. It will help you a lot and save you a lot of time.
5. Write Blog Posts In Advance
Do you think you will write a blog post daily and publish it on time every day? Do not fall for this plan!
It is very important to keep things pre-planned in blogging. You must keep blog posts ready in advance. 
I would suggest you, have at least 5 blog posts ready for each category before launching your blog. Also, always write blog posts in a month advance.
It will make your life so much easier, you will not have to worry about writing all the time. You may not always have the time and energy to write a blog. Doing things in advance will make sure your work is always on time.
How Will You Generate Traffic?
When you have decided everything related to your blog the next thing you should think about is how you are going to bring people to your blog.
Generating traffic for your blog is not easy. Especially when you are a new blogger and don't know much about blogging.
What are the ways you are good at it? Will it be social media or SEO?
In my suggestions, Pinterest is an amazing option for the first six months when you are a new blogger.
It is easier to get page views from Pinterest than on any other social media platform.
If you are someone who can engage in more platforms for example you make videos on YouTube, or Instagram you can go with that.
It will definitely help but in my opinion, initially focus on just one platform. Pinterest is something that bloggers swear upon for great traffic for new blogs.
Once you have done all of this, you have to do a lot more! Don't worry it will get easier as you go on. Read my blog on how to start a blog from scratch.
Over To You!
These are the thing to do before starting a blog. If you follow these, you can be sure that your blogging ride will be easier. I would like to add here that do not expect immediate results when you start blogging. It is a journey where you will keep learning as you proceed.