Disclaimer: This post may contain affiliate links, meaning I will earn a small commission if you purchase through my link at no extra cost to you. For more information, check here.
Thinking of how to start a blog from scratch?
Are you thinking of how hard it is and if you can do it or not? Trust me, you can! It requires some smart work and dedication as any other work. So if you are ready to put in the effort, you will see the results too.
Why I Started Blogging?
I loved reading books as a kid. While growing up, my love for reading led me to my desire to write. I hesitated a lot for around a year. And here I am today, finally started a blog!
As a beginner, I was in doubt if people are going to like what I am going to tell them through my words. It's natural, it happens to me every time I post a new blog. And I know you must be going through the same.
Don't worry! Today I am here to explain to you how to start a blog in the easiest way. I will divide the process into 4 steps.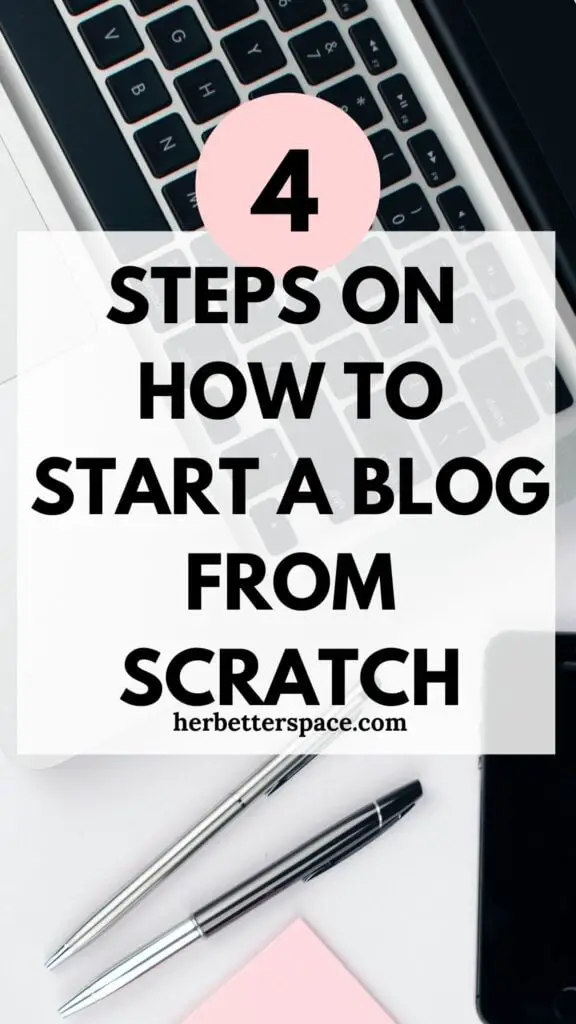 How To Start A Blog From Scratch
Ready to get started? Let's start!
1. Find Your Niche
The most important thing before starting a blog is to decide what to blog about. 
If you already have something in your mind that you want as your future business or organization you can make a blog about it.
But what to do if you don't know what will be the best niche for you?
You can consider a few things when you are confused about what to write about. 
The first thing is your interests, things you love and never get bored of. 
The second thing can be your knowledge or expertise in a field. For example, you are someone from the financial field so you can start your blog about daily finances.
Another thing which you should consider is thinking about how you can benefit people from it.
Why people will come to your blog again? How can you help people out of it? Keep a rough outline of how you are going to start and what will be your future plans.
Read Topic Ideas To Start A Blog In 2022
2. Pick a Blog Name
Your blog name will be a representation of you. Think about some catchy name that stays in the mind of people.
Create a name that reflects you, your personality, or your work.  Some people simply start their business or blog with their own name which is completely fine too. You think of yourself or your blog as a brand.
Another thing that you can do is mix and match. For example, if your niche is food, add it with your name or some words related to food. I
Is the name important? Yes, it is!
It helps in your google ranking. I won't say that if you don't include your niche in your blog name then it won't rank but there are chances of a better ranking if you include your niche in your name.
For example, if you have a gardening blog and your blog name is simplegardeningtips.xyz then there are chances that google will help you rank as compared to someone who has a name ilovegreenery.
So make sure, you include something related to your niche in your blog name. You can ignore this in the case of personal blogs.
Read Things To Do Before Starting A Blog
3. Buy Domain and Hosting
The next thing will be setting up your website.
I always get excited when I think of this! I had been putting off my idea of starting or blog starting a blog for a year. I used to read all the blogs and what videos how to do it but kept making excuses.
But the day I created my website on my own, it just got real!
You must have heard of WordPress if you are thinking of starting a blog. As of 2021, there are more than 400 million sites that use WordPress, it has got 2 million downloads every year!
What is WordPress?
WordPress is a content management system that allows you to host and build a website.
Did you know there is wordpress.org and wordpress.com and these two are different from each other?
When I started I didn't know this but then I read a blog (thankfully!) before starting my blog.
The main difference between the two is hosting. With wordpress.com, the platform is free, and hosting comes with it. It may sound good but you must know that your website will be placed under a subdomain for example www.herbetterspace.wordpress.com.
On the other hand in wordpress.org you host your site yourself. It is like buying your own land and not renting a place. The website is your own property in the world of the internet.
The platform wordpress.org is free to use but you need hosting for it. Hosting provides you with servers which are spaces where your website can live and store your site data.
So now your domain name will look like www.yourblogname.com then.
Hosting
There are two hosting companies that are good in my opinion. One is Bluehost which is officially recommended by WordPress. 
Another one is Hostinger which is good for beginners as it is cheaper, has many benefits like a free SSL certificate and fast loading speed. 
So you have to buy hosting and install WordPress and then…tadaaaa! You have your own website! 
4. Set Up Your Blog
I know it gets a little overwhelming with lots of emotions popping up that what to do and where to start! Try to calm down and learn everything slowly one by one. Take your time and explore the WordPress dashboard. 
You can find a number of free and paid themes on WordPress. 
As a beginner, I would suggest you go with a free theme. Once you see and understand the basics of blogging and have some good content now, you can go with the paid themes. Install some important plugins. 
Write your first post and publish it. I will be writing a blog about setting up your WordPress as a beginner soon.
Over To You!
I hope you found this article on how to start a blog helpful. I will be writing more about blogging in my upcoming blogs. Do save it and share it if you found it helpful. Happy Writing!
Read Skills You Can Learn Online For Free