When I started my blogging journey, I was not aware of what blogging tools are and how they help. I didn't even know that such amazing tools exist. I came to know about these through different mediums like other blogs, online courses, youtube videos, and some through friends. And now, I can't imagine my blogging life without these blogging tools! Want to know what these tools are? Keep reading to find out the best blogging tools for beginners to grow your blog!
How are blogging tools helpful?
Guide you to write better content
Save your time
Tell you what the audience is searching for
Help you design and market your content
Help in ranking your website on search engines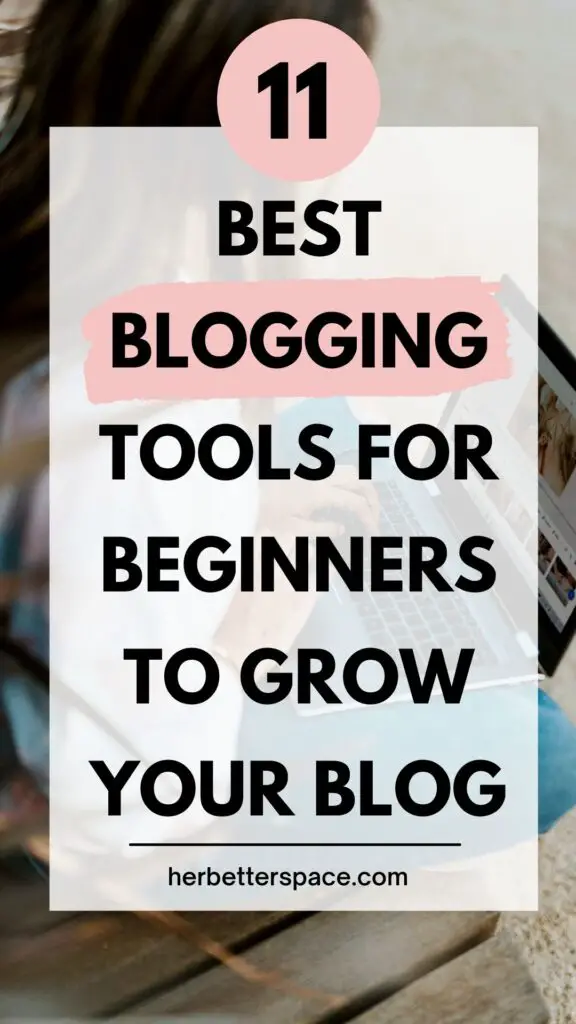 11 Best Blogging Tools For Beginners To Grow Your Blog
Here is a list of the 11 best blogging tools for beginners that will help you grow your blog by improving your content. Notice how many of these you are already using.
1. Grammarly
Grammarly is one of the most popular and best blogging tools for beginners out there in picking up grammar and spelling mistakes. It is used and trusted by millions of writers around the world. It also suggests new words, corrects your sentence, punctuation mistakes, etc.
Many times we make mistakes while typing something as basic as an email. If you add Grammarly extension, you won't worry about the mistakes as it points out every single mistake on the spot.
The basic version is absolutely free. If you want a more robust performance, you need to pay a small amount to get a premium version.
2. Answer The Public
Do you know that there are about 3 billion searches on Google every single day? Millions of people are searching on various topics and their curiosities.
Many of these get asked over and over again. Search engines, like Google, can already predict what a person is going to search for next or what are the hot topics. 
This tool, answer the public, lets you know all that is searched in search engines like Google. It investigates the databases and brings out useful phrases or questions that people are searching for related to a particular topic.
You can write content after knowing what people are looking for. When you search for a particular topic, say content writing tools, it gives you the phrases and questions that customers have asked and will probably ask similar questions in the future. Isn't this cool? This is a goldmine of you know how to use it in making your content.
3. Google Trends
Google trends is a data exploration tool by Google that can help you understand your audience better. It helps us to see what topics or queries are popular in searches. It helps you to find out popular keywords and their potential.
You can also apply filters such as time and location to see more results. Not only this, you can also monitor your competitors' position with Google trends compare.
You can also use it for social media searches like YouTube. Isn't it an amazing and reliable tool? That too for free! If you are not using it, start using it now to make your business a success.
4. Canva
Canva is a graphic design tool that has become very popular lately. There are many reasons why it has gained popularity, especially amongst digital content creators. You don't need to learn any special designing skills to use Canva. 
All you have to do is drag and drop, yes, it is that easy to use. You can make endless designs for social media, the web, your blog, or any other purpose. I used it for making birthday invitations for one of my friends last month and she could believe that I made it in 10 minutes!
The best thing about Canva is, it is mostly free! Even the free version offers great services. Wondering what you get in an upgraded version, which is canva pro? The canva Pro version is great for those who have their own online businesses.
You can create beautiful presentations, it lets you build your brand kit, you get a huge library of images. You can use it for almost any work where you want to create a visual impact. Do not wait and explore this wonderful tool!
5. Uber Suggest
Ubersuggest is a very popular SEO tool that shows you keywords, search volume, competition data, and CPC of a particular keyword you want to write about. Like any other SEO tool, it works by analyzing keywords, backlinks, and domain data.
Like Buzzsumo, this is free for a few searches. All you have to do is enter a keyword or topic title you want to write about and search. It will show you all the related keywords and also popular posts written around the same.
According to Neil Patel, the founder of Uber suggest, this tool can help you strategize according to what is working for others, the competitors in the market so that you can adopt and improve and gain an edge. And yes, it provides you with a free chrome extension! Start using it now and get amazing insights
6. Yoast
Yoast SEO tool or plugin is one of the most valuable tools you can have. It can be installed in WordPress for free. It helps you write titles, meta descriptions, and headlines according to what's best for SEO.
Yoast can help your site rank in search engines by optimizing your content and keywords. It improves your SEO by suggesting content and permalinks for individual posts and pages. Use this tool and improve the quality of your website today!
7. Coschedule Headline Analyser
A coschedule headline analyzer is a marketing tool that can be used for listing new blog posts ideas and tasks in advance. All you have to do is log in, it is absolutely free to use.
You have to enter the headline you have been thinking about using. It will then suggest you the right words and optimize the length to ensure you have an amazing headline. Not only this, but it also promotes you to reconsider the structure of your headline if it's too generic or emotional. 
It provides you with a headline score so that you can judge it on various parameters. Overall, it's a great tool and I will suggest you, use it for you making your digital content
8. Hemingway Editor
Hemingway editor is one of my favorite tools. This tool doesn't let you beat around the bush. It helps you to write content that is clear and concise. This tool uses different color codes to highlight the lengthy complex and difficult sentences.
Your content is simplified and optimized. It also lets you know when your vocabulary is getting too academic or periphrastic. Use this editor and make your words precise and powerful.
9. BlogAbout
Does it happen to you that you feel topic deficient? It's not just you. We all sometimes feel we are not sure what to blog about. You may feel that you have run out of relevant topics and ideas. This tool is a blessing in such a time!
BlogAbout helps you in finding more topic ideas by providing blank spaces in titles and writing prompts. It helps you narrow down new topics for subjects you are looking for.
It is easy and fun to use. You will have a bunch of amazing ideas. I absolutely love it and recommend you to check it out and play around with it.
10. BuzzSumo
Buzzsumo is a tool that shows you a list of the most popular headlines for topics that are trending right now. If you follow it, you can bring more engagement.
You will know what topics are getting people to hit that share button and creating buzz. It also tells you hashtags and new content from other people in the niche. Buzzsumo allows a few free searches before it asks you to upgrade. So use them wisely!
11. WordCounter
Should you use a word counter when MS Word and Google docs already come with a word counting feature? I was confused about this too. But then I saw differences that compelled me to use Wordcounter.
A WordCounter can give you more information about your words, like short words, long words, average word length, sentence length, number of difficult words, etc. You can use this information to replace or edit your words. Along with it, it also shows you the keyword density.
Start using this app as this is really useful in SEO work.
Conclusion
These were the best blogging tools for beginners that can help enhance your content and grow your blog. How many of these were you already using? Check out the other ones too. These are all very basic and useful blogging tools and as a blogger or writer, you can take help of these in your journey. Happy Blogging!