Disclaimer: This post may contain affiliate links, meaning I will earn a small commission if you purchase through my link at no extra cost to you. For more information, check here.
Investing in yourself is the best investment you can ever make!
If you are on the path of personal growth, then investing in yourself becomes essential. In this article, you will read why it is important and 12 ways to invest in yourself for personal growth.
Let us first know why investing in yourself is important.
The most important reason is you being the maker of your own future self. You are the only person who can control and edit the present and future goals.
When you invest in yourself, you learn how to work hard. This gives you self-confidence.
You will be grateful to yourself in the future for making these small investments right now.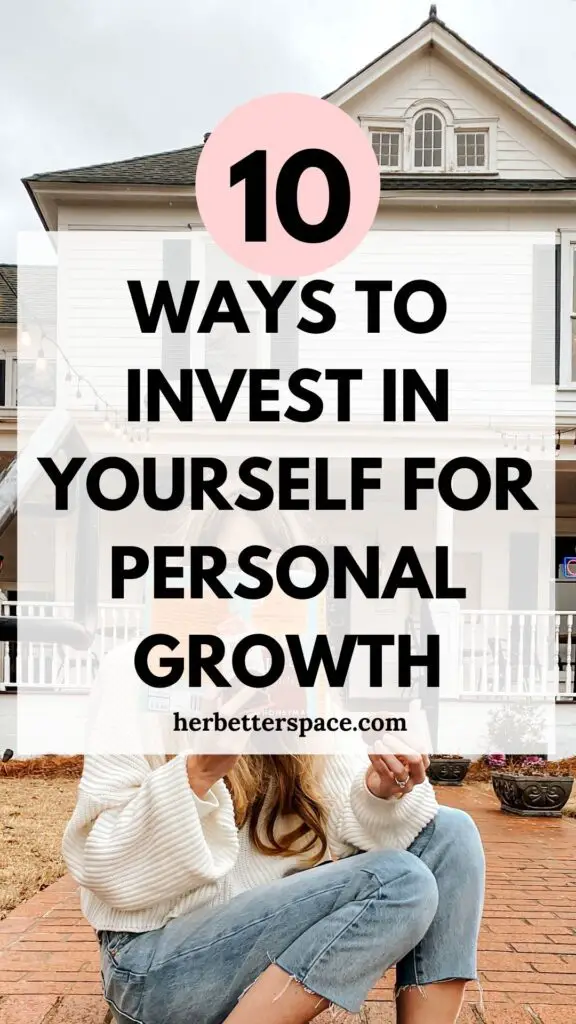 How To Invest in Yourself in Simple Ways
Here I am giving you 12 simple ideas of how to invest in yourself. You can start with some of these initiatives and add on more later. Let's see what are these.
1. Learn Something New
When you learn new things, it gives you the confidence to interact with other people. Skills that you acquire today will help you in the future as well.
For example, if you learn how to develop a website, it can help you earn more alongside your job.
The best part is, today many skills can be learned through digital platforms without paying much!
2. Taking Online Courses
The world is becoming more and more digital today. It is easier to learn a new thing than it was a few years ago. 
There are thousands of free and paid courses on the internet which offer you great skills you can learn from anywhere on the globe. People today are building their careers out of these wonderful courses. 
I learned a lot of things like digital marketing, content creation, and social media marketing through free courses on the Internet.
Anything I want to learn today, the internet is my friend!
Whenever I complete a course it gives me a feeling of accomplishment every time. So you try it too and feel the same!
3. Self-improvement Books or Blogs
I always liked reading as a child, even while growing up I used to read a lot of fiction.
For the last couple of years, I've been reading these self-improvement books and absolutely love these books.
There are personal development blogs that you can follow, these blogs keep you motivated and make you understand a great lesson that somebody else has experienced.
4. Reading
Reading books is a really good way for investing in yourself and becoming a better person.
Are you someone who likes to read digitally or do you prefer hard copies? Well, I am someone who is more inclined towards hard copies. 
Holding a book in my hand and reading it for 10 minutes before going to bed gives me a warm feeling which I am fond of. Also, It enhances your knowledge and perceptions. Reading is one of the habits most successful people have in common.
5. Improve Your Communication Skills
We are being told the importance of communication skills in schools and colleges. It is because if you have good communication skills, you can share your ideas with others more efficiently.
How you speak forms a great part of your presentation skills. These skills are important for most careers. It also forms a part of your personality. 
People with good communication skills are more attractive, this trait encourages other people to talk to you and build good relationships.
6. Invest In Your Health
Investing in your health should be your priority. Your health is the most important thing which will take care of you throughout your life. Start building healthy habits and make them a part of your life.
Eating right with proper nutrition, doing some daily exercises, and avoiding junk food, and sugary drinks are a few of the basics which you should adopt.
When your health is good you will feel positive and will be happier. Your future self will thank you for this investment.
Also read, Daily Healthy Habits For Women
7. Travel
Traveling to different places is my personal favorite way of investment. I love to expose myself to different cultures.
No matter how many vlogs I see, the feeling that I get after visiting a new place is surreal!
Sometimes we haven't seen interesting places which are close to where we live, you can spend a day visiting nearby places.
So make a list, go out there, and experience them!
8. Spend On Experiences Rather Than Things
When you spend your money on things the happiness you get from that quickly fades away.
It is human nature to get attracted to better things, but when we spend on experiences, they become memories for a lifetime.
Things will lose value after a certain time, experiences will never leave your memory. You'll have a lot of stories to tell, try experiencing new things which you have never done.
This will also push you out of your comfort zone, you will be happier and will have a better relationship with yourself.
9. Planning Goals
Planning your short and long-term goals are important. It will make your life more efficient and organized. List out your short and long-term goals in a planner.
Read my blog on How to plan your life better and be more productive.
Keep checking and updating from time to time. It will make the upcoming things clearer in your head. It will simplify your daily life and is a significant investment for you.
Also read How To Make Life More Organised In Simple Ways
10. Invest In Your Looks
The way we look is how we choose to present ourselves to the world. Whenever we see a person, the first thing we notice is how the person looks. 
Investing in your looks is a great way of improving your personality, the better you feel about your appearance the more confident you become.
Work on creating a wardrobe you love, and invest in clothes that are both comfortable and look good on you. When you wear something you like it emits confidence and a pleasing personality.
Therefore, Putting effort into how you look will be a great investment for you.
11. Invest in Developing a Routine
It is said that the secret to success lies in your daily routine, I find this very true! The most important thing to building a daily routine is being disciplined and it is also one of the most difficult things.
In my view, I am someone who cannot follow a strict daily routine for a long time, I enjoy productive breaks.
But I try to do it as much as possible. I am trying to develop habits to maintain my consistency. 
It's okay to step out sometimes but it is more important to have a routine and follow it. I invested in creating a positive morning routine and it is one of the best things I've done lately! 
Waking up early makes my morning more productive.
To me, mornings are more freshening and more active, and nighttime is generally more comfortable. Read my blog about morning habits for productivity.
12. Invest In Self Care
Selfcare is important for your physical mental and emotional well-being. Take out time for yourself from your busy schedule and practice some self-care.
It is not something difficult, it can be meditation, some exercise journalling, a hobby, or skin care. All these things are really simple and also a way to take care of. Make some time for self-care in your daily routine and see the difference.
Over To You
These were some of the ideas on how to invest in yourself. When you invest, you develop a better relationship with yourself. I hope you found this article helpful. Edit your life, keep adding and removing stuff, it's in your hand, and make it an amazing one!