Disclaimer: This post may contain affiliate links, meaning I will earn a small commission if you purchase through my link at no extra cost to you. For more information, check here.
Bored of hanging out with friends every weekend? Or feeling alone because everybody else is busy right now? I feel you! We all must have felt this way at some point. And as I always say, when you have no one else, you have yourself, you are yours! Here are 11 refreshing solo-date ideas that will make you feel awesome. Let's make it your day!
When was the last time you were alone and did something fun? I am sure now we all have an answer… pandemic isolation! The last two years have made us realize that we can be solo and enjoying. Then what are you thinking now? Do something for yourself, love yourself the way you deserve, and be your own date partner!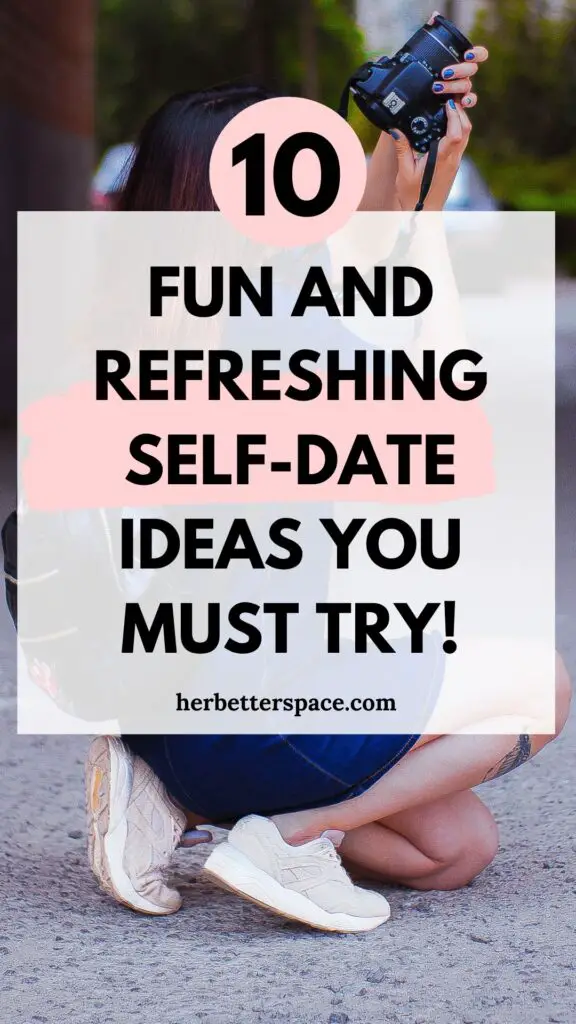 11 Fun And Refreshing Solo-Date Ideas: Date Yourself
Here is a list of solo-date ideas, Pick your favorite, it can be more than one, combine them, and make your day an awesome one!
1. Pamper Yourself
Pampering yourself is a form of self-care that you must do from time to time. Why not do it on the day of love? 
Some of the ways in which you can practice self-pampering are-
Give yourself a manicure and pedicure.
Enjoy a bubble bath.
Give yourself a massage.
Give yourself a facial.
Wear your favorite dresses and makeup
It depends on you if you want to do it at home or want to go to a salon keeping in view your budget. Never feel guilty when you pamper yourself.
2. Write A Gratitude Letter To Yourself
Writing a gratitude letter or Thank-you letter to yourself can make you feel very positive and motivated in life. When was the last time you thanked yourself for something? 
This is something very easy and it is lovely to know your self-worth.
Pick a place, maybe your favorite corner where you feel the happiest. 
Choose your favorite diary or notepad, you can write it on your computer as well.
Write a letter to 'Dear Self' or you can also write in the third person, for example, 'Thank you, Monica, for being strong….'
Keep in mind all the changes you have made, challenges you have overcome, risks you have taken, and lessons you have learned. Compliment yourself for being kind, smart, loyal, optimistic, disciplined, etc. 
This is something that will fill you with a lot of emotions but in the end, you will definitely be a positive and better person.
3. Gift Yourself Something On Your List
We all have a list of things we want to have but still do not buy it because of whatever reason. Gift yourself something that you have been planning to buy for a long time. 
Even if you don't have a list or are not sure if you should buy it right now, gift yourself something that will help you and make you feel happy. It can be a book, a jacket, lipstick, a gadget, or any accessory.
If you have a good budget, buy yourself something expensive like a watch or ring, that will add to your possessions and you will be proud that you have gifted it to yourself.
4. Celebrate The Day With Your Friend/Family
When was the last time you had a fun gathering with your family and friends? You may be too busy in your life recently and forgot to interact with them. Make your date a day to show people around you how much they mean to you.
It will develop healthier relationships in life. If you don't have friends and family who live near you, plan a zoom date.
Order food and drinks for each other and chat over a Zoom call. Tell them about what is going on in your life and ask them about theirs. 
Share funny childhood memories or play some games. Spending time with people you love, even from afar will give you a feeling of being loved and wanted.
5. Read A Book Or Self Love Blogs
Reading can have multiple benefits. If you are someone who loves to read a book then go for a good book. Some people like reading online which is also great, find out some famous blogs on your topic of interest and read them.
I personally enjoy both, reading books and blogs. Reading can elevate your mood by lowering blood pressure and heart rate. It gives you a feeling of calmness.
Books can also be a great source of entertainment and knowledge.  Research has suggested that reading can improve memory and help in building self-esteem. Self-help books can be a significant way to better yourself.
They can be very effective and comforting. If you like some other genres like thriller and romance, go on you are the one to choose. But to feel self-loved, I will suggest reading a personal development book or blog.
6. Learn Something New
Learning something new is always rewarding and productive. Is there something you don't know how to do and want to learn? There must be something! 
When you learn something new, you have a dopamine rush which leads to excitement and happiness. 
It can be choreography to your favorite song, a new recipe from another country, gardening, or playing a musical instrument. 
These things will be fun to do. There can be countless things if you want to learn. Just pick one that you feel you will enjoy! This will be one of the best and most enriching self-date ideas.
7. Give Your Room A Makeover
It is proven by research that changing your environment can change your mood. Giving your room a makeover will be exciting, your room will be organized and you will experience positivity. 
Do you need to have a budget? It depends on how you want to do it. You can do it for free by just organizing things, changing spots, and making some DIY decor items. 
If you have a budget buy new things which you feel can make your room better. What new can you add?
A gallery wall with pictures of your loved ones.
New cozy-looking cushion covers
Add some greenery with home-based plants
A bookshelf if you are a book lover
Some positive quotes and affirmations
Storage spaces to keep things organized
These were only a few tips. You can add elements according to your plan. After all, your room is a place where you are closest to yourself, keep it beautiful.
8. Cook Your Favorite Meal
When was the last time you tried a new recipe? Or made a favorite dish of yours? Make one on this day!  Decide what you will be cooking a couple of days before and buy groceries for it.
You can cook it all by yourself or ask a family member, or friend to accompany you. If you want to try something new, there are thousands of new recipes from around the world, if something delicious catches your attention, go for it.
You can also take yourself out on a picnic with all the favorite cuisines packed with friends and family.
9. Join A Social Cause
Doing something for a cause can give you a meaningful experience. After all, love is not only about romance and roses. 
There are many opportunities where you can participate in a social cause. If you don't want to join a group or organization, do a little but yourself. 
You can donate items you no longer use or spend some hours at an orphanage or nursing home. This way you will make some delightful and positive memories.
You can join opportunities to volunteer here.
10. Plan A Solo Trip
A solo trip can be a great idea to take self partnering to the next level. Solo traveling makes you learn a lot of things. It is not only for relaxing, but it also expands your knowledge about people, different cultures and places. 
Push your limits and do something adventurous. Who would love a dose of adrenaline and unforgettable memories thereafter?
So jump in the car or board a flight or take a train ride because there is nothing better than exploring the world on your own!
Read my blog on How To Make Your Life Interesting.
11. Create A Dream Board
A vision board can be a great way for self-growth. By making one, you will be giving yourself away to know yourself better and accomplish your dreams. What is a vision board exactly? 
They are also called dream boards or inspiration boards.  You write down your aspiration on them to make your vision clearer for the life. This will ensure you are on the right track. It will inspire you and boost your mood.
You can divide your goals into career goals, financial goals, relationship goals, happiness goals, and any other category that you want to add. Find pictures related to your goals. 
Make a collage and add motivational lines. You can find many vision board design ideas on Pinterest. Make a beautiful one for yourself!
Over To You Friend!
These were some of my favorite solo-date ideas that you can practice and enjoy your weekend or holiday. You can do one or more of these ideas and combine them. Make sure you shower much love on yourself and feel relaxed. I hope you have a fantastic date with yourself!