Disclaimer: This post may contain affiliate links, meaning I will earn a small commission if you purchase through my link at no extra cost to you. For more information, check here.
Valentine's day is around the corner and you must be excited to plan something new for your partner. In any relationship, emotional intimacy forms a big part, you want to feel closer to someone you love. If you are looking for valentine's day date ideas to bring you closer to your partner, then keep reading!
Whatever you decide to do with your partner should be something that is meaningful and at the end of it, it becomes a memorable valentine memory. No matter how many gifts your partner give you, their love and time spent together will always be special. Here I am giving you my suggestions on valentine's day dates ideas that can bring you and your partner feel emotionally closer.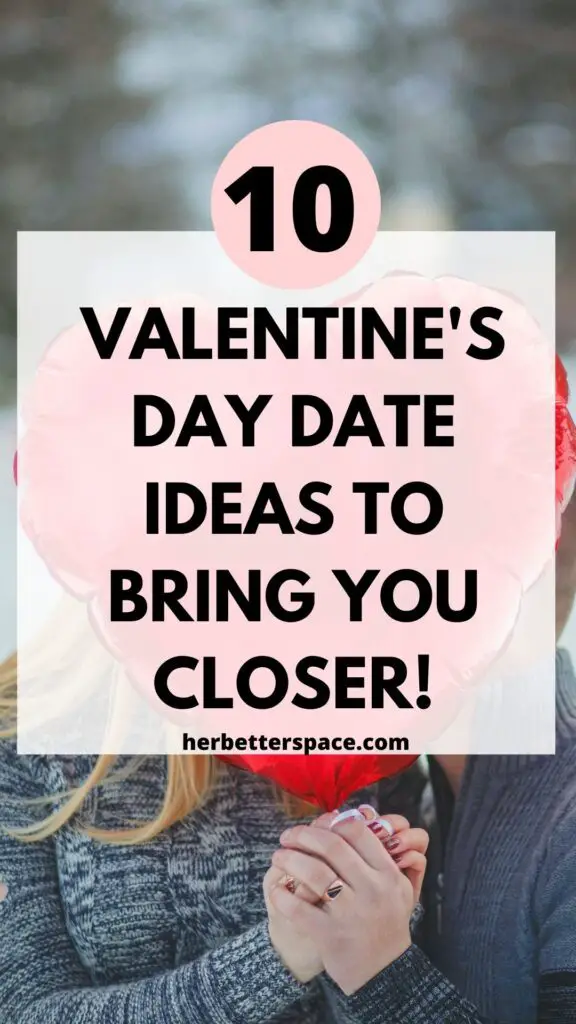 Date Ideas To Bring You Closer
1. Volunteer For a Social Cause
No matter, if it is your first year of relationship or fifth, volunteering for a social cause, can make you see each other's positive sides. You will create a more meaningful and caring bonding. You can discuss with each other what social causes matters to you most and discover your shared interests. 
Doing something noble will always bring you positive memories and will allow you to count your blessings. You don't need to find out big things like doing something.
Create something you wish of your own level, for example, you can spend a day at an orphanage or cook for homeless people. This will definitely bring you close as partners.
2. Share Childhood Memories
Childhood is a part of your life that made you what you are today. There may be some of the most beautiful memories, some lessons, some funny incidents and personal secrets that you haven't shared with your partner yet.
Find a place where you can sit with your partner in a positive environment. You can carry your childhood pictures or things related to a particular incident.
For example, a gift from your childhood bestie which you still have. Tell your partner to bring the same. This date will make you know more about your partner and things that are important to them.
3. Cook For Each Other
A cooking date can be great for bonding. It is something that requires cooperation, you both will work as a team. It will strengthen your partnership and can be a memory task. 
Discuss with your partner what you both are going to cook, do grocery shopping and divide tasks. Do not forget to enjoy yourself with your partner, share your cooking memories and other food habits while cooking together.
One of the plus points is that it can save you some money and you will eat healthy homemade meals.
4. Shopping For Each Other
Are you and your partner shopaholics? If you guys are, a shopping excursion can be a wonderful idea. You can go out to your favourite place and buy clothes, shoes or other accessories for each other.
One of the things that you should take care of is not being selfish and spending too much time and energy on buying your stuff, giving equal importance to your partner. Try to appreciate your partner's opinion and enjoy the process.
5. Take A Trip
Travelling to a new place is a great way of having new experiences in life. If you and your partner live in different places and are usually busy at work, travelling can help you be comfortable with them.
You will be with each other for a day or more which can make you learn about each other more. You may find your partner's quirks and perspectives to different things
Sharing accommodation can provide a great opportunity to deepen intimacy, both physical and emotional. Travel can really be a transformative step in your relationship.
If you do not have time for a long trip, find out a place near your city which you haven't seen yet. Amazing places are just a search away.
6. Make A Collage Or Scrapbook
I know we all have smartphones today and we can take as many photos and videos together as we want but nothing beats the feeling of something handmade! Do you feel the same? Isn't it more beautiful to find out a letter or card from a loved one from years ago?
Find out a way to create something that you both would love to make together. It can be a hand painting, a scrapbook of your pictures. You can also print out your favourite texts from each other. You can mark special moments and write a couple of lines about them if you want.
7. Make A Wish Jar
'A Wish Jar' full of all the romantic things that you want to do with your partner can be an amazing way to spend a romantic day! Ask each other how many wishes you both need to pick. 
Do not write something that cannot be done right there or is difficult to do that day. It can be something as sweet as dancing to a romantic song or something sexy like a make-out sesh. 
Enjoy with each other, add more cuddles and kisses. Sometimes all you need is a cosy date and if you are not having much time for your partner lately, this can be a really good idea.
8. Do Something Crazy Together
We all have that list of things that we consider crazy or adventurous. Something that will make our adrenaline levels go insane. Do you have something like that but you are procrastinating it for long?
Try it on this valentine day with your partner. You can ask your partner and choose one thing for both of you. It can be going to a theme park and enjoying the scariest rides, karaoke night or camping under the sky. This will fill your day will experiences that will create wonderful memories. Read how to make your life interesting in easy ways.
9. Reconstruct Your First Date
Do you remember how special you felt on your first date? There were a lot of mixed emotions! If you are a hopeless romantic, this can be a good idea for you.
Revisit the spot of your first date or any initial memory. Plan the day doing things you exactly did that day like the food u ate, activities you did and everything else.
If possible, wear the same clothes. You can also click a 'Then and Now' picture if you have one of your first dates. Are you already having some ideas by now? Great!
10. Questionaire With A Walk
You may feel sometimes that you need to know your partner more. Make a list of questions that you think will bring you and your partner closer.
You can add interesting questions to know how both of you feel about a particular thing or situation-based questions. Some of the examples are- 
What is your dream job? If not, what else would you like to do?
What is our most embarrassing childhood memories?
When did you realise that you are in love with me?
Ask these questions while you walk or sit in a calm and serene place. It can be a small park near you or a place where you two can be alone. A romantic walk with these questions will nourish your relationship.
These were some of the valentine's day date ideas to bring you close to your partner. I hope you found some ideas for your day. You can combine these ideas or adjust them according to you. Plan ahead and have an amazing valentine's day!