Disclaimer: This post may contain affiliate links, meaning I will earn a small commission if you purchase through my link at no extra cost to you. For more information, check here.
Welcome to my guide blog on things to have in your room to make life easier. I have compiled the 20 most common items I think every room should have.
Why did I decide to take up this topic?
My sister is a busy worker struggling to manage between her work commitments and her personal space. 
When I asked her what was bothering her, she said it was difficult to keep her room clean. Her room has become a total mess between meetings from home and working towards meeting work deadlines.
Her clothes, papers, books, gadgets, accessories, etc., have been scattered everywhere in the room, and she couldn't find a thing when needed. 
Now she's tired of this mess and wants to make her room peaceful and efficient. So, I asked her what she thought she needed, and we listed 20 things a room should have to make life easier.
So, I thought of writing down a blog for the same, as this is a common problem anyone can face. Read the blog and see what you have been missing.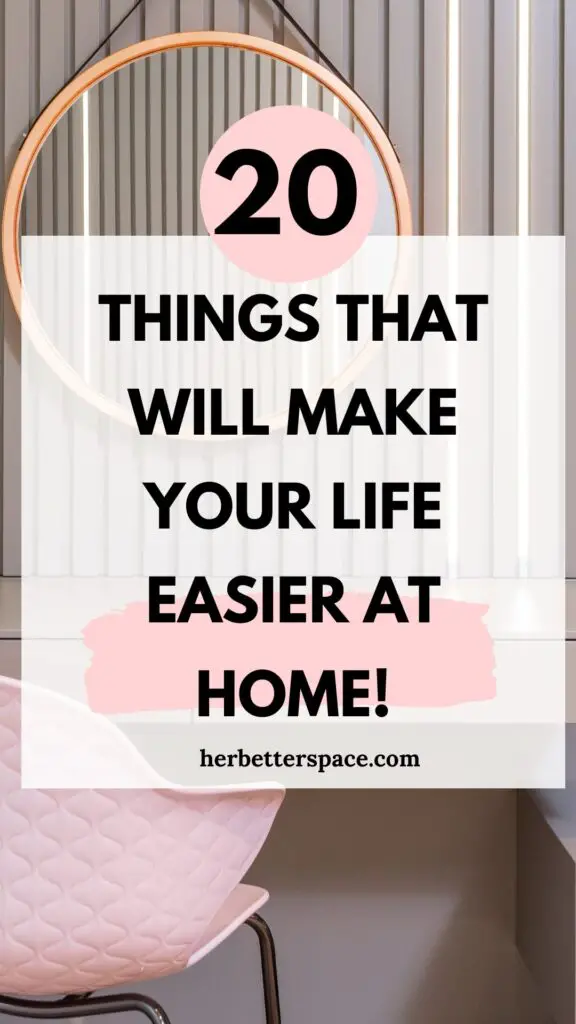 Things Every Room Should Have
Let's begin transforming your messy room into heaven. Make sure you note down the things you think might help you! 
1. Full-length Mirror
You must be wondering how a full-length mirror can be listed on this list. Well, a full-length mirror makes it easier to dress as you can see your entire outfit from head to toe.
Also, it saves time to see which top looks good with which bottom. You don't get confused as you can see the entire look in a single go.
In addition to this, a full-length mirror helps your room look bigger than the actual size. This is because it reflects the light and generates a sense of more space. So, if you don't have a full-length mirror in your room, have one now and see the difference. 
2. Wireless Phone Charger
If you want to remove the cluster, use a wireless phone charger. The more chargers and cords in an area, the more it looks untidy. While using this gadget, you don't need any fuss of wires. Just place your phone on the charging pad, and your work is done.
It eliminates the chaos of finding your charger every time. You don't always need a plug for this gadget. You can charge your phone while sleeping, working, or bathing. If you are also tired of the mess of chargers, get a wireless phone charger now. 
3. Bedside Drawer
The best part of having a bedside drawer is that it is in all solutions for storing small yet important things. You can use the bedside drawer to put items like books, chargers, watches, specs, medicines, and whatnot!
Also, it's comforting to have a bedside drawer as everything you need is in the reach of your hands. 
Along with this, it keeps the cluster away and makes the room look tidy and organized. It gives your room an aesthetic look. Bring a bedside drawer to your room and clear the mess you always wanted. 
4. Smart Plug
A smart plug removes the need to frequently unhook and re-plug your devices, which can be inconvenient.
You can control your devices with your phone, voice commands, or a timer when using a smart plug. This makes it easy to switch off lights, charge your phone, or even start your coffee maker without leaving your bed. 
Furthermore, smart plugs can help you save energy and money by turning off devices when they are not in use. Overall, a smart plug is a little investment that may significantly improve your daily routine and make your life easier.
5. Trash Can 
A clean room is a clean mind. Having a trash can in your room makes your room tidier and mess-free. It is a quick solution to remove trash or discarded items and clean the space. Also, it removes the possibility of odor.
If you don't keep a trash can in your room, you might end up having a pile of waste papers and small stuff by the end of the day. But, if you think keeping trash can be boring, then you are wrong.
Beautiful and attractive trash cans are now available online. So, choose the one that pleases you and makes your room happy. 
6. Hanger For Clothes
It becomes challenging to manage a wardrobe that isn't organized. That's why it's best for you to arrange clothes in hangers. They keep the wardrobe neat and organized. You have easy access to your clothes if they are hung properly. 
Also, arranging clothes in hangers keeps them in shape, and you don't need to iron them every time you wear them. They extend the life of your clothes and save you money. Overall, hangers give a neater look to your wardrobe. 
7. Extra Pillows
Pillows can provide additional comfort and support as you sleep, lowering neck and back pain and promoting improved sleep quality. Also, they can help you wake up feeling more rested and rejuvenated. You can give your back the support of pillows even while watching TV or reading your favorite book. 
Additionally, you can decorate your room in a fancy way with pillows on the bed and around. You can make your room a cozy one with vibrant color pillows. If you plan to change the look of your room, having pillows could be a great option!
8. Curtains and Window Films
The next needy item in a room is curtains. You can choose from light-colored curtains or blackout ones. The light-colored curtains don't prevent the light from entering the room, but dust will not enter your room.
On the other hand, blackout curtains stop the light from entering the room and make the room dark, perfect for an afternoon nap. In addition to curtains, you can use window films on your windows. They will serve the same purpose as dark curtains. Also, dirt will not enter your room. 
Also, they provide privacy to you and prevent people from sneaking into your room. So, as per your requirement, you can choose which type of curtains you want in your room. Curtains give a fuller and more complete look to the room. 
9. Bookshelf 
If you love reading books, having a bookshelf is a must. It helps you to keep your room neat and organized. Also, arranging books on a bookshelf increases their life. You can easily find the book you want to read if they are arranged in a bookshelf. 
Your storage problem can be solved when you have bookshelves in your room. Moreover, a bookshelf is also a kind of decorative piece that gives a nice look to your room.
You can bring a small portable bookshelf if you don't want the one that gets fixed in the wall. So, bring a bookshelf today and see the difference in your space.
Also, here are some suggestions on Self Love Books For Women 
10. Sticky Notes
Small and cute sticky notes are everyone's favorite. They are a handy reminder for crucial activities, appointments, or deadlines and lower the chances of forgetting anything important. Using sticky notes can assist in alleviating stress and boosting productivity.
Sticky notes are a great help when scribbling down ideas, brainstorming, or creating to-do lists. This helps to make things more organized. Add colorful sticky notes in your room and bring a change in your room.
11. Table Lamp
Having a table lamp on your table is a great way to keep your eyesight healthy. A table lamp adds lighting for reading, studying, or working, which reduces eye strain and makes these activities more feasible. 
Also, it is a simple and immediately available source of light that you can turn on and off as and when needed. You don't need to get up and walk across the room every time. The light lamp creates a pleasant and cozy environment in the room at night. It's a perfect product for readers. 
12. Small Accessory Organizer
A small organizer is of much use. It provides a defined area to store small items like jewelry, keys, and other small personal goods, minimizing clutter and keeping your room more organized.
It assists you in managing your crucial papers by giving you a convenient place. You can keep your to-do lists, notes, and bills in this organizer.
Because of its tiny size, it doesn't take up much of your room's space. It is a cute and durable way to keep your things organized. So, buy a small organizer box now.
13. First-aid Kit
A first-aid kit in the room can make things easier in case of an emergency. Accidents can occur anytime, so having a well-stocked first-aid kit can be a great help. With a first-aid kit in your room, you can treat wounds, scratches, burns, and other injuries quickly and easily without having to go for supplies or leave your room.
Also, this first-aid kit helps you treat injuries immediately and prevent them from turning into big ones. So, if you don't have a first-aid kit in your room, have one now. Ensure you keep it somewhere you can reach quickly.  
14. Water Tumbler
Having a water tumbler is convenient access to water, allowing you to stay hydrated without leaving your room. This tumbler is particularly useful at night, when you may not want to get up and walk to the kitchen to drink water.
It reduces the chances of spilling water in the room as you don't have to roam in the room with a glass full of water. Having a water tumbler in your room is a tiny but sensible approach to improving the convenience and comfort of your life.
15. Coffee Mug Warmer 
A coffee mug warmer in the room can make coffee lovers' lives easier. It's a quick and easy way to keep your coffee or tea heated throughout the day. The best part is you don't have to leave your room or go to the kitchen. 
It is a great product for those who work or study from home or simply enjoy sipping a warm beverage while reading or resting. So, having a coffee mug warmer in your room can improve your convenience and enjoyment of your daily routine.
16. Water Absorbent Coaster 
A water-absorbent coaster in the room can make life easier by minimizing water stains and furniture damage. It is known to catch any moisture and protect your tabletops.
This can save you time and money by reducing the need for periodic furniture cleaning or replacement.
Moreover, water-absorbent coasters are available in a variety of designs and colors. So you are free to add a decorative touch to your room. The best thing about this product is that it works for both hot and cold beverages. So you won't regret buying one!
17. Cord Organiser 
It becomes a mess when you have many cords in your room. They get tangled and can confuse you and waste your time. To avoid all this mess, bring a cord organizer today. This gadget will keep your cords untangled and more organized. 
This can also limit the possibility of damage or tripping risks created by dangling cords. You can simply identify which cord belongs to which device with a cord organizer and save spending hours attempting to untangle them. How wonderful it is!
18. Essential Oil Diffuser
An essential oil diffuser can make life easier by giving a natural way to improve your mood and induce relaxation. It helps to create a peaceful and relaxing ambiance for your space.
You can pick from a range of scents, such as lavender for stress relief or peppermint for energy boost. It can also assist in enhancing air quality by dispersing essential oils into the air. 
Also, using an essential oil diffuser is an environmentally friendly alternative to chemical-based air fresheners or candles. Overall, having an essential oil diffuser in your room can improve your peace of mind and health.
19. Bean Bag 
A bean bag in the room can make life easier by providing an enjoyable and distinct seating choice. In addition, a bean bag, unlike regular chairs, can adjust to your body shape and provide additional support for your back and neck. 
It is also lightweight and portable. Also, you can use it for several activities, such as reading, studying, or watching TV. It can also be a fun and casual addition to the design of your room, bringing a touch of comfort and relaxation.
20. Air Freshener 
An air freshener in the room can make your room aura by eliminating bad odors. It makes the atmosphere welcoming. A decent air freshener can assist in the elimination of odors created by cooking, pets, or other sources, leaving your space feeling fresh and clean. 
It is a fact that pleasant scents can positively impact our emotions and well-being, so they will help enhance our mood and reduce stress.
Overall, our productivity will increase, and we will be refreshed throughout the day. It is a simple, cost-effective way to keep your room clean and comfortable. 
Final Words
Finally, my sister was able to have a mess-free room. She is now happy and loves her room. Indeed, the little things can make a great impact when it comes to having a comfortable and accessible room.
Having the correct objects in your room can assist you in being organized, relaxed, and calm, making your life easier and more pleasurable.
There are many other objects or products that you can set up in your room for better organization, but I have mentioned the ones I feel are the best. I hope I was able to help you as I helped my sister. Let's meet in our next blog! Till then, keep your room clean and happy.