Disclaimer: This post may contain affiliate links, meaning I will earn a small commission if you purchase through my link at no extra cost to you. For more information, check here.
You must have heard RuPaul's famous quote on self-love, "If you don't love yourself, how in the hell are you gonna love somebody else?" This quote equally involves men and women. But, while managing and loving their home, work, and family, a woman forgets to love herself. One way to rejuvenate that self-love is reading books on self-love and this blog suggests some of them!
What's self-love? Self-love is about loving oneself. You show self-love when you appreciate yourself, care for yourself as you do for others, recognize your worth, and treat yourself with compassion and kindness. 
Self-love is something we ignore, but it is an essential part of a healthy life. Indeed, achieving self-love can't always be a cakewalk. Still, with a little determination, and some guidance, you can always love yourself. 
There are various books on self-love to make the road easier for you. Experts and experienced people who have gone on the trip have written these books. They share their views and experiences to help others develop self-love.
In this blog, we have listed the best 15 books on self-love that every woman should read. These books offer practical guidance, activities, and tales to help women create a healthy connection with themselves and learn to love themselves. So, without further ado, let's dive into our little library!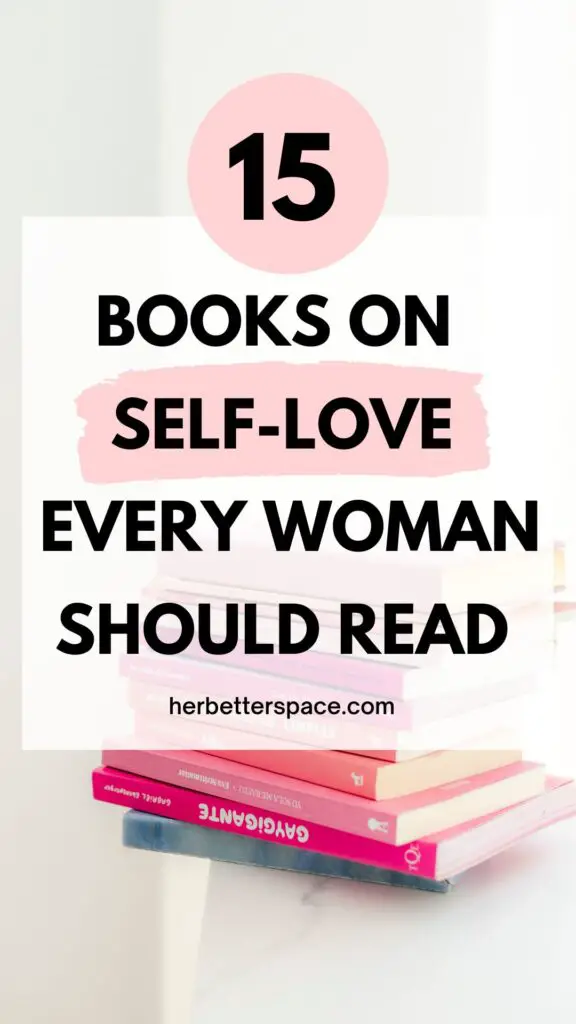 Self-Love Books For Women
Here is a list of 15 self-love books that every woman should read. These books will help you regain your confidence and will allow you to love yourself. 
1. You Are a Badass 
You Are a Badass is a self-help book by Jen Sincero that aims to inspire readers to achieve their goals and live life to the fullest. The book focuses on the power of mindset. It encourages you to let go of limiting beliefs and adopt a positive attitude towards yourselves and your abilities. 
Sincero captivates and inspires you to take action toward what you want, overcome your anxieties, practice self-love and admiration, and embrace your inner "badass" through humor, personal experiences, and practical exercises.
By the end of the book, you will have a fresh perspective on your skills and the power they have to build the life you want.
2. Years of Yes
Shonda Rhimes' memoir Year of Yes is about the year the renowned writer, producer, and creator of successful TV shows such as "Grey's Anatomy" and "Scandal" determined to say yes to everything that troubled her.
Rhimes' personal path of self-discovery unfolds in the book as she learns to move outside of her comfort zone and welcome new experiences, chances, and relationships. 
Rhimes invites people to say "yes" to their own life, take risks, and pursue their passions with humor, honesty, and real experiences. This is a must-read for you if you want to get out of your own way and live a more fulfilled life.
3. The Self-Love Workbook
The Self-Love Workbook by Shainna Ali is a practical approach to creating a healthy and pleasant bond with oneself. The book takes readers through a step-by-step process to recognize and overcome negative self-talk, boost self-esteem, and promote self-care.
The book leads you on a journey of self-love and acceptance through exercises and activities designed to develop self-reflection and self-awareness. 
Ali draws on her experience as a licensed mental health counselor. She uses her own life experiences to provide you with practical abilities and methods for improving your self-image and overall well-being. So if you are trying to improve your self-esteem and overall quality of life, putting your hand on this book is all worth it. 
4. Untamed
Glennon Doyle's narrative and self-help book Untamed delves into the author's self-discovery and personal transformation path. Doyle discusses how she overcame cultural expectations by developing the ability to listen to her inner voice and create her own path. 
Doyle's message of sincerity, boldness, and self-love connects strongly with readers, inspiring many to break away from society's standards and expectations.
She allows you to think about your assumptions and ideas and accept your authentic self with engaging stories and thought-provoking discoveries. This book is an excellent reminder that we all have the ability to live natural lives.
5. The Body is Not an Apology
The Body is Not an Apology by Sonya Renee Taylor is a powerful book urging readers to accept their bodies and reject cultural ideals that define beauty and worth.
Taylor believes that the concept of the perfect body has been utilized to silence and exclude individuals.
She provides practical suggestions on how to practice unconditional self-love and acceptance. Also, she shows how to deconstruct discriminatory structures that perpetuate body shaming and prejudice. 
If you are a victim of body shaming and thus have lost your confidence or cannot love yourself anymore, this is a must-read book.
Taylor invites readers to reject destructive societal narratives and love their bodies as they are through personal experiences, poetry, and social criticism.
Through this book, you will have the ability to break down harmful societal stereotypes and foster self-love and body positivity.
6. More Than Enough
Elaine Welteroth's narrative and self-help book More Than Enough describes the tale of Welteroth's journey to success in the fashion and media industries, as well as issues of race, identity, and self-worth. Welteroth discusses her personal experiences, mainly navigating white places and finding her voice as a "black woman" in power. 
Welteroth motivates individuals to pursue their ambitions, accept their distinctive traits, and confront social hurdles through her relatable and inspiring experiences.
At the end of this book, you will learn the tips to overcome self-doubt and achieve your goals while battling for greater workplace inclusion and equality.
7. The Power of Writing it Down
The Power of Writing it Down is a practical guide to writing that focuses on the therapeutic advantages of writing. According to Allison Fallon, the writer of the book, writing can help people gain clarity, ease stress, and stimulate personal growth.
She encourages readers to use writing as a tool for self-reflection, resolving issues, and setting targets through a series of writing exercises and ideas.
Read my blog on How To Start Journaling.
Fallon walks you through the process of utilizing writing to heal and strengthen your mental health in a friendly and compassionate tone.
This book is a fantastic resource for you if you are seeking to develop a regular writing practice and use writing to improve your general well-being.
8. Beautiful You
Beautiful You is a self-help book encouraging readers to rethink their view of beauty and create a healthy body image. Rosie Molinary is the creator of this book.
According to her, typical beauty standards can harm one by creating unrealistic expectations, leading to a poor sense of self-worth and low self-esteem.
Molinary presents readers to embrace their unique talents and nurture self-love and acceptance through a series of practical exercises and guided meditations.
She shares tips on changing one's thinking and developing a positive relationship with their body. This is an inspirational and uplifting read that provides you with a new perspective on elegance and self-worth.
It is a must-read for anyone dealing with body image issues and wanting practical advice on creating a positive self-image.
Read Daily Healthy Habits For Women
9. Into the Magic Shop
Dr. James R. Doty's book and self-help work Into the Magic Shop describes a story of the author's journey from a rough upbringing to a successful profession as a neurosurgeon and philanthropist.
Doty tells how he met Ruth, a woman who taught him mindfulness and visualization skills that changed his life.
If you are looking for motivation and ideas for living a meaningful and fulfilling life, this might be the perfect book for you.
Through relevant events and significant teachings, Doty provides practical advice on cultivating mental strength, compassion, and empathy. This book serves as an appealing reminder that we all have the ability to transform our lives and positively impact the world around us.
10. Girl, Wash Your Face
Rachel Hollis's book Girl, Wash Your Face encourages women to let go of the lies they think about themselves and take responsibility for their life. Hollis discusses her personal experiences with self-doubt and provides helpful tips on how to overcome it. 
She gives practical ways to increase confidence, set realistic goals, and establish healthy habits with a mix of humor and tough love.
This inspirational and cheerful read inspires women to accept their flaws and achieve their aspirations. Read this piece and overcome your self-doubt and live your best life.
11. Women Who Run With the Wolves
Clarissa Pinkola Estés' book Women Who Run with the Wolves dives into the iconic experiences of women throughout history, across cultures and mythologies. Estés encourages women to reunite with their inner selves, tap into their inherent gifts, and embrace their creativity and power. 
Estés illuminates the psychological and spiritual aspects of the feminine consciousness using storytelling and interpretation of fairy tales, myths, and legends.
In addition, she gives practical tips on overcoming social and cultural challenges to women's growth and potential. You can reclaim your feminine essence and awaken your true power through this book.
12. Present Over Perfect
Shauna Niequist's self-love book Present Over Perfect looks at the drawbacks of perfectionism. It offers suggestions on how to prioritize one's life in an improved manner.
Niequist shares her own experiences with stress and burnout, along with tips on how to live a life that emphasizes relaxation, relationships, and self-care. 
If you want balance and satisfaction in your life, this book will be a perfect fit. Shauna encourages readers to let go of the need for ongoing achievement.
Instead, focus on being present in the moment, using a mix of personal experiences and practical advice.
This book offers a powerful reminder to slow down, engage with one's true self, and live a life that is in keeping with one's values and priorities.
13. The Self-Love Experiment
Shannon Kaiser's beautiful book The Self-Love Experiment recommends readers practice self-love and build a healthy relationship with themselves. Kaiser discusses her own journey to self-acceptance and offers advice on how to conquer self-doubt, build self-compassion, and accept one's actual self. 
She helps readers develop self-awareness and positive behaviors, fostering self-love and self-care through activities and guided meditations.
This book is an uplifting, inspiring read that reminds you that you deserve love and respect. Moreover, it provides skills to help you on your journey to greater self-love and self-acceptance.
14. Radical Self-Love
Radical Self-Love by Gala Darling discusses the concept of self-love and offers guidance on creating a deep and meaningful relationship with oneself.
Darling recounts her own self-discovery journey. She offers practical guidance on how to conquer self-doubt, let go of limiting ideas, and accept one's actual self.
She encourages readers to prioritize self-care and establish a good and empowering relationship with their bodies, minds, and spirits with a blend of personal experiences and effective ideas.
This book is a must-read for everyone looking to overcome insecurity and live a genuine and fulfilled life.
15. Start Where You Are
Meera Lee Patel's book Start Where You Are calls on readers to embrace creativity, overcome fear, and achieve their aspirations.
If you need practical advice on overcoming obstacles and taking action towards one's goals, whatever one's stage in life, this is the book for you. Meera invites readers to explore their hobbies, strengthen self-awareness, and build strength through exercises and challenges.
This book is an inspirational and encouraging read that reminds you that you have the ability to build the life you select. Have a read of this overwhelming book to overcome self-doubt. By the end of this book, you will start living a life that is in accordance with your values and objectives.
Final Words
In a nutshell, self-love is a vital component of living a fulfilling and happy life. The books featured in this blog present valuable insights, and practical advice.
It is an inspiring tale to assist women on their journey to greater self-acceptance and self-love.
Whether you are dealing with negative self-talk, past traumas, or simply looking for ways to enhance your self-esteem, there are books for all these. 
Women can learn to love themselves unconditionally, appreciate their unique strengths and limitations, and build a deep sense of inner peace and contentment by considering and implementing the ideas in these books.
So, pick the book you think will work the best for you and begin your path to a more loving and satisfying existence.