Disclaimer: This post may contain affiliate links, meaning I will earn a small commission if you purchase through my link at no extra cost to you. For more information, check here.
Welcome to our new blog! With everyday life's constant hustle and bustle, it's essential to practise self-care and motivate your loved ones to do the same. Moreover, giving them self-care gifts lets them know your concern for their health and happiness. In this blog, we'll review some fantastic self-care gift ideas for yourself and those you care about.
I always try to give my family and friends some useful self-care gifts. This not only makes them feel happy and special, but they also feel like caring about themselves. Also, why not treat yourself to some self-care gifts as well? 
From body products to self-help books, there's something for everyone on our list. So join us as we delve into the world of self-care. We will also learn to incorporate these thoughtful and meaningful presents into our everyday routine.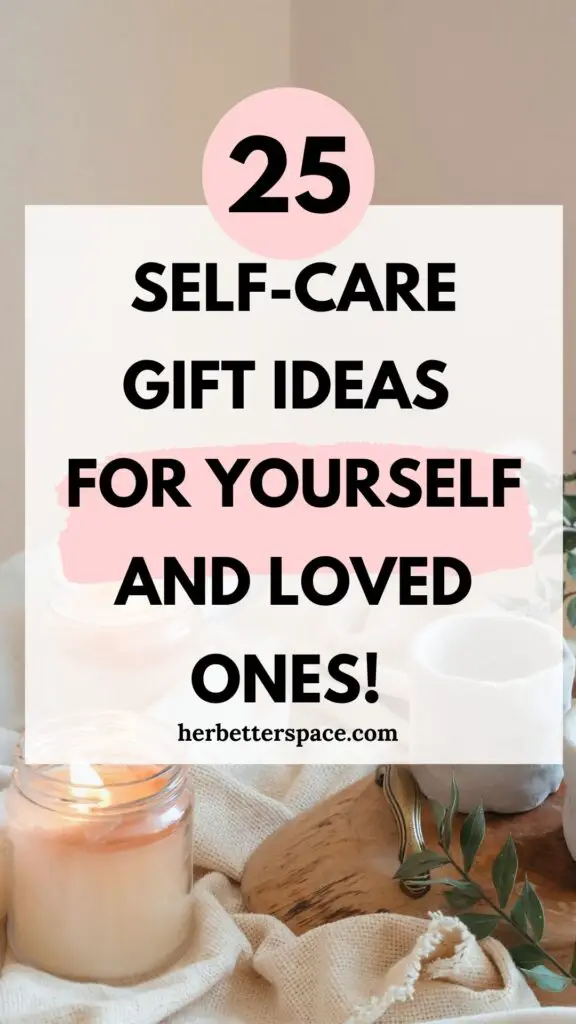 25 Thoughtful Self-care and Wellness Gifts 
Let's dive into our list of self-care gift ideas without further ado. You can add more than one idea given below and make a self-care gift basket.
1. A Bed Tray
Do you love having breakfast in your bed? If yes, you can gift yourself a bed tray! A bed tray is a simple yet beneficial self-care item that enhances relaxation and comfort. 
It provides a sturdy platform for food, drinks, or reading, relieving neck and back strain. It's perfect for lazy breakfasts in bed, working from home, or munching while watching your favourite show. 
Including a bed tray in your self-care routine is a convenient and indulgent way to promote well-being. You can gift it to someone you adore. 
2. Sip From a Mug
Who doesn't like to have tea or coffee in a mug? It's a comforting way to have your beverage. In addition, a mug can be a self-care item that inspires you to start your day well. 
An effective way to enhance your mood and comfort is to use your favourite mug and drink from it. The beverage's warmth can be calming and help in relaxing. 
You can gift a personalised or special mug to your friend. It will be a joyful and happy treat. A quick and easy method to take care of oneself and practise mindfulness is to include a coffee cup in your self-care regimen.
3. Hot Brewing Tea Starter Set
A tea starter set can be a self-care item that allows you to slow down and relish the moment. From the tea bags to the teapot and cups, it contains everything you need to make a great and soothing cup of tea. 
Preparing and sipping a cup of tea can be a thoughtful practice that promotes relaxation and lowers stress. You can always experiment with different flavours and broaden your palate! 
If you know someone who loves to have tea, gifting them this product can be a great choice. Include a tea starter set in your self-care routine today, and take care of yourself.
4. A Comfortable Pair Of Shoes
Gifting yourself a comfortable pair of shoes might be considered a self-care item. Walking and running in comfortable shoes can reduce foot pain, if any. Also, the posture can be improved by spending money on a nice pair of shoes.
Your whole physical health and well-being may benefit from this. In addition, shoes can also serve as a fashion statement that expresses your individual taste and gives you more self-assurance. 
If you want something comfy and a well-being gift for your loved ones, shoes can be your product. However, make sure you know their shoe size before gifting them one. 
5. A Bag For the Gym
There are certain things you would want to carry while going to the gym. However, it becomes difficult to carry those individually. So, why not gift yourself a gym bag? A gym bag can be a self-care item that promotes physical exercise and helps you reach your fitness goals. 
Keeping your workout clothes, water bottle, and other stuff in a particular bag simplifies keeping you organised and motivated. Also, a gym bag can be a fashionable statement that shows your unique style and pushes you to the gym. 
If you have fitness-freak friends, there's nothing better than gifting them a gym bag. It's a small yet handy self-care item. 
6. Freshness of Bath Bombs
They aren't the actual bombs! Bath bombs are little bombs of relaxation and calmness. Bath bombs are typically made with natural ingredients such as essential oils, Epsom salt, and baking soda. They nourish your skin, relieve stress, and soothe aching muscles.
They are self-care things that promote relaxation and rejuvenation while taking a bath. The aroma and colours of these small balls can give you an immersive and delightful sensory experience. 
You can choose different bombs every time and experiment with what suits you best. Try gifting a bath bomb set to your loved ones and helping them pamper themselves while having a bath.
7. Wrap Yourself in a Bathrobe
Using a towel after a shower is common, but have you tried wrapping yourself in a bathrobe? If not, you must try it! After taking a shower, a bathrobe provides you comfort and relaxation. 
Its warmth and softness against your skin will help you relax. It's a great way to pamper yourself. This is a must-try bathrobe accessory. It might be a little expensive, but investing in it will give you much comfort.  
It can also be worn as comfortable loungewear for a day of rest at home. So if you think any of your friends or family would love to indulge in its comforts, don't hold yourself back from gifting them one!
8. Express With Journals
If you love to write and express yourself, don't think twice before buying a journal. A journal can be a tool for self-care that encourages contemplation and mindfulness. 
You can communicate your ideas, feelings, and experiences through a journal in a secure and confidential place. It can help you feel less stressed. Also, you can learn more about yourself, develop your creativity, and sharpen your problem-solving abilities through journaling. 
If you know someone who has a keen interest in writing or who's thinking of starting writing, gifting them a journal can be a great way to motivate them to journal. 
Read, How To Start Journaling
9. Productivity With Planners
Planning and organising make everything easy, isn't it? A planner can help you plan your day in a more organised way. A planner can help you organise your life and minimise stress. 
With the help of a planner, you can design a schedule to meet your needs, set goals, and prioritise tasks. A planner helps you stay focused, productive, and motivated, boosting your confidence and decreasing overwhelming feelings. 
Gifting a planner to your loved ones can be a great self-care gift item. It will help them to make their life more organised. Also, they will be able to meet their everyday goals in a positive direction. 
10. Juicers For a Healthy Life
A healthy start to a day can be with delicious juice. Homemade juices are way more healthy than packed juices. Hence, gifting yourself a juicer can be a great self-care product. 
You can make delicious, nutrient-rich beverages that may boost your overall well-being and health by juicing fresh fruits and vegetables. You get a daily dosage of vitamins and minerals while exploring various flavours and combinations through juices. 
Gift a juicer to your friends or family members and help them lift their spirits and motivate them. Juicing is an easy but powerful self-care practice that one can incorporate into their daily routine.
11. Pampering Cookies
Who doesn't love cookies? Cookies are a packet full of happiness and relief. Whenever you feel low, having a cookie or two can refresh your mood. In addition, having cookies helps you reduce stress and work with better concentration. 
Not only having cookies but baking cookies can help you be creative. It is a relaxing activity that allows you to express yourself and relax. So, order your favourite cookies now and dive into the delicious treat!
Gift cookies to your loved ones and share a sweet bond with them. You can also give cookie-making items to someone who loves to bake cookies. 
12. Hydrating Water Bottle
Drink sufficient water and reduce dehydration. Buying yourself a water bottle is a self-care product that will help you to stay hydrated throughout the day. In addition, carrying a water bottle can help you ensure you drink enough water during the day. 
Enough water will help you digest, retain energy levels, and have mental clarity. Keep a water bottle near your work area and drink enough water. 
Gifting a water bottle to your loved ones can always be a great choice. It's the best gift you can give to someone for whom you care. If you want to give something small and handy, gift a water bottle. 
13. Productivity With Laptop Stand
A laptop stand is a type of self-care item that helps you have a proper posture and lessen physical stress. Your neck and back will be less stressed from hunching over a screen if you use a laptop stand to raise your laptop to eye level. 
Additionally, a laptop stand helps keep your laptop healthy as you can have better airflow and less overheating. This may result in more productive work. 
Gift a laptop stand to someone you love and know that this might help them have a better posture. Someone you will adore it. 
14. Refresh the Mood With Flowers
The aroma of fresh flowers always helps to refresh the mood and reduce stress. That's why flowers are counted in the list of self-care products. In addition, having fresh flowers in your house or workplace can help to create a peaceful and pleasant environment.
Fresh flowers can improve your mood and mental well-being. Also, gardening is a peaceful activity that brings a sense of accomplishment and joy. 
Flowers are a thoughtful gift to oneself or a loved one as they show your concern and appreciation. Gift someone flowers and make them feel happy and special! Also, this can be one of the best self-care gifts for women.
15. Reduce Stress With Candles
One of the best self-care items is candles. They help to relax your mind and soul and reduce anxiety. Lighting candles can create a peaceful, calming atmosphere that encourages soothingness and peace. 
Buy yourself scented candles, such as vanilla, musk, or lavender. Scented candles have aromatherapy benefits and can help in refreshing the mood. A simple self-care ritual that can promote a sense of comfort and pleasure is to take the time to light and enjoy a candle. 
You can always gift scented candles to people you love. It is a thoughtful and calming gift to someone you want to care for. So, buy candles for someone you love and make them happy and relaxed. 
16. The Goodness of Essential Oils
Essential oils help to enhance relaxation and well-being, so they are on the list of self-care products. Aromatherapy with essential oils has several benefits, including stress reduction, mood enhancement, and aiding peaceful sleep. 
To get the maximum benefit of these oils, you can diffuse them, add them to a bath or massage oil, or use them in a personal inhaler. You can try different varieties of essential oils having different fragrances. 
Gifting these oils to someone will show that you have concerns about their emotional well-being. So, gift the essential oils to someone you love and make them happy.
17. Greens For Positivity
Plants are always refreshing and soothing. They encourage relaxation and a sense of connection to the natural world. Adding plants to your surroundings, whether house or office, can enhance the air quality, lessen stress, and lift your spirits. 
Gardening and caring for plants is a great way to self-care and reduce anxiety. In addition, plants can be a lovely and unique addition to your space, reflecting your style and personality. 
Plants are the best gift to give someone as they last longer if cared for properly. They will make your loved one happy and relaxed. So, gift plants to your loved ones and make them feel special. 
18. Bring Happiness With Colouring Books
Do you like colouring or drawing? No, colouring is not only for children; even adults love to draw and colour. Colouring is a therapeutic activity that helps to reduce stress. So, gift yourself some good adult colouring books. Don't forget to buy some colours with them! 
Colouring is a creative and expressive activity, making you happy and encouraging your self-esteem. Colouring books are easily portable so that you can take them to your workplace. 
If any of your loved ones love to draw or colour, it's the best gift you can give them. Also, you can gift this self-care gift to even those who aren't crazy about colouring, as it will help them reduce stress. 
19. Self-help Books
Self-help books can be a great addition to your small library. They help you have refined personal development and well-being. Reading self-help books can provide direction, motivation, and practical techniques to help you better your mental health, relationships, profession, or other aspects of your life. 
Gifting yourself self-help books help you see life in a better way. They help you deal with problems and not let them affect you much. Reading self-help books is a peaceful and enjoyable pastime that allows you to prioritise your personal development and self-care. 
You can gift self-help books to your loved ones as they will help them gain some positivity and have a better life. Gifting self-help books showcases that you care for the well-being of your loved ones. 
20. Fun With Cookbooks 
Are you someone who likes to cook whenever possible? If yes, you must have noticed that cooking is a relaxing and therapeutic activity. It helps reduce stress. Cookbooks foster food and creativity. 
Including cookbooks in your self-care items can help you reduce anxiety. Also, you can try and experiment with new dishes. In addition, you can plan and prepare meals using cookbooks. Cooking may also be a creative outlet for discovering new flavours and cuisines. 
If you know someone who loves to cook, gifting them a cookbook is a unique gift. They will help them fight their stress through cooking. 
21. Solve the Puzzles
Are you a lover of puzzles? Yes, many people love to solve puzzles in their leisure time as they help them relax. Also, whenever you have stress or anxiety, solving puzzles can be a great source of distraction. 
Solving puzzles can also make you feel accomplished and improve your mood. You can solve words, jigsaws, or any other puzzle you like. Having puzzles in your self-care products can be very helpful. 
When you gift puzzles to your friends or loved ones, you bond with them and promote social interaction. It shows you care for their mental and emotional health. 
22. Relaxation With a Scalp Massager
Have you tried a scalp massager? This small self-care item is a relaxing gift to yourself. It helps you to relax and decrease stress. Also, it can assist in enhancing blood flow and circulation to the scalp, promoting healthy hair growth and reducing scalp tension. 
You can massage your scalp with a scalp massager while at work or when you are at home after office hours. Also, you can use it while bathing or before going to sleep. It helps you soothe your mind and provide calmness.  
Gifting your friend or family member a scalp massager is beneficial for their mental health. They will surely feel relaxed after using it. So gift them one today and make them happy!
23. Peaceful Sleep With a Sleep Mask 
Some people can't sleep in a room with lights on. For those, sleep masks are beneficial self-care items. It encourages restful sleep and relaxation. By blocking light, a sleep mask can aid in promoting deeper, more peaceful sleep. 
Also, sleep masks can help you feel less stressed and happier. You can always carry your sleep masks with you while travelling.  
If you know someone who can't sleep in a room full of light, you can always give them sleep masks. This way, you are taking care of their sleep and body.
24. Softness of Pillows
A comfortable sleep is everyone's desire. Soft pillows can help you have better sleep and relax. Sleeping with a comfy pillow that supports your head and neck will help you obtain a good night's sleep and prevent discomfort. 
When you sleep properly, your stress reduces, and you have a healthy mind. Choosing the right pillow can also help with common sleep problems such as snoring and sleep apnea. 
Gift your dear ones a soft pillow and help them sleep better. This will reflect your care for them, giving them a better lifestyle. 
25. Soothingness of a Night Lamp 
A night lamp is a self-care product that encourages calming and improved sleeping. A night lamp in your bedroom will help you have a calming and quiet space. This way, you will help you feel less stressed and anxious. 
It also gives soft ambient light that won't wake or disturb you while sleeping. In addition, it can be a simple alternative for getting up in the middle of the night or reading late at night. 
If you want to gift something special to your dear ones, gifting them a night lamp can be a thoughtful gift. Your loved ones will surely love it.
Final Thoughts
In a nutshell, taking care of yourself is crucial for living a happy and healthy life, and self-care is an essential element of that. Did you like these self-care gift ideas? Self-care presents are an excellent way to show yourself and your loved ones that you are concerned about their well-being.
Whether it's a simple journal, calming bath bombs, a cosy bathrobe, or a whole self-care package, these presents can significantly impact how you feel and approach self-care. So take the time to prioritise your mental, physical, and emotional wellness, and think about giving self-care things to those you love. 
Remember, self-care is not selfish; it is necessary. Happy self-caring!