Disclaimer: This post may contain affiliate links, meaning I will earn a small commission if you purchase through my link at no extra cost to you. For more information, check here.
Women face a lot of issues when it comes to personal hygiene. Whether it is menstruation or the need to pee in a public restroom, we have to think and plan a lot about everything for our own health. Here are 8 female personal hygiene products that every woman can and should carry in her bag.
Having these in your bag will make your life comfortable and organized and you will feel confident wherever you go. You can also help other women in need!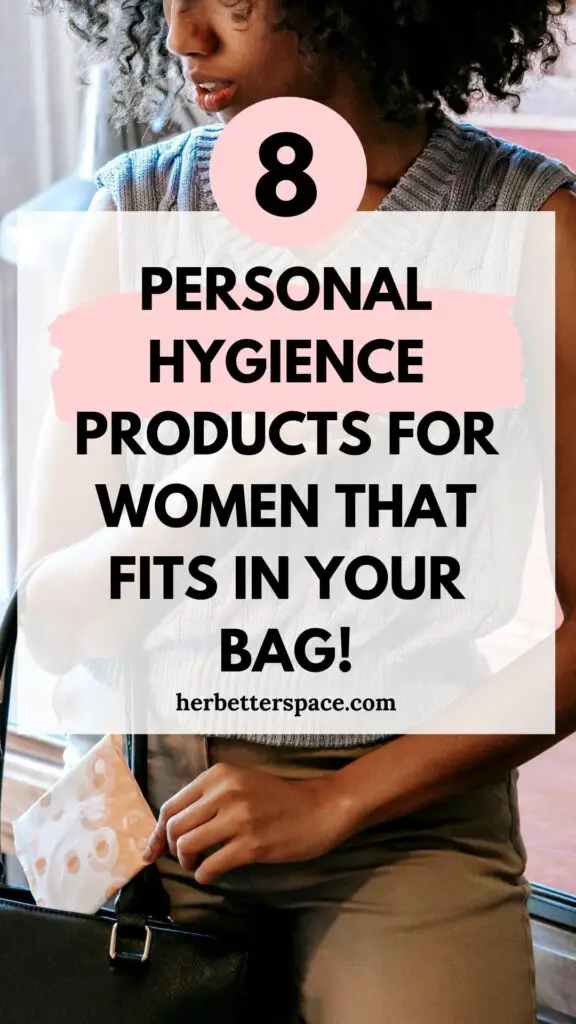 Female Personal Hygiene Products To Carry In Your Bag
1. Panty Liners
Panty liners are just the smaller version of your pads. These are made to be used during the non-period days. Panty liners are used for light vaginal discharge or when you may experience some spotting. 
Therefore they are thinner and have less absorbing capacity as compared to sanitary pads. There are many benefits of using panty liners in your day-to-day life. They can be used during the last days of your periods when the flow is negligible. 
Panty liners maintain intimate hygiene by preventing wetness and discomfort caused by vaginal discharges. They can also be of great help in case of sudden urine leaks which is a common problem among women.
You can also add them along with tampons or menstrual cups for any accidental leakages. Make sure you use the panty liners when you need to. Also, changing them is as important as changing your sanitary pads from time to time.
2. Toilet Seat Covers
Many women avoid going to a public restroom because of the fear of getting infections. But what should you do when you need to pee urgently? 
Toilet seat covers can be a great rescue! Toilet seat covers are basically thin pieces of paper that you can use to cover the toilet and later they can be flushed down.
They are very beneficial in providing you protection against infections and diseases because of dirty toilet seats. They are effortless, do not take much of your space, and can be simply flushed down.
3. A Pee Funnel
Another product that can help you from unwanted infections and germs from public restrooms is a disposable pee funnel. 
It is a waterproof laminated device of funnel shape that you can place between your legs and pee. Keeping one while traveling or out for long can be a savior. 
You can use it while standing and don't need to squat. Try it once at your home to see how comfortable you are before using it. It is very easy to carry and dispose of.
4. Intimate Cleaning Wipes
Intimate cleansing wipes can be of great use in cases where water or toilet paper is not available and you want to get out of a messy situation. 
Especially during the periods if you feel like cleaning yourself, these wipes can be gentle to your vulva as compared to toilet paper that is dry. 
These intimate wipes do the job of making you feel fresh again admirably. Always use them from front to back and reseal the packet quickly after using one.
5. Facial Wet Wipes
Facial wipes are women's go-to best friend. No matter where you are, you can use them and feel fresh and hydrated.
They are smooth and therefore can save you from bad skin. They also help in removing oil, dirt, and other impurities.
These can be used for different skin types, dry, oily, normal, and sensitive. Find out the best facial wet wipes according to your skin and use them to save time and keep your skin safe conveniently.
6. Pocket Perfumes
Pocket perfumes are in trend and the reason is that they are so convenient to carry and use. There are many benefits of having a pocket perfume over a traditional one. They are budget friendly so you can buy two and keep one at home and carry the other in your bag.
They are travel friendly and for people who forget things, keeping one in your bag will always keep you fragrant. You can also use them as air fresheners and toilet spray in emergency situations.
7. Disposable Bag
We, females, need disposable bags for throwing away a lot of our stuff. You may not always have a paper with you. That paper can be used for other purposes. A disposable bag comes in handy in situations when you are out and cannot find something to wrap your things.
It is very important to discard your personal waste like panty liners, sanitary pads, tampons, condoms, baby diapers, and more in a proper way.
There are many disposable bags available in the market, some of them are even biodegradable. These bags are thin, easy to carry in your handbag, and leakproof. Keep them with you and you never know what purpose they might serve.
Dental Floss
Dental floss is not only good for dental care. You can use it when you are out working, at a party, on a date, or anywhere else where you are enjoying a great meal.
Sometimes we get food stuck in our teeth when we are among people, it is uncomfortable and we find it embarrassing. Keeping dental floss in your bag for such situations can be comforting.
Over To You
These were some easy-to-use and carry female personal hygiene products that you can carry in your bags. Add these to your list and feel more confident and comfortable while you are out. Share it with your friends and family. Do let me know if I can add more to my list. Happy living!