Disclaimer: This post may contain affiliate links, meaning I will earn a small commission if you purchase through my link at no extra cost to you. For more information, check here.
In a world where we face challenges and uncertain situations, a simple gesture can be profound. At some point in life, we all have found ourselves in situations where we wonder how to make someone feel better when they are sad or stressed. 
From small acts of care to meaningful gestures, you can make someone feel better through simple actions. In this article, we will explore different ways to make someone feel better.
These ideas will not only bring a smile to their face but also develop a positive connection with that person.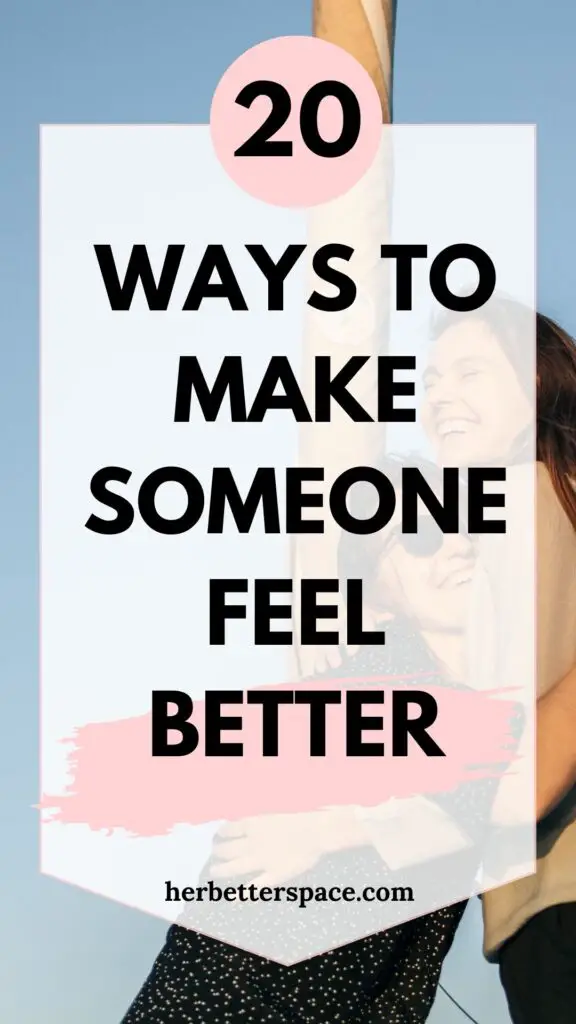 How To Make Someone Feel Better
1. Offer A Compliment
Never underestimate a positive compliment! Even the smallest Compliments have the power to boost someone's self-esteem and make them feel better.
It can be simple, 'You look good in that dress' or 'You are smart, girl'. 
Add compliments other than someone's physical appearance, on their character, intelligence, skills, and accomplishments. This will make them feel more valuable and appreciated.
2. Listen To Them
Listening to someone is a great way to show that you care about them.
We go through many things, good and bad, daily, and having someone to tell all this is essential to have healthy relationships.
If someone is feeling low, let them talk, ask questions where you feel like, show empathy and be understanding.
Show them that you are really interested in knowing their story. It provides a sense of comfort and validation in a relationship.
3. Offer Help
Helping someone is the best way to make them feel better and supported.
Whether it's assisting in small errands or lending a hand during a challenging situation, help your close ones to show that you are there for them.
Sometimes people don't like to share their issues and deny help, make sure you ask them and help them in whatever way you can. This will show the person how important he/she is to you.
A little help can go a long way to make someone feel better.
4. Encourage Them
Offering encouragement can boost someone's confidence and mood. If a friend of yours is feeling demotivated, your words of encouragement can make them feel better.
Acknowledge their efforts and remind them of their strengths. Tell them about the bigger picture and the positive outcome they are working towards.
Tailor your words according to the situation, the person might not be ready for encouragement. Be patient, listen to them, and provide solutions.
5. Go For A Nature Walk
Find a local natural place that has a scenic location such as a park, natural reserve, or any lake.
Engage in casual conversations, and talk about things that you think can make the person feel better. Spending time in nature is a great way to connect with the outdoors and clear one's mind.
6. Create A Playlist And Dance
One of the best memories that I have with my friends is of dancing with them to our favorite songs.
Create a playlist of uplifting songs that you both enjoy. Set up a place, encourage them to let go of their stress and enjoy.
Dance together, make funny videos, and let the music carry away all the negativity
7. Suggest Them A Movie/Book
Recommend a movie or a book that you think aligns with their interest. Consider their preference but make sure the movie or the book is good enough to distract their mind from negative things.
Explain why you think the movie or book will be a good option for them and how it could provide valuable insights and entertainment.
You can discuss your thoughts and listen to them after experiencing the movie or the book.
8. Volunteer Together
Volunteering for a social cause or doing anything good for others can provide a sense of fulfillment and camaraderie.
If you know what the person is interested in, go for that. If you don't, research some local volunteer programs.
It can be something as simple as participating in a park cleanup or assisting at a good bank. Reflect on the positive impact that you have made.
This will be a shared experience and will make the moments meaningful for the person.
9. Plant A Tree Together
If the person is a nature lover, ask them to plant a tree with you. You can find any suitable location like a park or even your own backyard.
Take the planting of trees as a symbolic gesture of growth and nurturing. Place a protective barrier around it for protection and water it regularly. This collaborative experience will leave a lasting impact on both of you.
10. Teach Them Something New
Sharing knowledge and skills is a meaningful way to connect with someone. Ask the person if they are interested in learning something that you are passionate about.
Teaching someone something new not only expands their horizons but also strengthens your bond with them through shared learning.
Learning something new can make them feel better and empowered.
11. Offer A Virtual Meet
In a digitally connected world, your friends and loved ones are never too far away. Plan a fun interaction with the near ones and create a meaningful atmosphere
No matter what we say, all we want in the end, are the people we can rely on. Share stories and catch up on each other's life. This will make the person feel better and supported.
12. Offer A Hug
A warm, genuine hug can do wonders. Before you hug the person, consider their comfort level and whether physical contact is appropriate.
If they are someone close to you, Offer a gentle and supportive embrace for a few moments
If you are not very close to the person, a half hug expressing that you care can be given.
13. Surprise Treat
When someone is feeling bad, surprising them with a treat can make them feel better.
Whether it's their favorite snack or a small gift that you know they wanted, choose something that you know can lift their mood.
You can be a little creative and leave the surprise on their desk, doorstep or in a place they will easily find it.
14. Gift Them A Relaxing Experience
If the person is someone really close, this can be a perfect gift. Show them your care and consideration for your well-being.
Select something that you know aligns with their interest or maybe something that you know that they are planning to do.
This could be a spa session, massage session, yoga class, or simply a facial. This will make them feel better and also communicates your desire for their happiness. 
15. Send Snail Mail
Snail mail holds a charm in today's digital age. Nothing can beat the exciting emotions while opening a card or a letter from a loved one.
If you want to make someone feel better, take your time to craft a thoughtful message that expresses your feelings towards that person.
Personalize it with hand-drawn illustrations or other creative elements. It not only makes the other person feel special, but it also becomes a tangible memory to cherish forever! 
16. Send A Self Care Package
A self care package is a caring way to show someone that you care about their well being.
There are many kind of self care items available, you can pick the best ones that you like for them and make a package to gift them.
If you looking for self-care gift ideas, read my blog on self care gift ideas for yourself and your loved ones. 
Some of the items that you can make package of are – bath bombs, sheet masks, scented candles, a cozy blanket, a journal, chocolates, a playlist of favorite songs, and a handwritten note. The self care package will express your desire for their happiness and encourage them to prioritize self care. 
17. Create A Vision Board
A vision board is a visual representation of things that we like and our goals and aspirations.
Start by gathering newspapers and magazines, and cut out images that resonate with the person. Encourage them to share their thoughts and involve creativity.
The process of creating a vision board can inspire them and lift their mood. 
18. DIY Craft Night
Doing something creative can lift up the mood. It is scientifically proven that creativity releases hormones that make us feel positive.
Host a DIY craft night or simply a date that allows you two to bond over creativity. It will be a reminder of your time together and the fun you had.
19. Share A Positive or Funny Story
When someone is feeling low, all you want is to make them smile and distract them from the tension. Sharing a positive or funny story to lighten the mood.
Choose a story from your own experience or from a shared memory that you know will resonate with the person.
You can also show them something funny like a stand-up comedy video. If it's a positive story, emphasize elements that can inspire them at that moment.
20. Dedicate A Social Media Post
Social media has also become a way to make people good about themselves. A dedicated social media post with a heartfelt caption will make the person appreciated and loved.
Share a funny picture or picture from a memorable moment. You can also make a reel video by adding up different moments.
It is a great way to acknowledge your connection in a public and visible way. Use some words or language that you use between yourself and make them feel. More special.
Over To You
These were some of the ideas on how to make someone feel better. With these acts, we contribute to making this world a better place where compassion, kindness, and empathy exist.
Let's continue to spread positivity through our gestures and become a better human being for ourselves and others.