Disclaimer: This post may contain affiliate links, meaning I will earn a small commission if you purchase through my link at no extra cost to you. For more information, check here.
There was a time when we all were affected by the pandemic in many ways. We were all forced to stay at home for a considerable amount of time, and during that time we realized that staying at home can be difficult and that we can easily grow bored with our limited options. Here are 50 ideas of things to do when you are bored.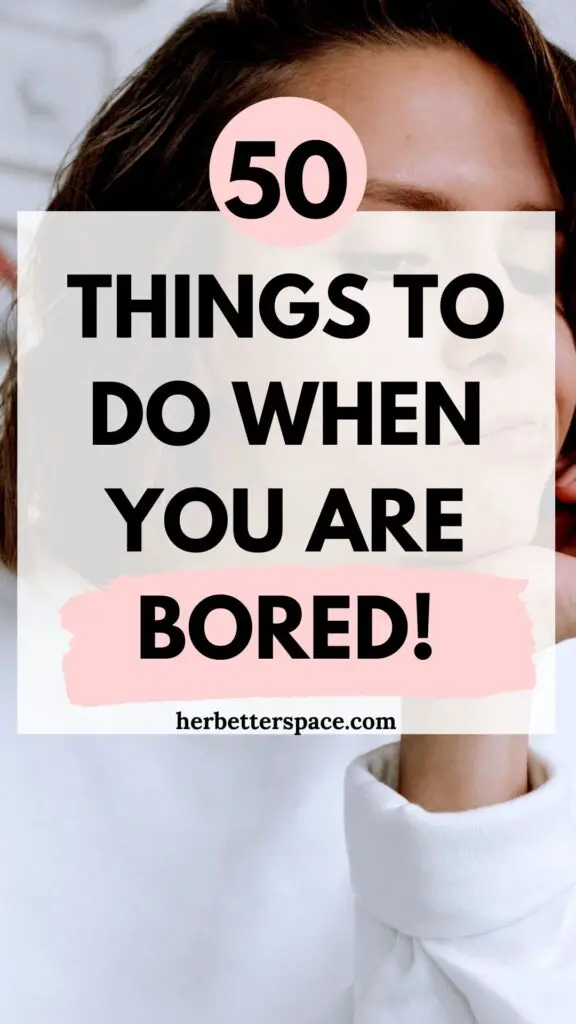 Things To Do When You Are Bored
If you are staying at home or working from home for a while, you may feel overwhelmed or bored. I hope these few suggestions on what to do when you are bored will help you through some of your monotonous times.
Things To Do When You Are Bored At Home
1) Why not treat yourself to a nice meal? Cooking at home is the best thing to do when you're bored. In addition to receiving a quality dinner, you won't even notice how quickly the time passes.
So, look online or try our mom's favorite recipe to improve your cooking abilities.
2) Read a book: I know this is not on a lot of people's lists, but I promise you, it can be incredibly intriguing. Books help us to think outside the box and distract our attention from the monotony of daily life.
Therefore, whenever you are bored, grab a book and your favorite cup of coffee and enjoy it.
3) It's time for a room makeover: If you have plenty of free time and are sick of being bored, what could be better than giving your room a complete makeover? Make adjustments to make it more fashionable and organized.
4)Reconnect with old friends: We are all so busy with our daily schedules, jobs, and routines that we seldom have time for our friends. When you are bored at home, there is no one better to talk to than your friends.
5) Watch some series in one sitting: This may be the ideal opportunity to eliminate your boredom with some intriguing, captivating series.
Watch a series that is on your watch list, finish one that has been on hold for a while, or try to watch something new.
6) Lose yourself in your favorite activity: pick up the guitar or practice some moves, then grab some paper and a pen and begin writing the story or poetry you've had on your list for a very long time.
When bored at home, one just drifts off into a hobby for a while.
7) Self-Care: Let's face it, we often become so preoccupied with our jobs and the people around us that we forget to take care of ourselves. To combat this, engage in some self-care activities, such as applying a mask or taking a long, relaxing bath.
8) Assist in other projects: If you're bored at home, consider aiding your significant other once while they're working on something.
When we are with our loved ones and close friends, time really does fly.
9) Establish your short- and long-term goals:-  This is the ideal moment to evaluate your progress toward your objectives, update them, or set new short- or long-term goals for yourself.
10) Styling your wardrobe:- For day-to-day wear, we hardly do any experiments or create a new look, so why not when we are bored at home, do some creative styling with old clothes and create some amazing looks for a  party or gathering.
Things To Do When You Are Bored with Friends
Yes there are times when we got bored of the same hanging out places with friends or the same normal meetings If you are looking for some
1)Game on! :- Let's get set to compete and kill the boredom by playing a new game with your buddies.
2)Photoshoot time:- this is a perfect t moment to get those friends' photos that you want to publish for a long time, get ready to dress up and pose for videos and photos.
3)Let the music play:- put that light music to make the environment better and let's simply catch up with life updates with our friends.
4)Spa day:- let's just relax and do some beauty regimen, or just go out for a spa day with your friends.
5)Shopping:- I think friends are great when it comes to shopping, they know your taste, and budget and they make shopping more exciting and entertaining.
6)Movie: Instead of going on our planned outing, let's watch some scary flicks.
7)Who cooks better:- This can be the most fun activity to do. Bring out your best recipes and see who cooks better.
8) Try some new restaurants:- Good food and good friends together, what else do you need in life so go and explore new restaurants with your friends.
9)Short trip:- Everyone times it doesn't have to be a costly and long trip, plan a short trip with your friends to boredom.
10)Let's do a shared hobby:- if they also love reading, and you guys have the same interest then why not come enjoy your hobby together?
Things To Do When You Are Bored At Night
Let's look at some strategies that can help us when we are bored at night if we have tried tossing and turning in bed and still are unable to go to sleep.
1)Let's try some new music:- At night, all we want is to relax but if you are feeling bored why not try some new music which will also help in relaxing.
2) Self-care:- how about focusing on yourself, putting on that nail paint, and making that secret glowing mask for your face? Read Self Care Ideas For Weekend for some inspiration.
3) Books are always there:– How about ditching screens for some time, and spending a night in a different way with books? Reading a book will divert your mind and will turn boring things into very interesting ones.
4)Journal:- how about finding and reading a diary where in our childhood you used to write your dreams, and ambitions? Feels good right? Grab a diary and write how grateful you are now and write your heart in it.
5)Cleaning:- Let's clean that drawer that you were procrastinating on for so long or clean your room. It will give you fresh vibes. Want to know how you can be more organized?
Read How to Make Your Life More Organized
6)Explore your fridge: Looking in your refrigerator: We're all guilty of eating late at night, and I can attest that it feels good to eat in secret.
7)Learn something new:- Why not turn this boring night into and learn something new watch a video on personal development, like better communication, building confidence, etc.
8)Meditation or Yoga: There isn't a better time than now to unwind your body and mind. Research has proven that yoga will help you fall asleep, and meditation will help you get through the day's worth of fatigue.
9) Online shopping:- how about some shopping? Why not investigate new trends or create a list of necessities that you frequently forget to purchase?
10) Cooking:- Let's try trending recipes from social media or pull out your favorite less hectic recipes and prepare them and enjoy.
Things To Do When You Are Bored In Class
Studying is beneficial, but it may also be challenging at times when you're trying your hardest to stay awake through tedious lectures.
1)Send a note to your friends: Consider sending a note to your pals, which will both put you in danger and make you happy.
2)Ask questions: Consider asking your teacher questions that will make the otherwise dull lecture into a lively debate.
3) Drawing: Look around the classroom or outside to find something or a subject for your sketch.
4) To-do list: Create a list of everything you need to get done this week. Wondering how to plan it? Read my blog on How to Plan Your Day Better.
5) Reading: If you are having trouble staying awake in class, ask your teacher if you can read the lesson aloud. You'll be kept awake and educated by this for sure.
6)Prepare your Test:- Focus on the lecture and if you think you already know this material how about preparing for the test for yourself?
7) Be creative:- Use your imagination to write a tale, look around, or invent one of your own.
8) Read a book: Try to read a book or novel if you have one, but watch out for your teacher.
9) Quick break: Request to use the restroom; a walk will undoubtedly make you more active.
10) Newspaper: Read the current affairs and play crossword puzzles or other newspaper games if you receive a newspaper.
Things To Do When You Are Bored For Kids
Kids always come to us when they are bored, and if you are out of ideas, you should definitely refer to this advice.
1)Read a book with cartoons: Books with cartoons are usually fun to read.
2)Drawing: Pick up a pencil and begin sketching your preferred cartoon character.
3)Gardening: Consider learning how to grow flowers and planting one of your choosing.
4)TV time: Kids love cartoons! If it's always studying, doing homework, or school time. Watch some funny cartoons or kids' movies.
5)Games: Take part in your favorite game or try to learn a new game.
6)  Quiz:- Play a quiz with your friends if you're tired of playing mindless games.
7)  Be Creative:- Exercise your creativity by making paper crafts or sock puppets
8) Party: Have a tea party with your preferred snacks and your toys.
9) Fort-building time: Who doesn't enjoy building forts out of blankets and playing in them? This is one of the best indoor pastimes. with your favorite snacks and toys.
10) Arrange your toys and books: Arranging your toys, bags, and books can be entertaining.
Over To You
These were some ideas on things to do when you are bored. We hope that these ideas and advice may come in handy whenever you are feeling bored.