Disclaimer: This post may contain affiliate links, meaning I will earn a small commission if you purchase through my link at no extra cost to you. For more information, check here.
Isn't the weekend our favorite part of the week? It comes with a lot of hope and plans but goes away swiftly. Wondering how you could spend your weekend is a great way to rejuvenate yourself? Here are the best self-care weekend ideas that will make your weekend an amazing one.
Self-care is acknowledging what your body and mind need and serving yourself for a better you. when you are happy, healthy, and positive, you make people and things around you better.
It is also important for your personal growth and physical and mental health. You must love yourself and have a healthy relationship with yourself. Only then, you give others your best version. 
Is self-care difficult to practice? Self-care is not at all complicated. It is as simple as deep breathing, sleeping adequately, healthy eating, and taking care of your emotional well-being
Here I am sharing self-care weekend ideas that I practice myself.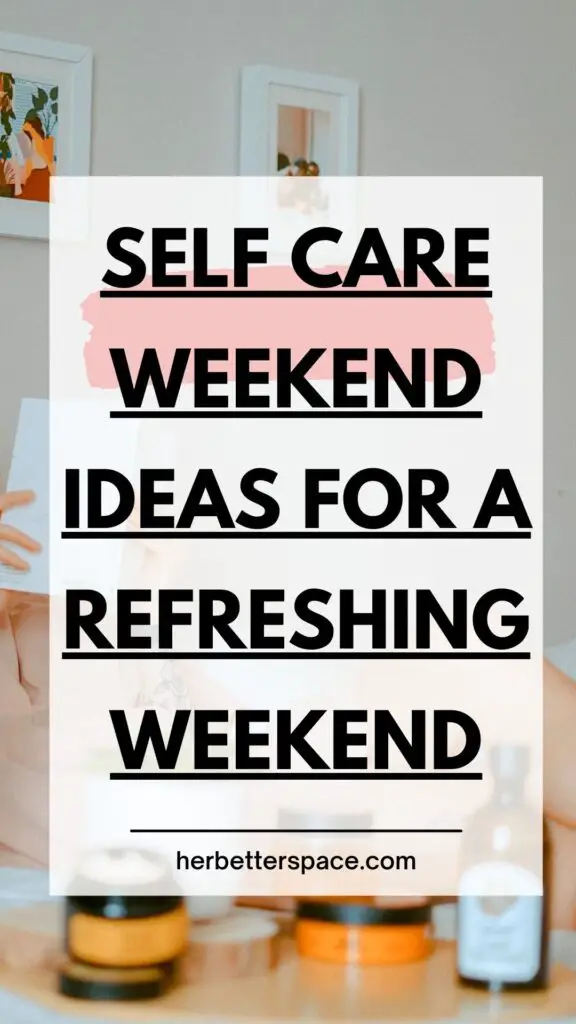 Self Care Weekend Ideas
Self-care practices are something that relaxing and calming. It can be beneficial to you intellectually, emotionally, physically, spiritually, or simply anything that makes you feel better.
Here are simple self-care weekend ideas that you can practice to make your weekend a recharging one. 
1. Sleep A Little More
Who doesn't like some extra morning sleep? Start your Sunday with some extra sleep to make your body relax with all the tiredness and mental fatigue.
You can extend your sleep by 60 to 90 minutes. Sleeping more than that can make your day lazy.
This is a personal experience that whenever I sleep more, I spend my whole day being lazy. It may not be the same with you.
But if it is, you definitely want your Sunday to be a fruitful one. Isn't it? When you wake up, stretch your body to feel active. If you are having trouble sleeping, read How To Sleep Better At Night
2. Move Your Body
If you are someone who exercises daily, it is going to be your normal routine. But if you are someone who tries to catch up on exercise but doesn't get much time, Sunday is your day!
We all know that exercise can make you feel good both physically and mentally. It's a great thing to start your day with positivity.
No, you don't need t do heavy exercises or a proper workout. You can make your own ideas on moving your body.
Things that I love to do are dancing and going for a walk in nature. I put up my favorite dance songs and dance for at least half an hour which really puts me in a very happy and positive mood. A perfect way to start your day!
Read Daily Healthy Habits For Women In 20s
3. Say 'Hi' To Some Skin Pampering
As we grow older we get busy with life and do not get much time to give attention to our skin.
The weekend is the time when you should not forget to pamper your skin.
Cleanse your skin, put on some masks, do something with your hair, get your nails done, do manicures and pedicures, and do whatever you like to do to make your physical self good.
4. Cook Your Favourite Meal
Are you a foodie? Well, I am! And when there is a weekend or some special day, I love to have my favorite food.
I believe that if you have your favorite food, it can change your mood and make you feel positive.
So if you don't get a chance to cook on other days your favorite meal, make one on the weekend. You can also try on some new dishes by searching on Youtube or Pinterest.
5. Read Or Watch
I know both kinds of people one who loves to read and the second those who love to Binge.
Well, I am the former one. I haven't watched many shows and movies but one of my favorites is 'Friends' which I can watch anytime and anywhere.
Other than that, I am more of a reader kind of person. Which one do you like more? Or do you like both of them? Watch that movie or series you have been waiting to watch.
Read books that you have been waiting to read or get a new one. I will share my favorite books with you in the future.
6. Declutter Your Room And Your Home
I made this habit of decluttering my room every week this year.  It is one of the best things that I have ever adopted.
Decluttering your room and organizing it again gives you a fresh vibe and you don't feel messed up.
Clean your closet, your work table, your bed, and your kitchen, and place everything neatly.
You will realize that you have that feeling of intactness as you have completed a big task. Organizing makes your life smooth and peaceful.
Want to know how you can be more organized? Read my blog on how you can be more organized in life. 
7. Decorate Your Room
Have you been wanting to change the look of your room for a long time? Stop deferring it! You can do it this weekend.
Decorating your room or maybe reorganizing a few things here and there gives it a new look which I personally love.
Also, I would like to share I am a big fan of crafts and I love making things from waste materials.
Most of the ideas I take from the internet. You can also find thousands of ideas if you explore them. Pick one for this weekend. 
You can also order a few things to decorate your room. If you don't want to decorate simply reorganize a few things.
Even changing your bedsheets and curtains can make a big difference! It is psychologically believed. that exposure to newness stimulates the part of our brain responsible for regulating optimism and motivation.
Read Things To Add To Your Room For Positivity
8. Catch Up With Your Friends
Catching up with friends is always a great idea. Spend time with people you love.
You can plan something like going on a road trip, you can invite your friends and family and cook for them. Invite your friends to watch a movie at your place, ideas are many!
Make sure that you make bonds, ask them about their life, and share with them about yours.
Bonding while we share our emotions with people in it definitely makes us feel better emotionally. Read How To Have Healthier Relationships With People Around You.
9. Go For A Shopping Date
Does shopping make you happy? For many people shopping is a mood lifter. There are many people who like to shop online.
This has been increasing because of the whole pandemic thing. But I also miss going out and shopping.
Even if you don't have to purchase big things, you can just go out once a week to pick up things for your home which you are going to need for the next week.
If you are not able to go out, online shopping is also a good idea. This will also keep you up with the home tasks and will also make you feel contented.
10. Spend Some Time In Nature
It is now scientifically proven that being close to nature helps in lowering stress and making you feel positive.
What does spending time with nature mean?
Well, these are simple habits that we often ignore in our daily hustle-bustle.
You can go for a walk in the garden, and take some sunshine. If you have plants at home, gardening is also a great idea.
If you do not have plants, you can buy a new plant. Search online for home-friendly plants.
Also meditating in a natural atmosphere is great for mindfulness. Do not use your phone while you spend time with nature. If you feel you spend too much time on your phone, read my blog How To Stop Phone Addiction and Live Offline
It is as important as spending time with family and friends. Next time you feel stressed, you can just spend some time in nature and you will realize changes in yourself. This will help you build a better relationship with yourself.
Over To You
These were some of the self-care ideas. You can try it this weekend. I hope you liked these ideas and will be celebrating a refreshing weekend ahead.
If you have more ideas, I would love to know them. Happy Sunday!