Disclaimer: This post may contain affiliate links, meaning I will earn a small commission if you purchase through my link at no extra cost to you. For more information, check here.
Welcome summer! Yes, say hello to those months of the year when our skin needs good care. The scorching heat of the sun, and humidity in the environment, call for a summer skincare routine. 
We know you must be thinking that it's not easy to take care of your skin from the heat. But we have some tips and hacks for you to keep your skin fresh and healthy. Also, to your surprise, we will share some home remedies for that glowing skin. 
So, to wipe off those irritating skincare problems, let's first dive into our list of summer skincare tips. We will share the 10 best summer skincare tips to restore your skin's glow.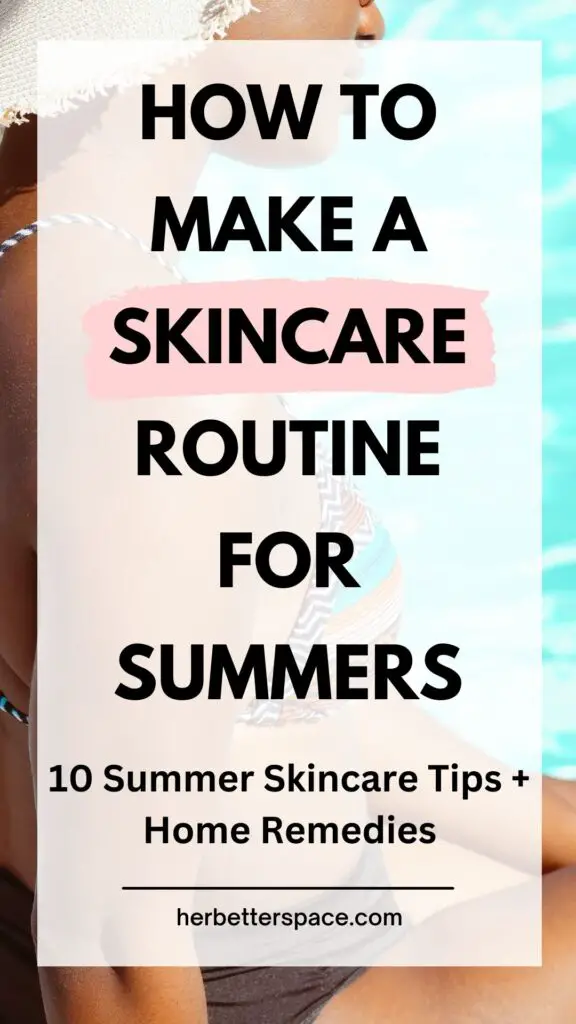 Hacks to Beat the Heat
Let your glow beat the heat with these simple summer skincare tips. 
Magic of Water
First things first, it's essential to keep your body hydrated no matter which season you are in. But, in the summers, as our body loses the fluids, it becomes a must to keep ourselves hydrated. 
For healthy skin in summer, drinking around 8-10 glasses of water every day is essential. If you don't want to drink plain water, you can add some lemon juice and sugar and make lemonade. 
Coconut water and fruit juices can help you be hydrated throughout the day. Also, fruits that have water content, like watermelon, strawberries, etc., can be a good substitute for water. Include this in one of your daily healthy habits.
Say Yes to a Relaxing Bath
Taking a bath once a day might not be enough in the summer. So, if possible, try to bathe twice a day; this helps keep your body cool and fresh. 
Having a bath in the morning is important, as it keeps us fresh throughout the day. But a night shower is equally important. It helps cleanse all the dirt and sweat off the body. It also reduces the chance of getting skin infections. 
A quick tip, don't take a hot water bath in the summer. Remember to follow a skincare routine after both showers. Clean, tone, and moisturize your skin with cleanser, toner, and moisturizer after the shower. 
Exfoliation is the Key
It's natural for our skin to become oily, greasy, and sticky in summer. But, it can also become dull and dry because of the heat and humidity in the air. To prevent your skin from worsening, it's important to exfoliate it at least once or twice a week. 
You can use a face scrub and gently massage your skin for a few minutes to exfoliate it. This helps remove tanning and dead skin cells and opens pores for the skin to breathe. 
If you prefer using homemade scrub, you can make one with coffee beans, salt, and oil. Don't ignore exfoliating your neck and lips. Moisture your skin after exfoliating it. 
Dose of Antioxidants
UV rays are harmful to the skin. To prevent your skin from the attack of UV rays, include antioxidants in your summer skincare routine. Use antioxidant-rich serums for your skincare. 
Antioxidants are known for keeping your skin hydrated all day long. Also, they keep your skin firm and moisturized for a longer duration. Furthermore, they prevent the skin from ageing. 
Do you know that not only cosmetic products have antioxidants in them? All the food products rich in Vitamin C are also good sources of antioxidants. So, remember to incorporate them into your diet. 
Every Body Part is Important
The next hack on the list of summer skincare tips is to care for other parts of the body. It is human nature to care about our face the most as that's the first thing people, and even we, notice. 
But we often forget that we must keep our eyes, lips, and feet healthy and happy too. Exfoliate feet and lips, along with your face, as removing dead skin from both body parts is important. We recommend you use a foot scrub to exfoliate your feet. 
Also, wear sunglasses to protect your eyes from the sun's direct heat. Use a lip balm with SPF to keep your lips healthy in the summer. Apply moisturizer on the feet and lips too. 
Moisturizer is a Must 
It's a myth that using a moisturizer on sunny days makes your skin look greasy and sticky. On the contrary, moisturizers are always necessary for healthy skin. For summer, you can use a lightweight moisturizer. 
Choose a non-greasy and non-sticky moisturizer for your skin. If your moisturizer has antioxidants and SPF, nothing can be better than this. 
Remember to moisturize your skin immediately after a morning and night shower. It keeps your skin hydrated and soft all day long. 
The Right Choice of Fabrics
Summer calls for light-colored and light-fabric clothes. It's wise to wear cotton clothes, as they effortlessly allow the air to pass through. Don't choose tight-fitting clothes; instead, go for light-fitting ones. 
Synthetic clothes can cause irritation and rashes on the skin. So, try to avoid such fabrics. If your clothes become sweaty, change them as soon as possible to avoid skin infection. 
The goal is to choose a fabric that helps the sweat evaporate and not trap it. In addition, a light and soft fabric allows the skin to breathe and keeps you comfortable throughout the day. 
Should You Avoid Makeup?
It's best to keep makeup-free skin in summer. Applying heavy makeup is not a good decision on summer days. But if you want to apply makeup, go for light makeup. 
For light makeup, you use a tinted moisturizer and light base foundation. If you use heavy makeup products, you close the pores of your skin, which stops the skin from breathing. 
Apply minimal makeup and light base products for clear and happy skin. This will keep your skin fresh and healthy in the summer heat. 
Sunscreen is the Shielder
If you want to go out on sunny days, applying sunscreen 2-3 hours before moving out is best. This prevents your skin from harmful UV rays, as by the time you move out of your house, sunscreen will penetrate your skin and work as a shield. 
If you swim or lie down on the beach, applying sunscreen to stop the skin from burning is essential. The right sunscreen is the one with SPF 30-50. 
Also, don't use last year's sunscreen; buy one for the new season. Sunscreens don't have much life and become less effective when old. Consider reapplying the sunscreen as and when needed. 
What's Your Routine?
A skincare routine means healthy skin. If you don't have a skincare regime, have it now! Have a proper summer skincare routine to keep your skin summer protective. Also, along with having a regime, you must follow it daily. 
Your steps should include – 
Wash your face twice daily to stay fresh.
Cleanse your body with cleanser.
Use a toner to keep your skin toned. 
Apply moisturizer soon after as it keeps your skin hydrated. 
Use sunscreen whenever you go out of the house. 
Choose suitable products for your skin type and cleanse, tone, and moisturize your skin at least twice daily. Do not forget to include healthy and cool food items in your diet for healthy skin. 
Who doesn't want glowing skin in summer! What if you can have it using ingredients easily available in your kitchen? Let's look at some home remedies to help you have glowing skin this summer. 
Home Remedies 
Bring your bowl and spoon and mix the ingredients to make these super easy home remedies for glowing skin in the summer. 
Soothing Cucumber Spray
What do we need? 
Juice of one small cucumber
A tablespoon of rosewater
Few mint leaves 
A teaspoon of lemon juice 
How to use it?
Put all the ingredients in a spray bottle, and spray the mixture on your face and neck. 
Suitable for
Acne-prone skin 
Dry and sensitive skin
How does it help?
Cures dry and chapped skin. Remove dark circles, and keep skin hydrated.
Moisturising Honey Mask
What do we need? 
All you need is 2-3 tablespoons of honey.
How to use it?
Apply the honey on your clean face and neck and massage it. Then, wash it with lukewarm water. 
Suitable for
Acne-prone skin 
Oily skin
How does it help?
Reduce acne
Reduce infections
Helps in having spotless skin
Healing Aloe Vera Mask 
What do we need? 
1 tablespoon of aloe vera gel or mask 
1 tablespoon of honey
A pinch of turmeric
How to use it?
Mix everything and apply the mask to your clean face and neck. Rinse it off with lukewarm water. 
Suitable for
It is great for all skin types.
How does it help?
Powerful Turmeric Mask 
What do we need? 
1-2 tablespoons of turmeric 
1 tablespoon of milk 
2-3 tablespoons of gram flour 
How to use it?
Mix everything well and apply it to your clean face and neck. Then, wash it with lukewarm water. 
Suitable for
How does it help?
Keeps skin fresh
Cleanses the skin 
Reduce inflammation
Final Words 
It's tricky to beat the summer heat and protect our skin from damage. But we hope you find these summer skincare tips useful for your skincare routine. Also, do not forget to try home remedies for shinier and brighter skin on sunny days. We would love to know which home remedy worked the best for you! Happy summers!