Disclaimer: This post may contain affiliate links, meaning I will earn a small commission if you purchase through my link at no extra cost to you. For more information, check here.
When was the last time you felt bored with your life and thought your life is not interesting enough? Or wished you could make life interesting?
Trust me, I feel the same! Feeling bored or too involved in our life is normal.
We all want to live a happy and significant life. But because of many reasons may not get the chance to live the way we want, be it your studies, career, or anything else. Do you think it is very difficult to make life interesting? I don't think so!
The question is, 'how to make life interesting?'
This is exactly what you are going to read in this article today.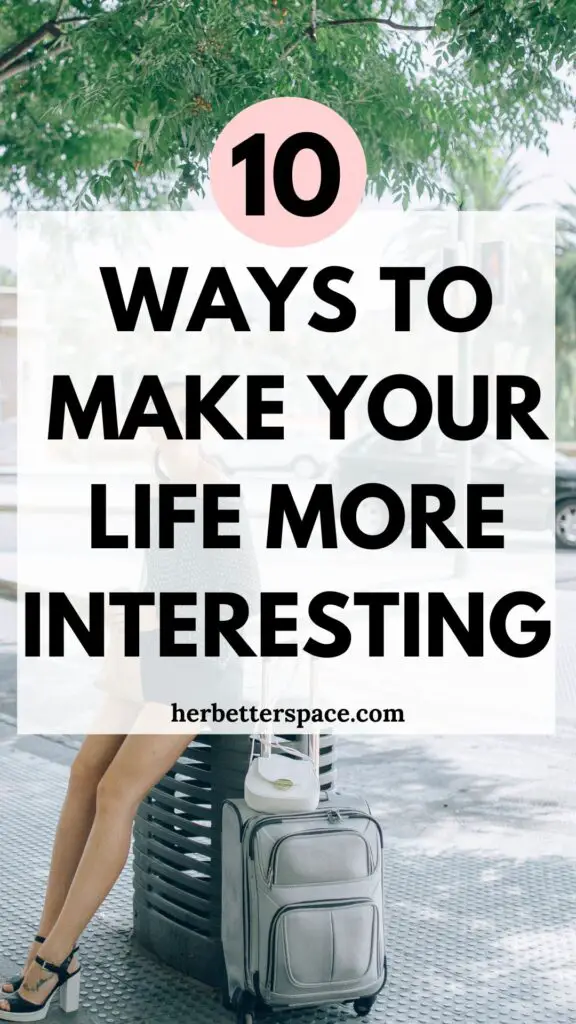 How to Make Your Life Interesting – 9 Amazing Ways To Live!
Are you one of those who see a movie or listen to a song and start thinking about how you can do many things which you aren't doing? Unapologetically, I am!
I am a dreamer and my mind is always wanting to make things interesting.
Here are the best 9 ways to make your life interesting. These changes will create a new and fresh outlook on life for you. 
1. Don't Wait To Start
This is something I recently learned in life. I was always that person who used to plan and wait for things to happen.
I realized it and decided that I can't hold myself back anymore from doing things I had planned for the future. In fact, This blog is one of those things!
What are you waiting for? A new job? Proposal? A New Relationship?
Whatever it is, start taking the first steps. You will be very excited once you start taking action on it. Even if you fail, you will learn something for sure!
2. Spend Time With Interesting People
This world is full of different personalities. Some interest us more than others. Why?
Because we get vibes of similarity with them, we like the traits that they have and the things they do.
If you spend time with them, you may get to know more fascinating things.
Ask them questions and tell them what you love about them. It is always good to be connected with people who fill you with positivity. Read How To Have Healthier Relationships With People Around You
3. Get Rid Of What Bores You!
This life is too short to spend time on things that bore you. I know there are boring days. But how many?
Speed up your time of getting out of boredom. Find things that can be interesting. Learn a new thing. I m sure there will be a lot of stuff you don't know.
Grow that kind of curiosity in you. I myself looked for new things to learn on the internet during the coronavirus pandemic.
So I learned a few parts of a language and morse code! 
Read my article on Things To Do When You Are Bored
4. Say 'Yes' to Different Opportunities
Growing up I learned the importance of getting opportunities. How every one of us is leading to different paths no matter where we started! Sometimes opportunities arrive at our door but we are too scared and confused about going into them.
Don't wait for opportunities to come to you, you create them! You will learn a lot when you try different things.
Even if you don't excel at some, you will always have experiences and lessons.
Read 15 Skills You Can Learn Online For Free
5. Travel To Different Places
Traveling not only makes you a confident and independent person, but it also lets you gain useful knowledge.
It teaches you more than any university course. Meeting new people, getting to know a new culture, different problems, and their solutions.
Not only this, you learn about your own self. It makes you more open and will provide you with unforgettable experiences which help in building a better relationship with yourself.
As Saint Augustine said- '"The world is a book and those who do not travel read only a page."
6. Do Things You Are Passionate About 
We all have our own avocations. Making time for things for love is a must. It helps you declutter your mind out of your hectic life.
Hobbies are a great stress reliever and allow you to explore yourself and your talent. Also, they help in building a better relationship with yourself.
You will also improve in other aspects of your life. If you are really good at what you are passionate about, you can earn some extra income too.
Share your interesting talents with your friends and family too, and ask them to join you. This will help in making a healthier relationship with the people around you.
7. Go Offline And Live In The Real World
I know it is really impossible to be completely out of the digital world today. You can choose and manage your time, learning this is the need of the hour
I left social media for almost a year and it turned out to be amazing. Even today if I use them, I do it for searching for productive and funny things.
Do not let technology consume you so much that you stop living. This change will bring you a lot of time.
You can use that time to make your life interesting. Spend time with your friends and family. Do everything you wanted to do for a long time.
Read How To Stop Phone Addiction and Live Life Offline
8. Keep Trying New Things
Do you know that our body releases the hormone 'Dopamine', also called 'the happy hormone' whenever it encounters anything new?
This 'new' may be a new place or activity or a person.
Wondering what new you can try? Well, It can be as easy as shuffling your room stuff, getting a new hair color, or visiting a new place.
If I tell you about my own personal habits. I change my room stuff often. Even when I clean my room, and change the curtains and bedsheets, it gives me a feeling of a new change.
This change concept works a lot for me. You can try tons of things if you think about it!
9. Don't Take Life Too Seriously
Sometimes we become so serious about life that we forget how short it is. We are living in a fast world where years go in a blink.
Shouldn't we make it happier, excited, and memorable? Yes, the definition of happiness and excitement may differ for different people.
We always remember those days in life when we enjoyed it the most. Do not waste your time worrying about things too much. Read my blog on How To Relieve Stress In Our Daily Lives.
Enjoy and appreciate each moment today so you have no regrets tomorrow. Choose a non-serious way of life. You will realize that you live happier in this way.
Also, read 5 Tips To Make Your Life Simple And Happy.
Over All You
Try these small ways to jazz up your life. Start with one and add on others later. And who knows, you may discover a new 'You' in the process!
I hope you liked my suggestions and will try these. Also, I am very interested in knowing yours. Let me know your ideas too. Have a great life!