Disclaimer: This post may contain affiliate links, meaning I will earn a small commission if you purchase through my link at no extra cost to you. For more information, check here.
Are you feeling digitally overwhelmed lately? It is very common to feel this in this digital era, life was not the same a decade back! Today, we are surrounded by screens all the time. Here is a list of 20 screen-free activities that you can do when you feel the need to take some time off.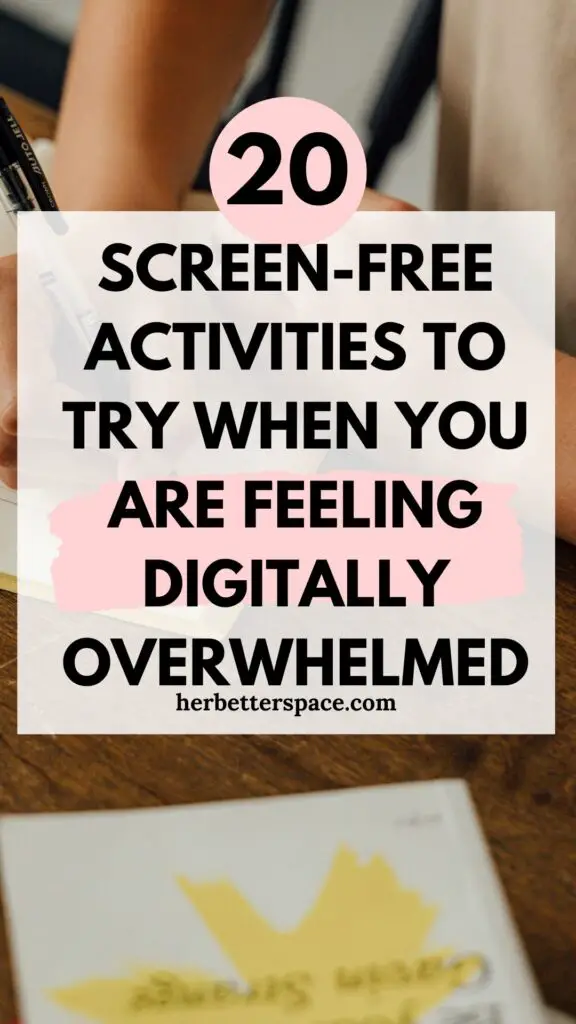 Screen-Free Activities To Do When You Feel Digitally Overwhelmed
Write A Letter To A Friend/Close one
When was the last time you wrote something for someone on paper? The digital age has made it very easy for us to connect with people close to us. But can you deny the charm of writing a letter to your loved one or the pleasure of receiving and reading one?
A handwritten letter holds a special place and it always will. Write down your words for a friend, family, or a special one. Let them know how special they are to receive a handwritten sheet of emotions. 
Read A Book
Those who love reading know how beautiful it is to get lost in a different world. Reading not only enhances your brain's creativity but also makes you calm and knowledgeable.
You can choose a book you have already read or a new book that you have heard about. You can ask someone else to join you in reading, making it interesting and interactive.
Do Some Gardening
It is scientifically proven that spending time in nature makes you happier and healthier. Have you ever tried your hands on gardening? If not, try it.
You can start with planting small home baby plants and later on shift to some garden plants. Buy some pots and seeds and plant them with a gardening kit.
Watch and care for that plant. You will love the experience of watching your own planted plants grow. If you already have a garden, find out what new plants you can add and update it in your own way.
Make A Scrapbook
Make a scrapbook that displays your memories. We all have our pictures on our phones but having a hard copy makes it unique.
Take a printout of your favorite pictures. Write in a scrapbook the memories associated with that picture. It will give you happiness whenever you open it in the future. 
Try Cooking
If you live with your family, you can plan to cook a meal with them. It can be a great way to spend time with your family.
If you live alone, call up a friend and plan to cook at anybody's apartment. You can try a new recipe or learn from the other person. Share what's going on in your life. This will also make your relationships healthy. 
Write A Journal/ Diary
Writing down your feelings is a good form of knowing yourself. Write down about anything. Make or buy a journal in which you can write weekly if not daily.
It will also help you to enhance your writing skills. If you are not someone writing a diary or journal, you can also write down a letter to your future self.
Paint A Picture/ Your Room
Painting as an art can help your mind relax and upgrade your creativity. If you are good with colors, try painting.
If you are someone like me, who is not so good at painting, you can try making anything artistic.
It is good for stress relieving as it helps your mind focus on painting and let go of other tensions.
You can also paint your room if you want to. Take ideas from Pinterest or YouTube videos. Go on with your paint brushes and colors now and display your creative side!
Go For A Picnic
Plan with your friends and family to do a digital detox. Go out for a picnic and spend quality time together.
Make sure everyone stays away from their phones. You can cook, dance and play. Enjoy and build healthier relationships. 
Do a Crossword Puzzle or Play Sudoku
Doing puzzles, crosswords and other intellectual games help to keep your mind healthy. It is as important as your physical health.
Want to know what other things can help you improve your intellectual health? Read my blog on Ways To Improve Your Intellectual Health.
Make A Vision Board
Are you someone who believes in vision boards and manifestations? Vision boards are based on the law of attraction.
You can use it to attract things you want in life. To know how to make one, read my blog on How To Make A Vision Board. 
Play Board Games
Playing board games can be fun! When was the last time you played a board game?
What was your favorite board game when you were a kid? Pick your favorite board games and play with your friends and family.
It can be a nice way to bond and enjoy time with your loved ones.
Clean/Decorate Your Room
We often become lazy and forget to organize things around us. Clean up your room and reorganize your table and closet.
You will end up having a clean and organized room and screen-free time. Read, How To Make Your Life More Organized.
Try Some Craft and Gift It
Handmade gifts and cards have their own charm. Spend some time making cards or some handmade items that you can give as a gift.
Check out what festivals are coming soon and make gifts and cards according to them. It is both economical and special.
Go Camping
Camping is an exciting activity. If you do not have time to go to a camping site, make one in your backyard. Make some snacks and think of a few games to play. Invite your family or friends to join you.
Go For A Morning Walk
Waking up early not only gives you more hours in a day, but it also makes you feel more active and productive. If you are struggling with waking up early, Read How To Wake Up Early In The Morning Without Feeling Sleeping. 
Wake up early and go for a walk. Watch the sunrise and feel the fresh morning breeze. Spend some time with nature, exercise, and start your day on a positive note. Habits make a man, here are the Best Morning Habits To Follow For A Productive Day.
Go For Hiking Or Cycling
If you want some adrenaline rush, plan a hiking or cycling session. Instead of spending your day in your bed and scrolling through social media, this can be an amazing, refreshing and exciting activity. It is great for your body and mind. Burn some calories and have fun.
Learn A Musical Instrument
Did you know that when you learn something new, your brain forms new neurons? New experiences also release dopamine.
Learning a new musical instrument can amplify your skills and creativity. It is also proven to improve your memory and relieve stress.
Choose any instrument that excites you. If you do not have one in mind, you can choose an easy one. Take the help of someone who knows it, practice it, and revel in it.
Have A Pampering Session
Self-care is very important. Take time out for self-care, be it 10 minutes a day Or a whole weekend.
Acknowledge what your body and mind need. You can go for a skin pampering session, a haircut, a spa, or go out for your favorite meal.
Read my blog Self Care Ideas For Weekend and take a look at how you can spend a day off.
Go Shopping
Who doesn't love shopping? This digital age has made us rely on online shopping a lot but most will agree that going out and shopping makes you feel better.
If you don't have much to buy, just buy some groceries or something useful. 
Take A Pottery Class
Pottery is not just a fun activity. It strengthens your problem-solving ability and creativity. It also has a calming effect on the person doing it. You will learn a new skill. It will be a chance to be creative even if you're not arty.
Over To You
These were some screen-free activities that can help you detox your digital time. Make sure you take your time off in this digital age. Take care of your eyes, your body, and your mind. Go offline and enjoy real moments. Happy Living!